BOOKS

Emotions are Good and Made by God

Using colorful, engaging artwork, Holy Week introduces little ones to a wide range of emotions as they follow Jesus through the final week of His life.

Learn More >
Is Heaven the Same for Every Believer?
Posted on Jun 18, 2019 Topic : Prophecy
Posted by : Mark Hitchcock
Most of us have probably wondered at times if our life is really amounting to much. We recognize all too well how weak and feeble our best efforts are.
We ask ourselves questions like "Does what I do every day with my life really matter? Much of it seems so mundane, routine, and even inconsequential."
Or, we secretly wonder, "Will God remember what I do here on earth? Will all the sacrifices I make for the Lord and others bring any reward in heaven, or is heaven the same for every believer no matter what we do on earth?"
You might even wonder if the idea of rewards is that big a deal. When the topic of future rewards comes up, it's not uncommon to hear Christians say, "Just being in heaven will be enough. That's all the reward I need. Seeing God and spending eternity with Him is reward enough. I don't care if I get anything above that or have a front row seat. Being in the back row will be enough for me as long as I'm there."
This kind of response can sound humble and pious, and it is true that being in heaven will be infinitely better than being in hell. Who could dispute that? Every believer will praise God for all eternity for making it possible to dwell in heaven with Him.
While true as far as it goes, there is also a serious shortcoming in this kind of thinking. Receiving rewards will be a sign of God's pleasure and approval of our lives here on earth. We should seek His approval above all else. Not to mention that rewards are God's idea, not ours.
The Bible commends serving God for rewards. Think about this: Jesus and the human writers of the New Testament would not have told us so much about future rewards if they didn't want us to know about them and seek them. God wants us to know that our labors and sacrifices here on earth are not in vain (1 Corinthians 15:58). He wants to motivate us when we are enduring difficult times. He wants us to know that life here counts for eternity, and that He graciously rewards sacrifice and faithfulness.
Because rewarding believers is God's idea, disregarding or denying eternal rewards is an insult to our gracious Father. The rewards God offers us are priceless treasures that He expects us to desire. We have the opportunity now, by what we do and how we live, to assure ourselves of infinitely greater eternal rewards in the life to come.
According to the Bible, the all-knowing, all-seeing God is keeping track of how you're living and what you're doing for Him every day, and you have more to gain by living for Him than you can ever imagine.
Rewards for serving Christ faithfully are beyond our wildest imagination. There will be differences among God's people in the coming kingdom and on into eternity depending on the degree of our faithfulness and sacrifice for our Lord.
As Randy Alcorn notes in The Law of Rewards, "Will God make all souls equal in heaven and thereby consider as equally valid a life of selfishness and indifference to others' needs as compared to a life kneeling in prayer and feeding the hungry and sharing the gospel? The Bible clearly answers no."
Rewards are a big deal to God, and someday, when we stand before Him, they will be a big deal to us as well. They will be tangible evidence that we pleased the Lord with our life. For that reason, they should be important to us now, because this is the only season during which we can earn them.
---
What to do When We Fall Out of Step with God
Posted on Jun 13, 2019 Topic : Inspirational/Devotional, Women's Christian Living
Posted by : Jen Babakhan
I was certain I needed a root canal. The pain in my tooth was intense, and every time I bit down, it radiated through my jaw. I made an appointment with our family dentist, feeling confident in what he would say: "Schedule an appointment with the endodontist, that tooth is a goner."
I sat in his chair, nervous as I always am when there, and waited for the verdict. "Your jaw is out of alignment, which is impacting your bite. At some point it dislocated and didn't slide back into place correctly. Now your bite is off, which is why your tooth is so sore," he told me while his gloved hand still held an explorer in my mouth. He prescribed a deep tissue massage that would realign my jaw slowly—and though I was skeptical—it worked. The pain left my tooth, and no root canal was needed.
I struggled to remember when it could have been that my jaw began to shift out of place—how did I not notice such a thing? It wasn't until the pain began that I paid any attention, and even then I never associated my tooth pain with the bone that held it in place.
I think we often experience the same spiritually. Don't we also find ourselves slowly shifting further and further away from the Lord until the distance is too painful to ignore any longer?
Life gets busy, and often the first thing to go is time spent with God. We try and make up for it with a quick prayer offered up on the way to our kids' soccer practice. Jesus gets it—He knows we're busy, right? What we fail to realize is that this slow drift away from the Father has impacts on our lives that may not materialize immediately, but will eventually.
How we spend our time communicates our values—especially to our children. When they see us spending time in His Word, they witness the importance of time spent with God. James 4:8 says to come near to God, and He will come near to you. The promise of this verse is a priceless gift. When we make an effort to realign ourselves with Him, He will be there.
When we don't notice that we've drifted away, that our walk has shifted in the wrong direction, He does—and He's faithfully waiting and willing to put us back on the path we were meant to go. We can turn back to Him before there is pain. May we walk with Him so closely that the slightest change in our stride is noticed.
Father, help us to know when we have chosen what is convenient instead of what is best. Alert us to the slow drifting away from you that so many of us experience. Guide our priorities so that we place such value on time with you that others in our lives take notice. Lord, when we begin to wander from the path next to you, please draw us gently back into alignment with you and your word. Teach us to walk with you in the chaos of life. Thank you for your faithfulness to draw near to us when we draw near to you. Amen.
---
Top 5 Christian Fiction Novels for Summer Reading
Posted on Jun 12, 2019 Topic : Fiction
If you're a true bibliophile, you know that summer reading isn't just for kids. Summer is a fantastic time to dive into a new novel you've been meaning to read—or catch up on an old favorite that you haven't seen in a while. Whether you're in a hammock by the sea, stretched out in the shade of a huge tree, or curled up on a pile of cushions in front of an air-conditioner, we wish you happy summer reading!
---
The Princess Special Edition by Lori Wick
In the Land of Pendaran, Shelby Parker lives a humble but good life. Her special qualities are eventually noticed by the king and queen of the House of Markham, who seek a new wife for their widowed son, Prince Nikolai.
To uphold the tradition of their country, Shelby and Nikolai agree to an arranged marriage. But while Nikolai is a perfect gentleman in public, he remains distant at home, leaving Shelby to wonder what is in his heart. Will the prince ever love her as he did his first wife? Can the faith they share overcome the barriers between them?
Twenty years after its initial release comes this exquisite deluxe edition of Lori Wick's bestselling classic, The Princess (over 275,000 copies sold worldwide).
Relive the magic of Shelby and Nikolai's love story with this beautifully bound and foil-adorned keepsake version of one of the most beloved Christian romance novels of all time.
---
Harp on the Willow by BJ Hoff
Three years ago, Dr. Daniel Kavanagh settled down in the quaint town of Mount Laurel and established a medical practice there. The single doctor has been nursing an unrequited crush on Serena Norman, the local schoolteacher.
Just down the road lies the coal mining town of Owenduffy, considered by most in Mount Laurel to be a backwoods hamlet. When the mine company's doctor abandons his post, Daniel agrees to visit one day a week, much to the consternation of his fellow residents, including his secret love, Serena.
Addie Rose, the daughter of an Owenduffy coal miner, has a gift for caring for others. When a receptionist position in Daniel's office suddenly becomes available, what windows of opportunity will God open for Addie Rose—just a job, a possible career as a nurse, or maybe something more?
Harp on the Willow is a touching tale of true love, the kind that can only come from a Savior who first loved us.
---
Who the Bishop Knows by Vannetta Chapman
Every year, residents of the small Amish community in Monte Vista, Colorado, look forward to the Ski Hi Stampede, the state's oldest professional rodeo. The rodeo is always good, clean entertainment for the hardworking farmers of the San Luis Valley. But this year, the Stampede turns deadly for one Amish man. Did rodeo fans see an unfortunate accident? Or something more sinister?
Amish bishop Henry Lapp is known far and wide for his uncanny ability to draw and remember the smallest details of anything he's seen, skills that have served him well in past investigations. He was at the rodeo that day. The problem? He didn't see Jeremiah Schwartz's death.
With a murderer on the loose and members of his community being threatened, Henry must act fast. But can he solve a crime he didn't see? This time around, Henry will have to rely on his keen sense of human character and observation, skills he's honed in his role as bishop, if he hopes to crack the case.
Who the Bishop Knows is a story of accepting our talents, putting one another first, and trusting that God will care for His children.
---
A Daring Escape by Tricia Goyer
As the threat of World War II looms on the horizon, American Amity Mitchell is living a comfortable life abroad as a tutor in England. Life changes when an urgent telegram arrives from her brother, Andrew, summoning her to Prague. Nazi forces tighten their grip on the country, and Andrew's efforts to help Jewish children escape Czechoslovakia grow desperate. Children's lives are at risk. Amity knows she can't ignore God's call to join her brother's cause.
Amity's boss, Clark, arrives in Prague, urging her to return. Soon, he too finds himself helping prepare kindertransports bound for the safety of England. With the sound of German tanks rumbling over cobblestone streets, Amity and Clark race to save innocent lives. Will their prayers for deliverance be answered?
A Daring Escape is a gripping tale of hope, self-sacrifice, and the power of unrelenting love overcoming unspeakable hate.
---
The Amish Quilter by Mindy Starns Clark and Leslie Gould
Linda Mueller lives an orderly, uneventful existence, content to divide her time between creating the beautiful quilts for which she is known and working at an Englisch fabric shop.
Idealistic to a fault, Linda has never found a man worth marrying—until she meets Isaac Mast, a newcomer to Lancaster County and a talented painter. As they bond over their respective crafts, Linda is drawn to Isaac's kind ways, humble spirit, and intriguing personality, and soon the seams of her carefully-constructed world begin to loosen.
With Isaac's help, she explores the story of her late grandmother, also a gifted artist. But when an astonishing truth comes to light, Linda faces a grave decision, one that could destroy any hope of a future with Isaac. Will their dreams of a life together completely unravel? Or can she find some way to stitch them back together again?
---
Looking for more? Check out this bonus eBook!
Herringford and Watts Mysteries 6-in-1 by Rachel McMillan
Collected for the first time in a complete, ebook-only bundle, experience hijinks, danger, and romance in fan-favorite author Rachel McMillan's The Herringford and Watts Mysteries 6-in-1! Follow best friends and sleuths Merinda Herringford and Jem Watts as they cast off Edwardian conventions and launch a consulting detective business in tumultuous early 20th century Toronto.
This captivating compilation includes the three original full-length novels interspersed with three bonus novellas:
A Singular and Whimsical Problem
A Bachelor's Guide to Murder
Of Dubious and Questionable Memory
A Lesson in Love and Murder
Conductor of Light
The White Feather Murders
Determined, adventurous, and full of moxie, Merinda and Jem, together with their friends Constable Jasper Forth and reporter Ray DeLuca, tackle dramatic mysteries and political corruption as they become emblems of female empowerment. Join the adventure as these two independent women search for answers, don disguises, and find themselves where no "proper" ladies would ever go.
---
---
Commenting is not available in this channel entry.
God Can Turn Your Child's Mourning Into Dancing
Posted on Jun 06, 2019 Topic : Men's Christian Living, Women's Christian Living
Posted by : Amy Ford
You have turned my mourning into joyful dancing. (Psalm 30:11)
Do you know a grieving child?
At first thought, many would say no. We often assume that a grieving child is someone under the age of 18 who has experienced the recent death of a loved one—usually a parent.
But there are millions of grieving children in the United States right now, today, even as you are reading this post. Grief comes as a result of loss. That means that a child experiencing loss will also experience grief.
Loss can come from any of the following:
Death of a pet
Divorce or restructure of a family
Growing up without one or both parents
A sibling who died (including miscarriage), or a sibling with significant health care requirements
Death of a friend, including suicide
Moving to a new home or community
A transition that created an unplanned and unwanted environment
It puts a new context on grieving children, doesn't it?
Even deeper, grieving children go unnoticed…sometimes for their whole lives.
I have a friend whose father died as a soldier in the Vietnam War. She was 13 years old at the time, and no one ever talked to her about it. She just lived her life, thinking that losing her father was sad but not significant.
My friend began to tear up when she told me this story. No one ever saw her as a grieving child. But she was. And even though she's now an adult, she still is a grieving child. Because grief doesn't go away until it's healed.
Are you an adult child who hasn't yet grieved a loss?
When Your Child is Grieving is written for caregivers of children who have experienced all types of loss. It provides support and resources for their children, but I think you will find it's a healing resource for you, too.
I wrote this book because, well, God asked me to. Even before I began writing, I felt God's Spirit move in my heart. He told me how He could see the hearts of grieving children all over the world, and how their grief broke His heart, too. God promises that He will turn mourning into joy (Psalm 30:11). This is His heart's desire for you, for your child, and for the entire world.
Do you know a grieving child? Are you a grieving child? Open your heart to Jesus, the healer. He's longing to see you dance.
---
What to Do When You Feel Lost in Life
Posted on Jun 04, 2019 Topic : Men's Christian Living, Women's Christian Living
Posted by : David Holder
We live in a world that's changing faster than most people can keep up with. We can find anyone, anywhere, anytime with just a few clicks of the keyboard. However, most of us can't even find ourselves, let alone discover why God placed us here.
Your purpose is God's gift to you. What you do with it can be your gift to Him.
When I was ten, I went on a deer hunt I will never forget. The plan was simple enough: A group of us were going to walk through the woods to a power line and (we hoped) jump a deer along the way. When I reached the power line, someone was supposed to be 100 yards to my left and someone else 100 yards to my right. But when I arrived at the power line, they weren't there. Waiting at least 20 minutes without hearing or seeing a soul, I began to get scared.
Deciding they must have gone farther without telling me, I continued on and ended up in a deep ravine. There was still no sign of anyone, and it was starting to get dark. Panic set in. I let out a series of yells. When no one answered, I turned around and started back toward the road, but I wasn't sure about the route. Tears were streaming down my face, but I knew I couldn't just sit and wait for someone to figure out I was missing. Go straight, David, I told myself. Just go straight and you'll make it out.
Eventually, I did make it back to the road. I emerged only about 200 yards from the truck. Wiping the tears from my eyes, I saw my friends all standing there. I pretended everything was fine because I didn't want anyone to know how terrified I had been just a few minutes before. I learned a valuable lesson that day: You can be panicked and be finding your way at the same time. You may feel lost, but that doesn't necessarily mean you are.
It's one thing to be lost in the woods; it's another to feel so lost in life that you don't know where the road is. Technology can locate you and help you make it out of even the most rugged terrain, but a GPS is useless when it comes to the important things, like understanding your purpose—the reason God put you here in the first place.
Life, like hunting, involves a series of choices. The right choices eventually lead to success. The wrong ones keep you trapped in failure and frustration. Maybe you are caught up in some bad choices right now, and you recognize what I'm saying is true. It's never too late to turn it around. Especially if God helps you do it.
I'm not saying it's easy to find your place in this world. But I am saying you can do it, and when you do, you'll know it. The most important thing is that you don't give up, even if you feel lost. Just keep going.
---
The Two Most Important Things You Need to Know About Controlling Your Blood Sugar
Posted on May 23, 2019 Topic : Men's Christian Living, Women's Christian Living
Posted by : Dennis Pollock
I need to give you both a spoiler and a warning. The spoiler is this: If you are serious about getting your blood sugar under control, you are almost certainly going to need to reduce your carbohydrate intake.
Could it be any plainer? The foods we eat possess three essential types of macronutrients: protein, carbohydrates, and fats. Fats do not raise blood sugar at all. Proteins can raise blood sugar, but for most of us, it is a very slight, almost imperceptible rise.
But carbohydrates are an entirely different matter. Raising blood sugar is what they do; it is their specialty, their unique domain. And for people with diabetes or prediabetes, the more carbs you eat, the higher your blood sugar will soar (especially when those carbs are refined and processed).
It comes down to a very simple formula: Eat a small amount of carbs, get a small blood sugar rise. Eat a medium amount of carbs, get a bigger blood sugar rise. Eat a meal with a large amount of carbs, get a whopping rise in blood sugar.
And, sadly, we must also add: Build a lifestyle on eating refined, processed carbs, carbs, and more carbs, and you will have an excellent chance of becoming diabetic and destroying your health, spoiling your latter days, and shortening your life.
But when carbs are restricted, blood sugars will drop. Dr. Sarah Hallberg, medical director of Virta Health (a successful diabetes center) says in her YouTube lecture, which has garnered millions of views: "Low-carb intervention works so fast that we can literally pull people off hundreds of units of insulin in days to weeks."
Let me give you one more quote that was incredibly powerful in getting my attention when I was first looking for answers to runaway blood sugar. The late Dr. Robert Atkins wrote, "Your blood-glucose level doesn't sharply rise and fall when you sit down to eat a Cobb salad. But it does just that when you chow down a slice of pie."
Now, that's not profound, it's not deep, it's not rocket science…but it is unquestionably, indisputably, and incontrovertibly true. We could insert all kinds of substitutions into that equation. Your blood sugar won't sharply rise and fall when you eat an avocado, but it will when you eat a doughnut. It won't rise and fall when you eat eggs and ham, but it will when you gobble up a bunch of pancakes drenched in syrup. And on and on we could go.
And the warning is this: If you do change your diet and you are on medication for diabetes or taking insulin, you're going to need to carefully monitor your blood sugar levels and work with a good diabetes doctor.
Making major changes in your diet, especially in the carbohydrates you eat daily, will very likely require you to alter the dosage of your medication or the insulin you're taking. In most cases you will have to reduce your dosages, but your doctor will help you decide this.
Diabetes is not unbeatable! It may be a monster, but with nearly all type 2 diabetics, it is a monster with a chink in its armor. Many of us who have known its ferocity have beaten it.
No, we cannot go back to eating huge bowls of ice cream and guzzling down super-sized sodas, but as long as we behave ourselves, diabetes must forever lurk in the shadows, like some rabid wolf, fearful of the bonfire that we have created for our own protection.
Begin the process of finding your own path to healing and deliverance. And pray for God's wisdom.
---
The Bible Is Not About You
Posted on May 21, 2019 Topic : Men's Christian Living, Prophecy
Posted by : Dan Suelzle
The Bible is not about you.
Blessed are you if that statement does not offend you. I wrote the thing and it still gets under my skin. But it's true. As much as we do not want it to be the case, the Bible is not about you or me.
It's likely that you have heard preaching and teaching to the contrary. I certainly have. And frankly it's kind of nice. After all, I like to hear about me. I suspect you like to hear about you too.
How special God thinks you are. How necessary you are to his plan. How he has great things in store for you. How he wants you to have an abundant life, full of many earthly blessings. How everything that happens in your life has some divine reason undergirding it. How you have a unique purpose on this earth and all you have to do is discover it and everything in life will fall perfectly into place. I have heard all of that and more. And I like it. It's tempting. It's flattering. It's exciting.
And it is dead wrong.
I do not mean to say that the Bible has nothing to say to you. But I do want to show you that, precisely because you are not at the center of the Bible, it is actually wonderfully good news; liberating news; news that forgives, renews, and strengthens you in the one true faith.
The Bible is about Jesus for you. If that doesn't sound terribly revolutionary to you, good. But the state of preaching and teaching in Christ's church these days has unfortunately—and ironically—made such a statement sound strange to many Christian ears.
We should rejoice that the Bible is about Jesus for us, and yet so often what pulpits, Bible studies, and airwaves give us is a terribly narcissistic—and comfortless—faith.
But when you realize that the Bible is all about Jesus for you—how the promises of Jesus emanate from every page; how the truth of Christ stands firm even apart from you—then the Scriptures become an ever-flowing fountain and source of true hope and lasting comfort.
Near the end of his Gospel, the apostle John reports exactly why he has recorded the events of Jesus's ministry: "These are written so that you may believe that Jesus is the Christ, the Son of God, and that by believing you may have life in his name" (John 20:31). Here we are told that the purpose of John's Gospel is not simply to convey historical information, although it certainly does that.
John also does not record the ministry of Jesus, the Lamb of God, as self-help encouragement to stick in your back pocket that will get you through the day when the world has got you down. Rather, John would have you hear of the mighty works of Jesus, so that you would believe him to be the promised Messiah in whom all the promises of God are fulfilled, and that by believing you would have life in the name of Jesus, apart from whom salvation cannot be found (Acts 4:12).
Jesus makes such a claim about himself more than once in the Bible.
Here is the point: the Bible is not about you. It is about Jesus for you.
Jesus says so himself.
All of the Scriptures point to Jesus.
The purpose of the Bible is to give you Jesus, so that you would have true, eternal resurrection life through the forgiveness of your sins.
---
Top 5 Kids' Christian Book Series for Summer
Posted on May 16, 2019 Topic : Men's Christian Living, Women's Christian Living
We know the struggle of summer. The kids are home. They're saying they're bored.
What do you do?
Well, we're taking the work out of homework for you AND your kids!
Harvest House has compiled the list of some of our best, most compelling kids' book series that will no doubt give kids something fun to do while teaching them all about morals, God's plan, Jesus, the Bible, and more. From little ones to older kids, we've got your summer reading list covered.
Take a look—and a sigh of relief—as you delve into some of our best (and favorite) kid's books that'll keep your kids engaged and repeatedly coming back to the Word.
---
BABY BELIEVER® collection
By Danielle Hitchen. Art by Jessica Blanchard.
Baby Believer primers are designed to grow with children, from early infancy through elementary school. In addition to basic Bible theology, Baby Believer board books are filled with quotations from the Bible, creeds, hymns, church fathers, and other articles of faith to help reinforce the content and provide intellectual handholds for older children who possess a greater capacity for learning and memorization.
FOR AGES 0-4
First Bible Basics
A Counting Primer
This unique board book features colorful pages that reframe vitally important biblical content into the manageable concept of basic numbers (1-10) for your young child. Help your child learn to count and become familiar with basic Bible theology.
Find It >
Psalms of Praise
A Movement Primer
This unique board book features colorful pages that introduce little ones to powerful Scriptures from the book of Psalms while teaching them the many ways they can move their body to praise God. Help them move closer to knowing Jesus as their Savior.
Find It >
Let There Be Light
An Opposites Primer
Your family will love this unique board book! Using colorful, engaging artwork, Let There Be Light introduces little ones to the Creation story as a vehicle for understanding opposites, a crucial concept in early cognitive development.
Find It >
Holy Week introduces little ones to a wide range of emotions as they follow Jesus through the final week of His life. Help them learn about basic emotions, such as joy, anger, sadness, fear, and more. And they will learn more about Jesus.
Find It >
---
CALLED AND COURAGEOUS GIRLS series
Bible Heroes That Inspire Your Child's Faith in God
By Rachel Spier Weaver and Anna Haggard. Artwork by Eric Elwell.
Through examples of steadfast faith and—ultimately—God's direction, the Called and Courageous Girls series invites your children to answer God's calling to discover and use their talents, passions, and gifts to journey with Him on a lifelong adventure.
FOR AGES 3-7
A Brave Big Sister
A Bible Story About Miriam
Miriam is the best big sister a kid could ever have. She saves her baby brother, Moses, from death and then helps him out when he becomes the leader of God's people. Kids will learn how to be brave by following Miriam's shining example.
Find It >
An Extraordinary Teacher
A Bible Story About Priscilla
A born teacher, Priscilla uses the gifts God has given her to grow the early church. She joins Paul on his missionary journeys, planting churches and mentoring others. Most important, she follows God's call for her life and leaves an incredible legacy.
Find It >
A Fearless Leader
A Bible Story About Deborah
Learn the story of Deborah, an imaginative and perceptive young girl who grows up to be a natural leader, sharing God's will with His people and helping them solve difficult problems. With God's help, you can be just like Deborah—called and courageous!
Find It >
An Unexpected Hero
A Bible Story About Rahab
When two Israelite spies come to her door seeking a place to hide, God's special plan for Rahab is revealed. And because of her faithfulness and courage, God saves her and her family, redeeming her life and making her a part of Jesus' family tree.
Find It >
---
TALES OF BUTTERCUP GROVE
By Wendy Dunham, Illustrations by Michal Sparks.
In the tradition of timeless classics such as The Tale of Peter Rabbit and The Many Adventures of the Winnie the Pooh, The Tales of Buttercup Grove series introduces young readers to the many fun adventures of Skunk, Raccoon, and the rest of their woodland friends. Along the way, your child will learn timeless Christian values, such as sharing, compassion, kindness, encouragement, and patience, and learn a key Bible verse at the end of each story.
FOR AGES 4-8
A Windy Spring Day
God Gives Us Friends When We're Afraid
Skunk and Raccoon make the best of a blustery day when they make a kite together and invite all their pals in Buttercup Grove over to help them fly it. Young readers will learn timeless Christian values, such as friendship and sharing.
Find It >
Sunflower Summer
God Gives Us Friends When We Need to Wait
Raccoon's plan to plant sunflower seeds hit a bump when he realizes it will take all summer for the flowers to grow. How long can he and his friends wait? Early readers will learn timeless Christian values, such as patience and cooperation.
Find It >
Autumn Is for Apple Pie
God Gives Us Friends When We're Having a Bad Day
It seems everyone in Buttercup Grove is having a bad day. But Raccoon turns his friends' frowns upside down with an invitation to join him at Skunk's house to make apple pie. In the end, kindness and friendship make everyone's bad day better.
Find It >
Winter Snow Fun
God Gives Us Friends When We're Ready for Adventure
The first snowfall of the season finally arrives in Buttercup Grove. Skunk and Raccoon invite their friends to join in a day of winter fun. When plans change, the woodland pals learn the fun doesn't have to end when you're spending time with friends.
Find It >
---
TEAM DUNGY series
By Tony and Lauren Dungy. Illustrations by Guy Wolek.
The Team Dungy series of picture books for young readers teaches character-building lessons through the familiar world of sports.
FOR AGES 6-9
Maria Finds Courage
A Team Dungy Story About Soccer
When Maria's family signs her up for the soccer team in her new town, Maria gets scared. She's never tried soccer before. Coach Tony and Coach Lauren help Maria find the courage to try something new. What have you wanted to try but were afraid to?
Find It >
Austin Plays Fair
A Team Dungy Story About Football
Austin loves playing flag football, but his team has lost six games in a row and he doesn't like losing. When Austin's team starts cheating to win, will he stand up for what's right? And what would you do if you were in Austin's shoes?
Find It >
---
BIBLE INFOGRAPHICS collection
From Harvest House Publishers
FOR AGES 9-12
Bible Infographics for Kids
Giants, Ninja Skills, a Talking Donkey, and What's the Deal with the Tabernacle?
Kids and adults alike will love this craze-mazing collection of infographic spreads designed to make the key concepts, important people, and unusual facts about the Bible come alive. From Genesis to Revelation, see God's plan for His creation unfold.
Find It >
Bible Infographics for Kids Volume 2
Light and Dark, Heroes and Villains, and Mind-Blowing Bible Facts
Volume 2 is all about opposites—light and darkness, angels and demons, heaven and hell, and much more. Explore these topics in a new and exciting way with colorful graphics that help your child understand the Bible better than they ever have before.
Find It >
---
---
Commenting is not available in this channel entry.
Practicing the Good Medicine of Grace
Posted on May 14, 2019 Topic : Inspirational/Devotional, Men's Christian Living
Posted by : Rick Lawrence
One surprising privilege we enjoy as baptized followers of Jesus is our unique ability to commit heresy. I mean, only a believer can say or do something heretical, by definition. You have to believe in something before you turn it into a twisted belief. And the Apostle Paul assured his protégé Timothy that a whole lot of heresy was coming down the pike, so to speak:
"For a time is coming when people will no longer listen to sound and wholesome teaching. They will follow their own desires and will look for teachers who will tell them whatever their itching ears want to hear. They will reject the truth and chase after myths" (2 Timothy 4:3–4, NLT).
So, since we're so good and dependable at propagating heresies, what's a prominent example of one that's wheedled its way into our Christian life?
We have twisted our definition and practice of "grace."
The other day I told my teenage daughter Lucy that I'd had to deliver some very painful discipline to a person in my life who'd really screwed up. After I told her some of the bare details, she said: "Dad, I thought grace meant that we give people second chances—couldn't you have given grace in that situation?"
And I told her that was a great question, but: "What if you had cancer and you went to your oncologist, and he told you the cancer was aggressive and could threaten your life. And then he told you that the most aggressive treatment combined chemotherapy and radiation, but that would be like taking poison into your body, and would make you really sick—even bring you to the point of death. So, instead, he recommended simply changing your diet and then waiting to see what would happen. What would you say?"
And she said, "Well, of course, I'd want the chemo."
And I said, "Grace is always kind, but it's not always nice. It's intended to rescue us, not placate us."
In the Christian world we swim in, we've limited the definition of grace to "super-nice"—a heresy, because grace is much more than that. Sometimes it looks like chemotherapy. And sometimes pursuing Jesus, who is determined to live out His mission to "set captives free," will deliver a dose of chemotherapy to us, because He loves us too much to watch us die in our captivity…
Jesus is passionate for our freedom, and He understands what leverage it's going to take to open our cell door…
---
Are You Focused on Your Child's Strengths?
Posted on May 09, 2019 Topic : Men's Christian Living, Women's Christian Living
Posted by : Brandon Miller
Every year I attend the World Strengths Summit and rub shoulders with several colleagues from around the world who engage organizations, as I do, to shift the focus of their development strategy to a strengths-based approach.
At the most recent summit, I was speaking with one of my "mates" (as they would say) from Australia who is a successful strengths coach in his neck of the world. We were chatting about my current book project and how we are both learning to apply our professional acumen around strengths development in our own home cultures. We talked about what it takes to raise kids according to their strengths.
He proudly shared about his nine-year-old son and his unique and early interest in design; his little guy already dreams of designing for Disney one day. To encourage his son's talents, my friend and his wife purchased a set of colored pens, so their son could develop his strengths. However, one day they noticed their son had been using the surface of his nice white desk to mix some of the colors from his pen set. Naturally, he and his wife expressed their displeasure with him using the desk to "practice" his art.
Sometimes we all need a fresh perspective to help recalibrate our parenting strategy and see what we have been missing, don't we? Well immediately, I thought, and consequently said, "What if you did the opposite next time with your son?"
Curious, he asked what I meant. I explained that while we don't encourage our kids to write on the furniture, what if he and his wife played to their son's strengths by allowing him to use the desk as a surface for doodling, dreaming and designing?
It is just a desk. What would be so wrong if years later his son could look at that desk and see the beginnings of his dream take shape as his parents let him express himself on an unlikely canvas?
With a tear in his eye, my mate expressed his gratitude for the shift in perspective and contemplated how he and his wife could shift course with their son. About a week later, I received a message with a photo of the desk with several drawings on the surface and this message, "We had a chat with our son about his desk. He's now started adding his creativity to it. Thanks for your coaching."
When we shift our focus to a strengths-based approach, the possibilities open for us to engage our children through a different filter, the questions change. Dare I say, even our rules may alter. Instead of contemplating, "What did they do wrong and how to fix them?" we can ask, "Why did they do that, and how can I see their strengths through this?"
Maybe your child has an unlikely canvas, an unusual avenue they are pursuing to express their God-given strength. Find fresh joy in discovering and encouraging them as they practice the thing that lights them up and displays their natural talents!
---
Does Your Child Think the Bible Is Boring?
Posted on May 07, 2019 Topic : Men's Christian Living, Women's Christian Living
Posted by : Kyle Hatfield
One of the most important tasks a Christian parent faces is keeping their kids interested in the Bible. And it's a difficult job, considering all the flashy and bright things trying to attract the attention of our children. With a whole world of entertainment at our fingertips, is the Bible just too boring and irrelevant for our day?
The answer to that question is a definite, "No." The Bible is not boring or irrelevant. If our kids think it is, then we simply need to help them see God's Word in a new light.
Enter Bible Infographics for Kids. We set out to make the Bible come alive in illuminating ways. We wanted it to be something so fun and engaging that even parents would try to steal the book from their kids and read it. And many families have let us know that we delivered on both counts!
How do you follow up such a great success? You create a sequel that's even more bold and even more fun—Bible Infographics for Kids: Volume 2.
This book tackles many of the big dichotomies of the Bible: light and dark; heroes and villains; angels and demons; heaven and hell; and so much more. It's not afraid to teach kids about mind-bending subjects like the Trinity, the two natures of Jesus, and the afterlife. And all this information is taught through bright and clever images along with that signature Bible Infographics for Kids wit.
We hope you enjoy volume two as much as the first one and that it shows you how amazing the Bible truly is. You might as well buy two copies so you don't have to steal your child's book!
---
Tips to Become the Mama Bear Your Kids Need
Posted on May 02, 2019 Topic : Women's Christian Living
Several years ago my husband and I went rafting in Washington state. The water, which came from melted glacier ice, was emerald green and sparkled brightly. Pine trees hugged the shorelines on both sides, and the scene proved absolutely breathtaking. In the raft were myself and my husband, his mom and dad, and his sister and her husband. We six Texans were ready for a grand adventure on a gorgeous river!
I even wore my new wool socks bought specifically for this trip because I read they keep you warm when wet. What else could I do to prepare for this excursion? In my mind, the right outfit meant the right level of preparedness.
Yet I hadn't anticipated such strong rapids. The calm, glistening river on which our journey began soon transformed into rushing white waters shaped and jarred by boulders below. What happened to our scenic tour? Nobody told us we were going to have to work.
Suddenly, the river's force tipped our raft sideways and knocked my sister in-law and me overboard. She managed to hold onto a rope on the side of the raft and was working her way back in when my 60-year-old mother-in-law leapt with the force of a thousand stunt devils, grabbed her full-grown daughter by the waist, and hoisted her back into the raft.
It was an amazing sight to behold—one of those moments of motherly adrenaline you typically only hear about. It was even more amazing to witness such prowess from my vantage point in the river, sloshing amongst the rushing rapids, trying not to let them fully sweep me under the boat (after all, my mama wasn't there).
My mother in-law's impromptu heroism perfectly depicts a Mama Bear—she is instinctual, prepared, and strong. She doesn't need time to make a decision in a moment of crisis; the decision to ferociously protect her young was made the first time she held her child. She will do anything to save her cub.
Moms do whatever it takes, no matter how hard, and no matter how gross. While this kind of dedication is important for our children's physical development, it is especially imperative when it comes to our children's spiritual development.
We may not want to jump into the deep end of theology and apologetics, but we will, lest we see our kids dragged down by the rushing rapids of bad ideas. We're Mama Bears. That's what we do! A Mama Bear does whatever it takes, even if that means studying apologetics.
While Papa Bears undoubtedly play an integral role in their children's faith, more often than not it's Mom who spends the majority of the time with the kids. When spiritual questions are asked, they are likely being fielded by mom. For that reason, moms will end up doing apologetics the most!
You are your family's front-line defense, Mama Bear! Moms can have a profound influence on their children's spiritual development. Learning and teaching apologetics is one of the best things we can do in that role.
Tips to Become a Mama Bear Apologist
Know Your Bible—We minister to our families first, and in order to do that well, we have to practice what we preach. We need to remain in God's Word and in regular prayer to Him. After all, we can't defend Scripture if we don't know it.
Gather Resources—We need to model a thirst for learning if we want our kids to do the same, but we don't need to know everything at once. Great apologetics materials abound both in print and online.
Carve Out Regular Family Time to Study—After you have gathered resources, create time and space with your family for regular discussion. Intentionally ask your children difficult questions about Christianity. We aren't merely teaching them to know the answers; we are also teaching them how to find answers.
Find Like-Minded Mamas—As Mama Bears, we can share our excitement and confidence in defending the truths of Christianity by starting apologetics book clubs in our churches, incorporating more apologetics into Sunday school classes for all ages, and participating in online discussion groups.
Practice, Practice, Practice—Finally, take what you are learning and practice having conversations, even if it is with strangers. I know this sounds scary, but this is where we Mama Bears must exercise courage
---
You Can Help Your Kids Make Healthy Food Choices—Here's How
Posted on Apr 30, 2019 Topic :
Posted by : Georgia Varozza
Long life to you! Good health to you and your household! And good health to all that is yours!
1 Samuel 25:6
Being a mom is a demanding and sometimes thankless job, but the truth is we wouldn't have it any other way. Taking care of our families seems to be present in our DNA and one tangible way we show our care is having a desire to prepare healthy, nutritious meals that our kids love. But if your home is anything like mine, that's easier said than done.
I'll be honest with you: The fact is, my kids, and now my grandkids, like processed, high-sugar foods. If given the choice, they'll gladly eat a bowl of sugar-coated cereal for breakfast and turn their nose up at a homemade veggie omelet. Cookies for afternoon snack? Yes, please.
So what's a mom to do? I think that two keys for getting your family on board toward healthier eating are education and compromise.
Over the years, my sons and I had discussions about food and the reason why we chose the foods we did. My hope was that by directing their thinking in a positive direction, they would begin making healthier choices for themselves. I also had to learn how to find a middle ground between my dream meals and food they would actually eat. I had successes and failures, but I never gave up. My boys still love to tease me about the awful tasting, bile green soup I attempted one memorable day.
Are you like me? You want to feed your kids spectacularly healthy meals, but the little darlings are less than enamored by your efforts. Here are two recipes from my latest cookbook to give you a nudge in the right direction.
Strawberry Graham Cracker Treats
(Prep time 10 minutes; yield 1 serving)
1 graham cracker
2 tsp. whipped cream cheese, divided
4 strawberries, cored and halved lengthwise
Separate the graham cracker along the perforations, making 4 rectangles. Spread ½ teaspoon of the cream cheese on each piece. Top with the sliced strawberries and serve.
Zucchini Pizza Bites
(Prep time 25 minutes; yield approx. 40 pizza bites)
3 zucchinis, sliced crosswise ¼ inch thick
Olive oil for brushing
¼ cup pizza sauce
1 tsp. each dried basil and oregano, mixed together, or 2 tsp. Italian garlic and herbs spice mix
⅓ cup mozzarella cheese, shredded
¼ cup mini pepperoni slices
Preheat the oven to 400°.
Place the zucchini slices on a baking sheet that has been lined with a silicone baking mat or parchment paper; brush the slices with oil. Bake for 5 minutes; remove from the oven, but don't turn off heat.
Dab a small amount of pizza sauce on each zucchini slice, top with the spices, cheese, and pepperoni, and return to the hot oven to continue baking for 8 to 10 more minutes. Serve hot.
Note: My gang loves these dipped in ranch dressing.
***
Go for it, Mama. Be creative. Feeding those we love good food is one of the best things we can do!
---
How Will You Move Forward Today?
Posted on Apr 25, 2019 Topic : Inspirational/Devotional, Women's Christian Living
Posted by : Rebecca List-Bergeron
I am blessed to live near Steamboat Springs, Colorado. A couple of days ago, I was trekking through the mountains with my favorite hiking partner—my Siberian husky, Keva. The sun was shining, making the snow sparkle with millions of tiny prisms. It was like God had sprinkled the landscape with iridescent glitter. I was marveling in the beauty—and thanking God for allowing me and my boys to live in such a place.
As we continued to hike, my spirits sank a bit. I told the Lord I was discouraged despite the beauty of my surroundings. I felt stuck in my life's journey, not moving much in any direction. I confessed that I needed to be more thankful and to look to my Savior for direction, especially at a time like this. "I need a word from you," I prayed.
Suddenly, I looked up and was amazed at what I saw before me. The words "Move Forward" were carved into a snowbank near the trail. My first reaction was laughter. But then I thought a bit more—about my life and my recent prayer. "Wow!" I said. "Thank you, Lord."
I thought about what I needed to do to move forward, to get unstuck from the place I had been for too long. I sensed the Lord telling me to take one step, even if it was small. You have to start somewhere, I realized. One step will turn into two, and you will feel the progress of moving forward.
I was reminded that each day is a fresh start, a fresh opportunity to move forward into what God has planned for me, into my destiny.
In John chapter 5, Jesus speaks to a man who has been an invalid for 38 years. "Do you want to get well?" Jesus asks. Of course the man wants to be healed. He has been disabled for decades. At first, he must have been dumbfounded by the question.
But I believe Jesus was looking at the man's heart and asking a much deeper question, the same kind of question he asks us today: "Do you truly want to move forward in your life? Do you want to be free of the burdens that are weighing you down?"
Eventually, Jesus issues a direct command to the ailing man: "Get up! Pick up your mat and walk."
Each of us must decide how we will respond to this command. We must be honest with ourselves. Do we truly want to change our situation? Do we really want to get well?
If so, we need to gather the courage to take the first step.
Let's move forward.
***
Lord, so many times I stay stuck—even though that is not how I want to be, even though I complain about being stuck in the first place!
And yet you are so gracious to all of us. You love us. You ask us, just as you asked the man in Scripture, "Do you want to get well?"
Lord, my answer is yes! I thank you for allowing me to see those two key words, "Move Forward," written in the snow. I pray for strength to take those next steps in my life. Steps forward! That is where your destiny for me lies. So that's the direction I want to go.
I pray we all will see the messages you have for us day by day. Open our eyes.
---
Have You Claimed Your Inheritance?
Posted on Apr 23, 2019 Topic : Men's Christian Living, Women's Christian Living
Posted by : Tony Evans
There's an oft-told story of a wealthy man who had lost his beloved son, and then later he himself died. Over the course of his life, he had accumulated a number of expensive, valuable, and rare commodities, which, following his death, were to be auctioned off in an estate sale. Knowing of the man's taste in exquisite furniture, art, and the like, hundreds of people showed up for this auction.
The day began, though, with a piece that most showed no interest in at all. The auctioneer came forward with a cheaply framed picture, saying, "The first piece we're offering today is this portrait of the man's only son." He paused to give everyone a chance to view it, then continued, "Do I have a bid?"
The room fell silent, as no one raised their hand to bid on this framed portrait. They had come for some of the expensive art pieces and artifacts, not for something as simple as that.
The auctioneer stood still, not saying a word—something auctioneers are rarely seen doing—but he could tell by the expressions on the faces of the attendees that this wasn't something anyone really wanted to buy. Still, he asked once more, "Do I have a bid? Does anyone want this portrait of the man's son?"
Just then, from the back of the room, an elderly man stepped forward and said, "Sir, I was the servant of the man who died, and if nobody will take the picture of his son, I want to know if I can have it."
The auctioneer said, "One more time. Is there anyone who will bid on the picture of the son?" Yet nobody did. So he said to the servant, "Yes, sir, the picture is yours."
The elderly servant slowly walked forward to take hold of the portrait. Looking lovingly on the boy's image, he then tucked it under his arm and headed toward the back of the room.
To everyone's shock, the auctioneer then picked up his gavel, banged it down, and said, "The auction is now over."
Everybody looked around, and someone said, "What? You haven't brought out any of the expensive pieces that were supposed to be sold. How can the auction be over?"
The auctioneer replied, "The father's will says that the auction was to begin with the picture of his son. He valued his son so highly that he stipulated that whoever took his son's picture would inherit everything."
Essentially, he who has the son has everything else. He who does not have the son gets nothing.
Sometimes we are like those buyers at the estate auction. We're going around looking for everything else to buy, but God is there saying, "I have come to give you life and to give it to you more abundantly. But that life can only be found in connection with My Son. If you have My Son, you have eternal life and all that goes with it."
Scripture states this clearly for us in the book of Romans, where we read, "He who did not spare His own Son, but delivered Him over for us all, how will He not also with Him freely give us all things?" (8:32).  
When you abide with Jesus, you will gain access to all that God the Father has for you. And knowing and understanding Jesus' names gives you insight on how to abide more fully in Him.
Let's get to know Jesus, Immanuel, as we should and, in so doing, tap into the power He longs to supply (John 10:10).
---
From Death Row to Crown Jewels
Posted on Apr 18, 2019 Topic : Fiction, Inspirational/Devotional, Men's Christian Living, Prophecy, Women's Christian Living
Posted by : Steve Miller
Every human who enters this world is born on death row.
That's the unavoidable consequence of Adam and Eve's rebellion against God in Eden. As Romans 5:12 tells us, "Sin entered the world through one man, and death through sin." The result? "In this way death came to all people, because all sinned."
What's heartbreaking is that there is no escape from this death row. Even the most notorious prisons in the world have their stories of clever and daring escapes—but when it comes to sin, escape is not possible. Why?
Ephesians 2:1 diagnoses us as "dead in trespasses and sins." A spiritually dead person cannot rescue himself. Dead means dead. For anything to change, help must come from outside. Yet because every person in this world is a sinner and is likewise dead, that puts all of humanity—pun intended—at a dead end.
Humanly speaking, this leaves no way out.
The cross changed all that.
That's where the great exchange took place: "God made him who had no sin to be sin for us, so that in him we might become the righteousness of God" (2 Corinthians 5:21).
Keep in mind that when Jesus set out on this rescue mission, we were His "enemies" (Romans 5:10). The word the apostle Paul chose for "enemies" is a dark one. It refers to deep-rooted hatred and hostility. We were rebels of the worst kind.
Especially hard for us to grasp is the fact we didn't even want to be rescued! After Romans 3:10-11 reports that "there is no one righteous, not even one," we read this: "There is no one who seeks God."
No one was searching for a way out, yet God made one.
And He did more. Much more.
When you become a Christian, God adds you to the church—a living body of people whom He calls His own. Christ is the chief cornerstone of this church, and you are one of the "living stones" (1 Peter 2:5) added to the "building [that] is joined together…to become a holy temple in the Lord" (Ephesians 2:21-22).
If you're a believer, you are a part of the living monument God is building for Himself!
Scripture also calls the church the bride of Christ. That's a powerful metaphor—no human relationship is more intimate than the one between a husband and wife. As Christ's bride, we are precious to Him. We will be the focus of His immeasurable love and care for all eternity.
Why would God go to such great lengths to lavish His love upon us?
We find the answer in Ephesians 1:4-6: Before the world was created, God's plan was to make us His children—through Christ. His purpose? So that all could witness "his glorious grace" at work—and praise Him as a result.
God knew beforehand what would happen in Eden. Still, at great cost, He was willing to do whatever it took to bring His creation back into relation with Him. He was eager to demonstrate the infinite depths of His grace.
For this, every creature in heaven will express awe…and give Him unending praise.
When history is no more and eternity has come, every time someone asks, "What is God's greatest achievement?," all the heavenly hosts will point to us.
We will serve as the supreme example of God's greatness and His glorious grace. Of all the "jewels" in God's repertoire, we will stand at the pinnacle. We will be the most prized.
From death row to crown jewels.
That is why we call it amazing grace.
---
When You Know It's Time to Yank Spiritual Weeds
Posted on Apr 16, 2019 Topic : Inspirational/Devotional, Women's Christian Living
Posted by : Jean E. Jones
On a sunny Saturday, I donned blue gardening gloves, grabbed my tools, and headed to the backyard. I found that the variegated nasturtiums I'd sown around the now-gone annuals had sprouted nicely, but so had clumps of dark red oxalis, thick sprigs of mint, and sprays of asparagus fern.
These are all attractive, but they're also invasive intruders that send underground runners that twist around other plants' roots, often killing them. They'd have to go, but to detangle each from the nasturtiums would require too much time.
I called my husband, Clay, over to show him my dilemma. He grabbed his mattock and, after five minutes of hacking, sent every plant flying… including nasturtiums. With fingers and hoe, I carefully sifted the soil, removing every bit of root and tuber hiding beneath the surface. When we finished, we planted a strong-rooted, blue-flowered potato bush.
Some parts of our spiritual lives are like flower beds that need to have everything pulled so we can plant afresh with joy.
One day while thinking over "Do everything without grumbling or arguing" (Philippians 2:14), I realized I'd grumbled a lot recently. I knew I needed a big change.
Some things we call complaints are legitimate: sending back an undercooked restaurant rib eye or carrying out Jesus's directives to talk to those who've wronged us. Yet, I knew if I tried to stop just the "bad" complaining, in the nanosecond of deciding whether to speak, I'd make mistakes.
So I decided to do a 24-hour fast from all complaining, good or bad. Fasting is temporarily giving up something legitimate as a discipline and offering.
I discovered some things:
I wasn't dealing with just a few little sprouts, but deep-running roots trying to push out shoots much more often than I thought.
Ninety-five percent of the complaints I yanked needed yanking.
It was harder than I expected. So, I extended the fast one extra day for more soil sifting. That cleared my plot so I could plant more joy.
For weeks after the fast, I was keenly aware of when I was about to be negative, allowing me to think before speaking. And when I did address something negative after the fast, I sounded less cranky.
The 24-hour complaining fast definitely cleared out grumble weeds.

Take a moment to read Philippians 2:3-18. It is describing gospel-worthy conduct and invites us to become shining stars in a world that desperately needs light. When we look at how to take on Christ's attitude and imitate his obedience, we will learn how to end complaining for good.
---
If You Want the Best Life Possible, Ride with God
Posted on Apr 11, 2019 Topic : Men's Christian Living, Women's Christian Living
Posted by : Tim Riter
Back in my mid-20s six of us from southern California went on a month-long mission trip to Penasco New Mexico, just outside Taos. Four rode in the van with our gear, as two of us cruised there on bikes. Both scooters looked custom. Mine—a 750 Honda, slightly chopped, "Easy Rider" American flag paint, a custom seat, but the bike was basically how the factory made it. Joe's had a 750 Honda motor and was totally custom and totally cool—winning the foreign show bike competition at that year's Winternationals.
When the month ended, I rode the bike from New Mexico to Nashville to see family, about 5,000 miles for the overall trip. The only problem came when a piece of grit got caught in the carburetor jets and took half an hour on the side of the road to fix.
Joe had a different story. Near Williams, Arizona, the tightly fitted rear fender had rubbed just enough to blow out a tire in about 800 miles. Not too many miles later, Joe began swerving in his lane, trying to raise his seat from the bike's seat. That rising got complicated because his bike had no standard foot pegs, just the raised highway ones. Bad wiring had caused the battery to overheat, warming the bike's seat considerably. He did make it to Penasco, but half way back home he put the bike in a pickup bed. Unrideable.
OK, I confess this next step took me some time, but I later saw the bikes as a spiritual metaphor. Honda engineers are educated and experts at building bikes, and my stock 750 showed it. The next summer I covered 31 states and 13,000 miles on a three-month trip with no problems. The design functioned. But then some nimrod said, "I want a radical rake on it, with a peanut gas tank, concealed wiring, and a cool paint job." Although it looks good, it doesn't perform optimally. It abandoned the experts' original design.
Our lives are like that. Rather than being a cosmic spoilsport who wants to take away our fun, God the Creator is the Honda engineer who wants to provide the best riding experience. The best humanity. The best life. Jesus told us he came to give us an abundant life (John 10:10). He knows his stuff.
Frankly, I'm still working on this trust, but I'm growing. Just this morning in worship I thought of how my life satisfies me now, particularly compared to my earlier trajectory. Following Jesus is the biggest no-brainer of all time. Trusting that Father knows best ranks right there. And my worst times have been when I thought I was smarter than he. He's God. I'm not. And I live better with that.
Have you thought of God's rules as a source of loss? How? Which ones? Have you seen the benefits of following his lifestyle? Think about how tremendously countercultural following Jesus is. What can you share with us that you've learned about the guidelines given by God?
---
When You Wonder if God Does What He Says He Will Do
Posted on Apr 09, 2019 Topic : Inspirational/Devotional, Women's Christian Living
Posted by : Mary DeMuth
You need not be afraid of sudden disaster or the destruction that comes upon the wicked, for the Lord is your security. He will keep your foot from being caught in a trap.
—Proverbs 3:25-26
Verses like these can either be really encouraging or entirely frustrating. And when you find them in the pages of a devotional, they tend to be the latter. God will always protect, will always prevent harm. But that's not how life ends up being, and so when we read words like this, we wonder if maybe God doesn't do what he says he does, or maybe he simply doesn't like us because he failed to protect.
What if there were another way to process verses like this? What if we saw them as prayers for deliverance in the midst of pain rather than prayers assuring 100% deliverance?
We are not promised an easy life. Jesus tells us we will have burdens and problems in our days, particularly if we choose to follow him. Timothy assured us that, "Yes, and everyone who wants to live a godly life in Christ Jesus will suffer persecution" (2 Timothy 3:12). So these verses can't mean a get-out-of-problems-free card. No they promise something better: presence.
The promise is this: the Lord is your security.
He is your anchor, your rock, your sure place.
His presence is promised.
In the Old Testament, that presence was more fleeting—where the Spirit would fall on then off a person. But in the New Testament, we have a marvelous promise of presence.
The Holy Spirit, if you are a follower of Jesus, lives with us and even within us. Wherever we walk, we bring the Spirit with us. If we walk into danger, he is there. If we cry in the middle of the night, aching over the loss of a loved one, he is there. If we grow weary of pursuing healing and health, he stays with us. He doesn't leave us. He doesn't forsake us. He doesn't despise our weakness. He doesn't push us away in disgust when we are needy.
No, he will always be with us. He will warn us as we walk into danger. He will provide a way of escape in temptation. He will whisper words of encouragement when our own voices shout our unworthiness. He will be a companion when our own circle of companions shrinks. We are not assured an easy life, but we are given the hope of presence.

* * *

Jesus, would you help me process verses like this because there are times when you haven't rescued me. I have been beaten down by this life, and I'm tired of living in the aftermath of other people inflicting pain on me. Yet, I want to understand what it means that you will be with me, even in the pain. Help me to remember your presence when I hurt. And instead of blaming you when hard things happen, help me, instead, to seek you and find you with me.
Amen.
---
What Can Jane Austen Teach Us About Life and Love?
Posted on Apr 04, 2019 Topic : Fiction, Women's Christian Living
Posted by : Terry Glaspey
Jane Austen published her first novel over 200 years ago, but for her fans (and there are many of them) these stories seem as relevant and entertaining as ever. Though many things have changed in the intervening decades, the human heart still is motivated by love and romance and desire.
The 19th century was a time for epic, sweeping novels dealing with the big events unfolding on the stage of history. Tolstoy, Dostoevsky, Dickens, and others chronicled both national catastrophes and the dramatic existential crises of their characters. But Jane Austen was a little different than the others.
All the drama she desired to portray in her novels could be found in an ordinary drawing room on an ordinary day. For Austen was a keen observer of how human beings interact with one another. The games we play, the postures we take, the small cruelties we inflict on each other—these were subjects of her penetrating stories. She understood what makes people tick.
Though she remained single throughout her life, it is hard to think of a novelist who had a better understanding of how human relationships work, most especially in the sphere of love and romance. She captured the deceptions of charm, the pettiness of comparison, the malice of gossip, and the damage done by jumping to conclusions about others.
As the daughter of an Anglican vicar, she understood the nature of sin, including her own. And she tried, in response, to be kind and just, and to be a faithful friend. She understood that love could look past faults, act with forgiveness, and bring joy and meaning to our lives.
Jane Austen offers up a number of examples of truly exemplary people in her novels; people that you wish could be part of your own personal circle of friends. Maybe that is why so many of us regularly revisit her wonderful books—it's like visiting again with an old and cherished friend.
Jane Austen's books are as revealing about human nature as any ever written, which is certainly one of the key reasons why they remain so popular even today. Though, at the same time, one cannot overstate the sheer pleasure of her cleverness, her humor, and her way with words.
In Jane Austen's Little Book About Life I have gathered some of my favorite passages from her novels, her letters, her poetry, and her prayers. For she has taught me a great deal about life and relationships, and she is one of those rare authors who fully deserves the sometimes-over-used description: wise. She often causes me to smile in recognition ("yes, unfortunately that's just like me!") and be challenged about the way I treat others. She makes me laugh with her cleverness and her spot-on observations, and she provides wonderful insights about what it means to be a better person. That's why it was a joy to assemble this little sampling of Austen's wisdom about life.
---
Do You Struggle with Spiritual Imposter Syndrome?
Posted on Apr 02, 2019 Topic : Inspirational/Devotional, Men's Christian Living, Women's Christian Living
Posted by : Ellen Elliott
Back in my teen years, I was a member of the school band.
I come from a musically-gifted gene pool, so when it came time to join the band in junior high, the question was not "Do you want to join the band?" but "What instrument are you going to play?" For some reason, I gravitated toward the French horn.
Later I found out that French horns are one of the most difficult instruments to learn. They are also stinking heavy to carry around when you are a skinny little 13-year old girl. Also, I discovered that my family's music gene had actually skipped me. Learning to play French horn became frustrating hours of rote memorization for me, not natural skill.
But my main problem came during marching season. Other band members played their same instrument on the football field and up in the bandstand. French hornists were not so lucky. During marching season, we had to switch to a totally different marching instrument—the mellophone.
Throughout my five-year band career, I never learned to play that mellophone. I stood in the football stands, pretending to blow air into the mouthpiece. I copied the finger positions of the kid next to me. I lived in fear that I would be found out for the fraud I was.
When you feel like an impostor, it can be hard to shake. Once that belief takes hold, it tends to clamp down on you like a ravenous remora. Even to this day, thoughts of that darn mellophone send a ripple of panic through me.
Unfortunately, feeling like an impostor can show up in our Christian life as well.
Honestly, it doesn't really take much to be affected by spiritual impostor syndrome. It doesn't help that our society increasingly bases a person's worth on performance and appearances. Before long, defeatist thoughts can slip into our minds and take hold. Thoughts like:
If they only knew how much I struggle with doubt.
My faith seems so small compared to hers.
I hope nobody finds out that there's a layer of dust on my Bible.
But I'll never be as important as that famous Christian speaker.
I am a huge mess inside.
Everyone else seems so happy... so what is wrong with me?!
I'm not enough.
I'm not enough.
I'm not enough.
Spiritual impostor syndrome can paralyze us in our walk with Christ. We wind up sitting in the bandstand, half-heartedly copying the person sitting next to us. It may look like we are living our faith out loud, but we are never actually making a sound.
And the thing is, we might be pulling the wool over everyone else's eyes, but we aren't really fooling God. God knows us intimately. He knows when we are just going through the motions. He knows when we are just blowing hot air. He already knows all our failings and struggles and weaknesses. Putting on a show is just an exhausting waste of time.
So how do we shake this spiritual impostor syndrome from our hearts?
Paul gives us an answer in 2 Corinthians 12:9:
And He has said to me, "My grace is sufficient for you, for power is perfected in weakness." Most gladly, therefore, I will rather boast about my weaknesses, so that the power of Christ may dwell in me.
After suffering through five years of the French horn, I finally snapped and told my band director, "I'm no good at this blasted instrument and I don't want to do it anymore." So my final year of band, he had me try the baritone instead. (It's like a mini-tuba.) It was considerably easier for me than the French horn. I stopped faking it and I finally oompah-ed really loudly in the back of the band. In fact, I kinda rocked the baritone. I only wish I had gotten honest with my band director—and myself—years earlier.
Are you struggling with spiritual impostor syndrome? Stop faking it. Get honest. With Jesus, you are enough.
---
Seeking Spring in a Season of Cloudy Relationships
Posted on Mar 28, 2019 Topic : Inspirational/Devotional, Women's Christian Living
Posted by : Blythe Daniel
Think about a lone tulip peeking out to see if it's safe to emerge. Its growth and beauty are the result of the cold and harsh storms of winter. The first few months of each year are often dark, cold, and shadowy. Like the tulip curled up, riding out the winter storms, the winter season can often intensify any personal shadows lurking in our souls. What have you been storing up this winter? Do you have a particular relationship that has been in the shadows?
Hang Tight Under His Shadow
We have seen mothers and daughters rise from the depths of hurt in their relationships. It's safe to say that we have felt the harsh winter of words or actions that have come between us. It's good to recall what Psalm 91:1 says: "He who dwells in the shelter of the Most High will abide in the SHADOW of the Almighty." If we can hang tight under His shelter, under His literal covering, we will abide well during the shadows in our lives. It's the opposite of covering up.
Our strained relationships often lead us to run away. But His Shadow overshadows our shadows. His covering over us is strong. And over our relationships. Trusting that the word shadow doesn't mean he's hiding but that he's holding onto us. We've stored our hearts away and he wants to bring them to fullness.
Relationships as Shadows
There's another shadow, mentioned in Psalm 23: "walking through the valley of the SHADOW of death" and we know what that valley feels like. Perhaps a relationship is your shadow. Maybe you don't know where you stand with your mom, sister, daughter, or other family member.
Have you brought your relationships out of the shadows to Him?
Have you moved toward your loved one in an effort to restore what needs to be restored between you?

We've seen that praise and gratitude are glorious pieces of equipment to abide in His Shadow. Isaiah 61:3 refers to "the mantle of praise instead of a spirit of fainting, so they will be called oaks of righteousness." The praise you can offer God for what you want to see in an uncertain relationship can be what lifts you from winter to spring. Gratitude for your life even when it's not experienced with the one you want to be close to.
Declare Our Praise Even in Winter
In spring you may notice the stature of the mighty oaks that stand tall. They are declaring their victory through winter even when it's not fully spring yet. We would do well to declare our praise even in the harsh winter of seeking to make ourselves present in difficult relationships. Often we see this as mother and daughter because of the identity shared between the two.
We have a saying in our homes that we want to choose to "be okay no matter what." We don't mean that we want to be without feelings. We don't encourage stuffing our thoughts or emotions. We just don't want circumstances or people to rob us of our love, joy, and peace.
Breeze of Change
Our prayer for you is that your overhanging, cloudy days will experience new life with the advent of spring. That the Lord will show you how to begin to restore your mind and your heart to experience new hope in your relationships. May you sense the breeze of change toward even your mother or daughter as you speak words to her that invite her into your life: "How do you see our relationship and my part in moving closer to you so that we can become mended?" would be a start to a season of restoring your relationship.
Even if spring doesn't come to the other person's heart, you will know that you are no longer in the depths of winter. You are rising out of a hidden place and putting before God your desire to offer praise instead of lament. Fresh buds instead of the fallen leaves of words in the past. It's a fresh start–will you join Him in receiving it?
Lord, will You overshadow us in each new season and help our expectant faith rather than exasperated hopelessness to lead us further into your covering over us?
---
How Much Do You Think You're Worth?
Posted on Mar 26, 2019 Topic : Men's Christian Living
Posted by : Skip Heitzig
You were not redeemed with corruptible things, like silver or gold, from your aimless conduct received by tradition from your fathers, but with the precious blood of Christ, as of a lamb without blemish and without spot. (1 Peter 1:18-19)
The world can be ruthless when it comes to the value it places on a human being. We've all experienced it: A person's worth is gauged by outward beauty, personal wealth, accomplishment, or status. That's why we so often play the comparison game and assign value to ourselves based on the perceived value of other people. The result either shortchanges us or the person we're comparing ourselves to.
But how does God value us? He looks at us through a totally different lens. For one, He sees you as priceless—like a fine treasure.
The key word of this short passage from 1 Peter is redeem, which means "to set free by paying a price." In the first century, this term typically referred to buying a slave in the marketplace. It also sometimes meant paying money to set free a prisoner of war. In both cases, the fact that a price was paid showed that the particular slave or prisoner being ransomed was highly valued. Thus redemption infers value.
Beauty is in the eye of the beholder, and your Beholder sees you as beautiful!
Your value as a human being comes from the fact that God loves you. He was willing to pay the highest price possible to buy you out of your bondage, your POW status as a slave of sin. In God's eyes, you are worth the very lifeblood of His Son. He didn't lowball the worth of your soul; He paid the ultimate price. You cost everything to Him, and He was willing to pay it. Many Christians have a hard time believing that. I pray your eyes are opened to the greatness of your value to God.
What makes the blood of Jesus Christ so precious?
First, He is the only person who ever lived a perfect life; He was "without blemish and without spot." A blemish is an inherent defect, while a spot is an acquired defect. Christ was not born in sin, nor did He commit a sin.
The second reason His blood is so precious is because it's the only antidote to the sin virus we're all infected with. As 1 John 1:7 says, "The blood of Jesus Christ His Son cleanses us from all sin." Bleach may remove everyday stains on your clothing, but the only way to get rid of sin stains is with the blood of God's Lamb, Jesus Christ.
Do you remember what lambs were used for in the Old Testament? Substitution—a lamb died so that you wouldn't have to. This goes all the way back to when Adam and Eve blew it in Genesis 3: God took the skin of an animal—many scholars believe it was a lamb—and covered them with it. In that case, it was one lamb for one person. At the first Passover in Egypt, the children of Israel took the blood of a lamb and put it on the lintels and doorpost of their homes. In that case, it was one lamb for one family.
Later, when the Day of Atonement was established, the high priest would sprinkle the blood of a lamb on the mercy seat in the tabernacle, and all twelve tribes were atoned for—one lamb for one nation.
When Jesus came along in the New Testament, John the Baptist said, "Check it out—it's the Lamb of God who takes away the sin of the world!" Now it had become one Lamb for one world—including you and me.
No matter what you think about yourself or what other people say about you, you are valuable to God. Through the Son's death on the cross, the Father was saying, "You are worth everything, and I gave everything to purchase you for Myself."
No one is too evil, and no one is too good. We all need redemption—and only His precious blood can make it possible.
---
Where to Find Light in the Midst of Depression and Dark Places
Posted on Mar 21, 2019 Topic : Women's Christian Living
Posted by : Melissa Maimone
Some mornings, before I even open my eyes, I feel a sadness weighing on my chest. I wake up to the morning sun, but I all I feel is darkness. There are days when depression surrounds me before I've had my first cup of coffee.
I love Jesus. I love my life. And yet, I've struggled with depression for decades. Though I trust the Lord, the peace that surpasses understanding sometimes eludes me. When depression sweeps in, it feels like Midnight is descending upon my soul. For a long time, I was deeply ashamed of this aspect of my life. I begged God to eliminate it.
The apostle Paul asked the Lord to do the same with his pain. God responded, "My grace is sufficient for you, for my power is made perfect in weakness" (2 Corinthians 12:9 ESV). In other words, the answer was, "No Paul, I will not take it away. I've got this and you've got Me. That is enough."
Like Paul, I asked the Lord to abolish this painful thorn buried deep in my flesh. So far, He hasn't. This caused me to wonder: if my depression has been permitted by the God who loves me completely, then perhaps my focus on removing it distracts me from why He left it there in the first place. So, rather than forever pleading with Him to expel the dark places, I've asked Him to sit with me in them.
Through trial and error, panic and faith, tears and blessing, I've learned to embrace the things I wanted the Lord to remove most. I've learned about His enduring grace more than I could have imagined. And I've come to believe that God offers important, miraculous gifts wrapped in a ribbon of things we often don't want.
You may not struggle with depression; but if you've been living this life for a while, you have your own story of suffering. Perhaps you've asked the Lord to remove your pain and so far, He has not. I know how hard that is. But our gracious God reveals His gentle presence in the midst of terrible sorrow. And where He is, hope lives. Especially in dark places.
We have a God who brings beauty from ashes, life from dry bones, and resurrection from the grave. He has fearfully and wonderfully created the complex nature of our soul. He is always renewing, always redeeming, always recreating. And if He does those things, then it stands to reason that our pain, our circumstances, our tears will not be left untouched or unchanged by His grace, even if they are never fully removed.
Depression is still part of my life. I still don't like it and it's still hard. But Jesus isn't afraid of the dark; even when we are. He is with us in it. In His care, even the Midnight can be radiant.
---
Nourish Your Spirit by Dwelling in the Presence of God
Posted on Mar 19, 2019 Topic : Inspirational/Devotional, Women's Christian Living
Brother Lawrence, a seventeenth-century monk, cultivated a lifelong practice of dwelling in the presence of God by acknowledging the Spirit in his life even as he went about mundane daily tasks.
His letters and conversations are recorded by his own hand and by his close friend Joseph de Beaufort, in a classic spiritual book called The Practice of the Presence of God.
No matter how wise or prepared we are, life doesn't always go according to our plans. In the moments when the weight of the world feels as if it's resting on our shoulders—when we're facing a serious or chronic illness, the loss of someone we love, a financial burden, or another momentous event or circumstance—we can become even more aware of our weakness in our spiritual perspective.
Consider the words of Brother Lawrence: "I began to live as though there were no one but God and myself in the world…We cannot avoid the dangers of life without God's continual help, so we should ask Him for it ceaselessly. But how can we ask for help unless we are with Him? To be with Him, we must cultivate the holy habit of thinking of Him often…We have to know someone before we can truly love him. In order to know God, we must think about Him often. Once we get to know Him, we will think about Him even more often, because where our treasure is, there also is our heart!"
And this, from the same book: "Take courage…The difficulties of life do not have to be unbearable. It is the way we look at them—through faith or unbelief—that makes them seem so…God often allows us to go through difficulties to purify our souls and teach us to rely on Him more (1 Peter 1:6-7). So offer Him your problems unceasingly and ask Him for the strength to overcome them. Talk to Him often. Forget Him as seldom as possible. Praise Him. When the difficulties are at their worst, go to Him humbly and lovingly—as a child goes to a loving father—and ask for the help you need from His grace…We should be careful to never separate ourselves from His presence. We must dwell with Him always."
How can we build a stronger spiritual foundation for ourselves, our home, and our family, one that will nourish us and stand firm even through the storms of life? We can study and meditate on Scripture to fill our heart, soul, and mind with truth and promises. Meditating on scriptures and tucking them into your heart will reset your perspective on what is happening around you. As you develop a strong spiritual mind-set, you keep your mind anchored above. No matter how distant from God or unworthy you might feel, you are worthy and invited into a relationship with Him.
"Peace I leave with you; my peace I give to you. I do not give to you as the world gives. Do not let your hearts be troubled and do not be afraid." John 14:27
---
A Prayer for the Caregiver Who Feels Invisible
Posted on Mar 14, 2019 Topic : Inspirational/Devotional, Men's Christian Living, Women's Christian Living
In my distress I called to the Lord; I cried to my God for help. From his temple he heard my voice; my cry came before him, into his ears. Psalm 18:6 NIV
It's happened yet again. A well-meaning friend or acquaintance has asked about your care recipient, while you stand by and wonder, "Don't I matter too?" As you pour yourself out for someone else, you may feel forgotten. Invisible.
Maybe your care recipient is so covered in prayer that he's nestled in a place of peace. A giant bubble of grace surrounds him, sustaining him through this trial, but you're left on the outside. You find yourself fighting exhaustion and weakness with no armor to stand firm—no prayer circle girding you with strength.
My friend, when it seems as though everyone looks past you, remember that you're seen and loved by God. He offers comfort not only to your care recipient; He offers comfort to you. This season may leave you feeling invisible, but you can always call on your Savior. He promises to listen, care, and provide.
Will you turn to Him now?
***
Dear Lord,
I feel selfish praying this prayer, but the truth is, I wonder if anyone sees me. I know my care recipient's needs are great, and it makes sense that people are concerned about him. But it would be nice to know they're thinking of me too. When they ask how he's doing or how they can pray for him, I want to add my own needs. Yet I don't want to sound self-absorbed, as if my struggle is more important than his.
Father, what a relief to know that even though people may look past me, You notice everything. You see my challenges and lack of strength. You know the emotional burden I carry, and You don't judge me for needing help.
Remind me of this when I feel alone. I'm so grateful for Your listening ear, for the invitation to call to You in my time of distress. I don't want to stay buried in this hardship without turning to You, so I ask for a heart that seeks You first.
I also know how valuable earthly friendships can be. As I walk this journey, help me recognize the people nearby who can offer support and encouragement. I don't want to be afraid or feel guilty to ask for prayer, so grant me the faith to reach out. Surround me with a prayer circle, even if it's one or two close friends, and show me how I can come alongside them in return.
No matter what happens, I choose to turn to You. Whether anyone sees my struggle or not, I believe You know my needs. I commit to coming to You first for my comfort and strength.
In Jesus's name, amen.
---
Contentment and the Plain-Jane Everyday
Posted on Mar 12, 2019 Topic : Inspirational/Devotional, Women's Christian Living
Posted by : Anne-Renee Gumley
It was late. The kids had been in bed for several hours, and I was in the laundry room folding clothes while waiting for my husband to come home from a long day at work. Clothes that had accumulated into mountains throughout the week filled the tiny space, as though they were fulfilling the biblical command to "be fruitful and multiply."
Resentful notions tossed around in my head, keeping time with the dryer tumbling over and over, until discontentment was the reigning queen of my thoughts.
I wish we didn't live here. If we just moved, everything would be different. I would be so much happier.
As the days turned into weeks and the weeks into months, the mulling continued, and that tiny seed of discontentment grew into a bitter secret garden. It became a place I liked to go and relax every now and again, comforting myself with this cheerful, though false, reality.
Sometimes we find ourselves restless in our current season and begin to think that if [fill in the blank] would change, all our wishes could come true. We would, to borrow Elizabeth Bennet's phrase from Pride and Prejudice, be "completely, and perfectly, and incandescently happy." We yearn for contentment but suppose its location is somewhere other than our current situation or setting. And if you're like me, you find yourself believing that lie—that things will all be better in the future once the present circumstance changes. And that our happiness hinges on that change!
Of course, the enemy of our souls would like to keep us in this exact place of yearning and discontentment. For us to fester and ooze our whinings and woes out onto our families, sharing them with our friends, sowing seeds of "there must be something better out there, something more" wherever we go. Like contagious diseases, unhappiness and disappointment are quick to spread, leaving behind crops of hopelessness and unhealthy hankering.
But praise God! When truth is present, the lies of the enemy don't stand a chance!
For as we trust God's heart, we begin to grasp and comprehend what He is using to propel us forward, drawing us to Himself. Those things that prune us and shape us, bringing hope to our families and hope to our souls, helping us become the people He created us to be, for His glory.
With the Lord by our side, we can choose blessing amid dissatisfaction. As the psalmist wrote, "I will bless the Lord at all times; his praise shall continually be in my mouth" (Psalm 34:1). In light of such truth, we discover that contentment is not dependent on the state of the situation, but rather an attitude to be chosen. Even when seasons are hard and the laundry's piled sky high.
---
What Does God Have Prepared for You?
Posted on Mar 07, 2019 Topic : Inspirational/Devotional
Posted by : Mike Nappa
"No eye has seen, no ear has heard, and no mind has imagined what God has prepared for those who love him." —1 Corinthians 2:9 (NIV)
Lately I find myself thinking "Amy would've" and "Amy used to" a lot. I mean, A LOT.
For instance, after my wife, Amy, died, I stood one night in the street. in the freezing cold, watching our preschool granddaughter perform a sweet little ballet at a local tree-lighting event downtown.
"Amy would've just loved this," I thought almost instantly. "She would've cheered and teared up and been full of joy." I looked over at Amy's sister Jody, standing next to me, weeping like I was, and knew I wasn't the only one thinking those thoughts.
That first Christmas without my girl, I kept a stack of Christmas movies in my basement waiting for their annual escape from DVD purgatory. One day during that season I saw Love Actually in that stack and thought, "Amy used to love watching this movie. It made her cry every time." And I remembered…
Once, in springtime, my girl was having a really bad day. I hurriedly took a cue from one of the characters in Love Actually and scribbled a little sign for her. "To me, you are perfect" it said. I stood in a doorway and held it up to my chest for her the next time she walked by. She burst into tears and hugged me for a long time. Then she felt better, and I forgot about it.
After she died, I found that scrap-paper sign in a keepsake box of Amy's. She'd saved it, treasured it for years, and I never knew.
Amy would've ... Amy used to ...
As soon as these thoughts appear in my brain, they're almost always followed by, "I would've" and "I used to." As in, "I would've loved this with Amy" or "I used to love being that with Amy..."
My girl is dead and gone. I know this. She is safe, happy, free. But I am none of those things. So I find that sometimes I sit in my own moments of suffering, thinking: I would've loved tonight's preschool ballet with Amy at my side. And I used love watching Love Actually with her, being the one who got to hold Amy's hand when it was time for her to cry. No more I guess. I find this unbelievably hard.
Still...
In the weeks before she died, I hand-wrote one last note for our girl:
"No eye has seen, no ear has heard, and no mind has imagined what God has prepared for those who love him (1 Corinthians 2:9)."
It was black, fine-point Sharpie on a pink index card (no, I don't know why I had a pink index card; I just did). I hung it at her eye level, on the table next to her hospice bed, so she would see it whenever she woke up. It was a promise, I thought, of what she would soon find in Heaven. I still believe that. But lately I've also been wondering:
What if this promise is meant for me too, for right now?
Amy is experiencing 1 Corinthians 2:9 fully in the presence of joy. But what if God intends for me to experience it too—at least in part—in ways I don't yet understand, here in this thirsty, heartbreaking journey on my way to join her?
I don't know if that theology is correct given the context of this particular Scripture (I'll have to study it a bit more), but I do know that if it is...
Amy would've liked that.
---
We Are All Part of God's Adopted Family
Posted on Mar 05, 2019 Topic : Inspirational/Devotional, Men's Christian Living, Women's Christian Living
Posted by : Lauren Dungy
God decided in advance to adopt us into his own family by bringing us to himself through Jesus Christ. This is what he wanted to do, and it gave him great pleasure. Ephesians 1:5 NLT
My husband Tony and I already had three children by 1999, yet we felt God calling us to add another to our family, so we began investigating adoption. The agency we contacted had several pregnant women planning to place their babies for adoption, and they sought Christian homes for these unborn children. Knowing of this need spurred us to ready our family for a little boy.
And we believe with all our heart that God placed Jordan with the perfect family.
When we adopted Jordan, God made clear He brought him into our family for a reason. Shortly after birth, Jordan was diagnosed with a rare neurological condition called CIPA—Congenital Insensitivity to Pain Anhidrosis.
Jordan is missing the gene that enables the pain sensors in nerve endings to signal discomfort to the brain. Jordan would never be able to feel pain. While this might sound like a good thing, it is not. Because he can't feel discomfort, Jordan has done a lot of damage to his body. He hasn't learned to avoid sharp objects or hard blows because he doesn't feel anything. Cuts and the infections that go along with them are commonplace. Sprains, dislocations, broken bones, and fractures happen regularly to him.
He has undergone over 80 surgeries and spent most of his teenage years in a wheelchair or using a walker. But he is thriving. He will graduate from high school this year and he plans to attend a culinary arts school. His spirit is amazing, and he inspires everyone he meets.
Our family was always the best place for him. Tony and I had the resources and unconditional love to give him the time and special attention he needs to survive.
Ephesians 1:5 says, "God decided in advance to adopt us into his own family." God made a choice to take us in, granting us a new start in the wonderful family of God. The Lord took on the responsibilities of a parent—protecting us, providing for us, nurturing us, and guiding us. When we accept Christ as our Savior we receive all those benefits, along with the eternal life that goes with them. We will forever be indebted to God for His unfailing love, but Paul tells us this adoption is God's desire. It gives Him joy to bring us into His family, and to be able to love us unconditionally.
If you are struggling today wondering where you belong, I want to remind you that you are right where you're supposed to be. Sometimes God places us in families that are biological, and other times they're chosen. But most importantly you are part of His family, chosen by Him before the foundation of the earth.
---
Why Preparation is Your Best Defense Against Germs and Demons
Posted on Feb 28, 2019 Topic : Men's Christian Living
Posted by : Neil T. Anderson
Some Christians are a little paranoid about evil powers lurking around every corner looking for someone to devour.
That's an unfounded fear. Your relationship to demonic powers in the spiritual realm is a lot like your relationship to germs in the physical realm.
You know that germs are all around you: in the air, in the water, in your food, in other people, and even in you. Should you live in constant fear of them? If you did, you would be a hypochondriac.
The only appropriate response to the swarm of germs around you is to eat the right foods, get enough rest and exercise, and keep yourself and your possessions clean. Your immune system will protect you. However, if you didn't believe in germs, you would be less likely to take those protective measures.
Before the medical profession discovered the reality and nature of microbes, doctors and nurses saw no need to wear masks, scrub up before surgery, or use antibiotics—which is why some patients died.
It's the same in the spiritual realm. Demons are like invisible germs looking for someone to infect. We are never told in Scripture to be afraid of them. You just need to be aware of their existence and commit yourself to knowing the truth and living a righteous life.
The only real sanctuary you have is your position in Christ, and in Him, you have all the protection you need.
In Ephesians 6:10-18, Paul describes the armor of God, which He has provided for our protection. The first fact you should understand about God's protection is that our role is not passive. Notice how often we are commanded to take an active role:
Be strong in the Lord and in the strength of His might. Put on the full armor of God, so that you will be able to stand firm against the schemes of the devil. For our struggle is not against flesh and blood, but against the rulers, against the powers, against the world forces of this darkness, against the spiritual forces of wickedness in the heavenly places. Therefore, take up the full armor of God, so that you will be able to resist in the evil day, and having done everything, to stand firm (verses 10-13).
Some Christians ask, "If the Lord has disarmed the enemy and fitted me with armor, why can't I just trust in that?" That's like a person joining the military asking, "Our country has the most advanced tanks, planes, missiles, and ships in the world. Why should I go through basic training and learn how to stand guard?"
They had better learn the essentials because soldiers, sailors, and airmen are the ones who maintain and use military weapons and hardware, which are useless without them, and only as good as the ones operating them.
Our "commanding officer" has provided everything we need to remain victorious over the forces of darkness. He says, in effect, "I've prepared a winning strategy and designed effective weapons. But if you don't do your part by staying on active duty, you're likely to become a casualty of war."
In her classic book War on the Saints, Jessie Penn-Lewis wrote, "The chief condition for the working of evil spirits in a human being, apart from sin, is passivity, in exact opposition to the condition which God requires from His children for His working in them."
You can't expect God to protect you from demonic influences if you don't take an active part in your own defense.
---
Embrace the You That God Created You to Be
Posted on Feb 26, 2019 Topic : Inspirational/Devotional, Women's Christian Living
Posted by : KariAnne Wood
Can I tell you how happy I am to meet you?
I'm KariAnne.
I wear yoga pants and messy buns and purple nail polish and currently own almost every shade of red lipstick on the planet. I watch Hallmark movie marathons and I have hands that wave when I talk and oddly long toes and I spend my days trying to find homes for abandoned furniture. I've been decorating since my first Barbie house, and I love a DIY, and for seven years, I've written a blog called Thistlewood Farms.
I still remember the first day I started the blog.
I had big plans. It was going to be detailed and full of decorator terminology and important, meaningful words of wisdom and lengthy discussions about what to do and what not to do when decorating your home. At the time, I had no idea how to take pictures. I used disposable cameras that were yellow. You know. The ones you took to Walgreens and then threw away after you used them.
I hired a photographer and he came to the house and took the most incredible pictures of my Christmas decorations. I still remember when he sent the photographs to me. I sat at the computer staring in wonder. I was in awe. I was so full of joy. At the risk of stating the obvious—my Christmas decorating was on fleek. I couldn't wait to show the world.
Oh—the blog I was going to write.
I sat down at the computer with words swirling around in my head about neutrals and Christmas trees and why gray was so 2011. I added the first picture to the post and smiled. It was amazing. Didn't my chairs match my ottoman and pick up the tiny flecks of silver in my stockings hung by the fireplace perfectly? And the tree? Had the world ever seen such a tree? It was nine feet tall and covered with glittery ornaments and snowflakes and twinkling stars and pinecones and...and…and…
…WHAT WAS THAT?
There, at the bottom of the photograph were the giant metal feet of the tree. It was awful. It was terrible. And to make matters worse, the wide-angle lens only amplified them in all their metalness and made them appear as if they were taking over the room. How had that happened? How had I forgotten the first rule of Christmas decorating? What was I thinking?
My room was decorated without a tree skirt.
The fancy decorating blog never happened. The pearls of wisdom never really showed up. On that long ago first day of the blog, I never wrote the post I intended to.
Instead?
I wrote about celebrating imperfection and living with what you have and learning from mistakes and skirtless trees and the people who love them. Every day. Every week. Every month, I shared things that inspire me and how to decorate with what you have and letting your house reflect you. And along the way, something incredible happened, I discovered a world of people who were just like me.
People who loved their homes.
People who wanted to decorate without all the fancy words and fancy explanations and rules and guidelines.
People who wanted to decorate with their heart.
This book is an extension of that message. It's all about finding a design style and building a room by room design framework and learning what works in your home. The book is filled with inspiration and creative ideas and layering in pattern and color and texture to fit different styles.
And now?
Before you open the book. Before you glance through a single page. Before you take the quiz or discover your long lost heart for all things coastal or farmhouse or contemporary, I wanted to point out the obvious and say something you're probably already thinking at this point because we both know how brilliant you are—there are enough decorating styles in the world to fill an entire set of encyclopedias from A to Z. I couldn't cover them all within the pages of this book, so I did the next best thing. To make it easier, I chose five major categories of design styles to work with. Within these pages, we'll look at Farmhouse, Traditional, Coastal, Transitional, and Colorful Contemporary.
But here's the thing.
You have your own style. You have your own voice. You have your own heart for the things that make your home beautiful.
And I want to celebrate that.
I want to honor it.
I want to shout out how amazing you are to the world.
I want to give you permission…
…to be YOU.
You probably identify with one particular style more than others; however, there may be elements of different design styles outlined in the book that speak to your heart. If your style is traditional, but you love driftwood? Use it. If your style is farmhouse, but a colorful, eclectic accessory calls your name? Answer. If your style is coastal, but you decide you can't live without a set of wingback chairs? Bring them home and introduce them to your conch shells.
Let your style inspire you, instead of define you.
In all this world—there is only one you.
This book was written to spark joy. It's the start of an exciting design journey. Inspiration and style ideas and creative design solutions are just pages away. Embrace your style and your heart and get ready to create a home that's amazing.
Exactly like you.
---
You Are Hardwired for Friendship
Posted on Feb 21, 2019 Topic : Men's Christian Living
Posted by : Justin Erickson
One of the best ideas God ever had for us is friendship. He is a relational God and enjoys a perfect friendship within the Trinity. In kindness, God invited us to share in the experience of His joy, which He has known for all eternity. Being made in His likeness, we have been given an immense capacity and need for friends, starting with Him.
Friendship Is One of God's Best Ideas—Lean Into It
Something inside us yearns for authentic, loyal, courageous, and helpful friends. God put that there. It honors Him when we press into our relationships and experience their benefit.
Our friends are valuable because they embolden us with their confidence to do what we ought, when we might have shrunk back in fear.
The right friends intervene with their wisdom when they hear us speaking foolishly, thus protecting us from acting recklessly. They oppose us when we start going down a path that will lead to our harm, when we would have suffered needless regret. True friends inspire us to bring the best version of ourselves every time.
Friendship was a great idea. Lean into it and make time for it, for the pure enjoyment of it.
Every Friendship Is Different—That's Okay
Not everyone is hardwired the same when it comes to friendships, which is why each of your friendships will be different than the other. Some friendships are the kinds you want and need to nurture often, sometimes weekly or even daily, or else they languish. Other friendships are strongest and best with some time and distance between interactions but are just as meaningful.
Think about your different friends. Some love to sit and talk for the pure joy of an authentic exchange that has no agenda. This is just as good and God-given as other friendships where we "go and do," working together on something lasting that will leave an impact.
Equally important are the bonds that are formed by collaborating to solve a problem and creating solutions that help others. This is just as pleasing to God as the settled calm of the people who help us stabilize in contented silence as we give each other room to be refreshed and safe.
Each of these exchanges are equally valid, and God-given reflections of His power, love, wisdom, and knowledge.
Every Friendship Is Warped by Sin—Be Ready for It
However, one of the heaviest strains we impose on friendships is the set of expectations that others relate to us in the way we are wired.
In laziness, we can gravitate towards those who are like us, and in stubbornness we can push away from those who are unlike us. In both cases, selfishness can warp and damage our friendships.
God calls this warping sin. According to Scripture, we introduce friction and pain into our friendships, creating premeditated disappointments (James 4:1-4). Relationships suffer or end because something is wrong with us on the inside.
We have an idea of what we think our lives should be, what makes us happy. And we will sin to get it or sin if we don't get it. We manipulate our friends to get what we want and punish them if they stand in the way.
In a marriage or on the playground, friendships don't work the way God intended because we are sinners. Sin can make us jaded about friendships and cause us to miss all that God has intended them to be. God grieves when our friendships are broken. That's why He Himself is the cure.
Only One Friend Will Never Disappoint—Go After It
There's only one solution for broken friendships, and it is the glue that works in every case—the gospel of Jesus Christ. Jesus is the only Friend who will never disappoint us (Romans 9:33).
The good news is that He is "the friend of sinners" like you and me (Matthew 11:19). And while our broken relationships are among the clearest proofs that we need a Savior, He stands ready to forgive our selfishness, laziness, betrayal, fear, and guilt. Through His death and resurrection, we are restored to a right relationship with God and are given a renewed capacity to use friendships as God intended.
To all who believe, Jesus says, "No longer do I call you slaves, for the slave does not know what his master is doing; but I have called you friends, for all things that I have heard from My Father I have made known to you" (John 15:15).
---
My Dad is Chuck Norris and I Have Superpowers
Posted on Feb 19, 2019 Topic : Inspirational/Devotional, Men's Christian Living
Posted by : Ben Courson
My dad is Chuck Norris.
Well, not literally. But he looks a lot like him and he has the same kind of muscular physique. He likes to wear those tank tops that show off his "guns." ("Sun's out, guns out.") During my childhood, Walker, Texas Ranger was one of the most popular programs on TV, and Dad was a dead ringer for the mighty Chuck Norris, who starred in that show. Norris could always stride with confidence into even the most uncertain of situations and set things right with his imposing stature and fearless demeanor.
Sadly, I am nothing like my dad.
As a kid I got beat up a lot by a bully who lived on the same block.
Her name was Samantha, and she loved putting me in my place.
As I grew older, I continued to attract bullies. After all, I was skinny, had a voice that caused me to be mistaken for a girl at the Taco Bell drive-thru, and I couldn't bench press much more than the bar itself.
Despite all that, I never lost a fight.
I never lost a fight because I always ran away.
I fled for my life.
Fortunately, my school was only a block from my home. So, when a bully would threaten me I'd run to my dad for protection. In the presence of my dad, I became fearless. Even a bit cocky.
"You got a problem with me? Take it up with him," I'd say. "You aren't that intimidating. Go ahead, take a long walk off a short pier," I'd threaten, or something along those lines.
One look at my dad and the bullies would retreat.
When David faced off against the giant Goliath he taunted him as "an uncircumcised Philistine," which was an example of ancient trash talk. Similarly, I could fearlessly taunt the bullies when my dad was nearby. Though I was a hopeless fighter myself, I had all the confidence in the world when my father had my back.
Nothing much has changed.
Based on my own courage I am still not going to get very far. But my Heavenly Father is one seriously focused fighter.
In Romans 8:37, Paul said that through the love of the Father we are "more than conquerors." In the original Greek language, the phrase literally means that we are "super-overcomers." All because we can lean on the One who is braver than Batman, stronger than Superman, more indomitable than Ironman, more audacious than Antman. His name is the "Son of Man" and He is the warrior (Exodus 15:3) and He's fighting battles on our behalf and answering prayers at our behest. I cannot lose. I may fail from time to time, but ultimately, I will never lose. For His love never fails.
Yeah, One greater than Chuck Norris is beside me.
And I am a superhero.
My superpowers are trust and dependence.
Marvel and D.C. should be looking me up any day.
---
Why Romance Should Still Be on Your Reading List
Posted on Feb 14, 2019 Topic : Fiction, Inspirational/Devotional, Women's Christian Living
Posted by : Kim Moore
Ah, romance. Those who aren't interested in story may shrug and say, "I read only nonfiction. You know, serious books." I always feel sad when I hear that. Because strength and forgiveness and vulnerability and learning about oneself and so many other good things can be found in the world of make believe. And kisses. We can't forget kisses.
Storytellers have an important role in shaping and changing culture. Lori Wick is such an author. She didn't just write about happily-ever-afters. She cared deeply about how her characters lived out their faith along their journey to true love and marriage and family, making mistakes along the way but trusting in God to bring them through safely and according to His plan for them.
Altogether, Lori gave us dozens of books that sold millions of copies. She found a lasting place in the hearts of her readers, who came back again and again for the next compelling offering…some rereading their favorite stories over and over.
Because of this, and because anniversaries are worth celebrating, Harvest House decided to publish special hardcover editions of two of Lori's most popular novels: Sophie's Heart and The Princess. These beautiful keepsakes with a ribbon marker are perfect for any reader of romance, not just a Lori Wick fan.
Sophie's Heart
This silver anniversary edition celebrates 25 years of one of the most heartwarming Christian romance novels ever written.
The way Sophie looks to God to lead and care for her is inspiring, and the love she has for Alec and the children is tender and beautiful. When Alec turns his heart to her (no spoilers here—of course he does!), it's a happy-sigh-inducing moment. Their unfolding romance is timeless. This story will still touch hearts 25 years from now.
The Princess
Celebrating 20 years in print, this romance is set in a make-believe kingdom, where a handsome prince is living with a broken heart.
The Princess is one of my favorite stories. Shelby has a high calling with a difficult path ahead of her—becoming a princess and marrying a man who does not want to be her husband. But as Nikolai bows to the traditions of his people, we watch him and his new bride find their way to each other through grace, kindness, and obedience to God's call on their lives. Beautifully written and hopeful throughout, this new edition of The Princess makes reading this story again or for the very first time a complete joy.
From the earliest days of storytelling to our almost miraculous digital age, romance has had an important role in conveying the saga of the human condition and the benefit of having a hand to hold, a life to share, and a heart to love. Celebrate these universal aspects in a wonderful new way with these gorgeous anniversary editions from Lori Wick.
***
Kim Moore, a senior editor at Harvest House Publishers, has been in CBA publishing for more than 20 years. Kim shares her life with two gorgeous cats, and she and her housemates make their home in the green and beautiful Pacific Northwest.
---
Is Every Christian the Same Type?
Posted on Feb 12, 2019 Topic : Men's Christian Living, Women's Christian Living
Posted by : Rachel Spier Weaver
In the mid-90s, I played basketball for my Christian high school. I was a beast on the court, pulling down rebounds and making game-winning assists. I was unstoppable.
Actually, most of that is a fantasy I wish was true. I definitely wasn't a beast. My dad periodically reminds me that I'd move away from teammates when they tried to pass to me. He gets a good chuckle out of it.
When it came time for end-of-season awards, I got the "Barnabas Award," for being the team encourager. My coaches knew I wasn't going to get any college scholarships for my tenacity on the court. Soon after I got the award, I decided team manager was more up my alley; I dutifully kept score, diligently organized uniforms, and cheered on my team from the sidelines.
Cut to 2019 when we're all talking about the Enneagram. Just to get it out of the way, I'm a Six with a Five wing. Perhaps it was the representative anxiety of Sixes that explains why I moved in the opposite direction of the ball: "Don't throw it to me; I'll make a mistake!"
The Enneagram and other personality assessments are great tools to explore our types and contextualize how we make decisions and frame our world. They can sometimes explain our thinking and behavior. But they can also be misused to explain away or excuse behavior that limits Kingdom building. "Sixes crave security, so giving extra to ministry just isn't in the cards for me." "I'm an introvert so the idea of speaking or preaching makes me sweat."
Genesis 1:27 tells us, "God created human beings in his own image. In the image of God he created them; male and female he created them." We are image-bearers of the most holy God. He is every good thing about each Enneagram type. When we talk about our type, we are talking about elements of God's very nature, reflected in us.
A few years ago at HOPE International, where I work, we asked ourselves this question: "What's in your hands?" We were inspired by biblical heroes like the widow in 2 Kings 4 who, when overcome by debt and facing losing her sons to slavery, collected borrowed jars – quite literally the only things she had – and watched as the Lord miraculously filled each jar with oil. Or the boy in John 2 who shared his five loaves and two fish and watched as Jesus multiplied it to feed 5,000. Here are two examples of how people used what they were given to advance the Kingdom and bear witness to work that only God can do.
As we thought about that question further, we were stirred by stories of women and men all over the world who face material poverty, corrupt governments, and societies ravaged by war, who are building businesses and employing others in their communities. They are using what's in their hands.
When we take personality assessments or ask ourselves, "what type am I?" we're really saying, "tell me about myself and what I have to offer." Let's clear it up here. Here is your type: Reflector.
So, image-bearer, what part of God's character will you reflect? What is in your hands that you will use to advance the Kingdom?
---
Do You Desire a Deeper Connection with Your Child?
Posted on Feb 07, 2019 Topic : Men's Christian Living, Women's Christian Living
Posted by : Susan Merrill
Do your conversations with your son or daughter ever seem like a litany of corrections and instructions? Perhaps they sound like this: "Did you brush your teeth?" "Did you feed the dog?" "Please don't provoke your sister!" "Your basketball uniform is on the dryer." "How could you forget your homework?"
With school, sports, recitals, holidays, and church programs—in our case, for five children—life can easily spin out of control. Survival became our goal. Communication became utilitarian, and relationships were sometimes strained.
So many nights I fell into bed and couldn't remember a single meaningful word I said to my kids all day. I felt so guilty. I was missing opportunities to praise and encourage them because I was too busy reminding and instructing. In my desire to make sure we got everything done right, I was squelching the sweetness and joy God intended for our relationship.
I knew something was missing in the way we were raising our kids but couldn't quite put my finger on it. The busyness of life was blowing away opportunities for my husband and me to encourage our children. It was time for a change.
God made that clear one morning through an incident with our oldest child, Megan. I had been coaching Megan to have more patience with her younger siblings, who adored her but were often annoying to her. On the way to school on a morning of particularly annoying adoration, I observed Megan responding to one of the kids with intentional patience. She then gave me the Do you see me, Mom? look in the rearview mirror.
We arrived at school, the kids got out of the car, and I drove away, marveling that Megan had put into practice what we had discussed. I so badly wanted to encourage her to continue being patient with her siblings. Then my joy turned pensive. I began to worry that I would forget to praise her after school. I knew I would be distracted getting all the kids where they needed to be. But I was not going to miss this opportunity to encourage her. I drove home and immediately wrote her a long note of praise and left it on her pillow.
Megan found the note on her pillow and did something I will never forget. She wrote me back and put her note on my pillow. That night when I dropped into bed, instead of falling asleep craving more connection with my kids, I felt overwhelming gratefulness that God had inspired me to do something so simple.
The next day I started a journal with each of my kids. I wrote down a question—usually about something going on in their life. Then I wrote my thoughts and words of encouragement. I placed it on the child's pillow and waited for him or her to write back. This gave each of them a comfortable way to express themselves to us and gave us a clear window into their minds and emotions.
And when the journal was filled, we had a keepsake of wonderful memories and their developing thoughts.
---
You Don't Need to Lock Yourself Up to Get Closer to God—Get Outside Instead
Posted on Feb 05, 2019 Topic : Inspirational/Devotional, Men's Christian Living, Women's Christian Living
Posted by : Laurie Kehler
I loathe the pressure of a New Year.
"What are your New Year's resolutions?"
"What's your word for the year?"
"How will you crush your goals?"
I want to be seen has having it all together and reply with a well-thought out goal or memorable meme for the upcoming year. But in my heart, I don't want to play along. I just want to . . . be. Take time. Listen for that still, small voice that I rush by most mornings. I don't want join the throng and "should" on myself.
In South Korea overscheduled and continuously connected people are checking themselves into "jail." This is a jail you want to get into–as opposed to get out of.
In this place, there is no cell phone coverage. There is no technology in your room. Your meals are simple, but delivered through a small hatch in your door. You sleep on the floor and there is a simple toilet. You are provided with a pen and paper. Why would people pay for this austerity?
Because they don't want to "should" either. They come to disconnect for forty-eight hours. To unwind. To hear their thoughts and think more deeply. To purge the techno-babble-clutter that permeates our minds constantly.
You don't have to pay to get away to hear yourself think. You can do what Jesus did. Step outside.
When Jesus heard about the beheading of his cousin John the Baptist, he didn't gather friends together and talk it out. He didn't even bring them together to pray. "As soon as Jesus heard the news, he left in a boat to a remote area to be alone" (Matthew 14:13 NLT). But he was interrupted. People heard where he was going and they followed. This led to the feeding of the five thousand. After that, he sought to get away again.
"Immediately after this, Jesus insisted that his disciples get back into the boat and cross to the other side of the lake, while he sent the people home. After sending them home, he went up into the hills by himself to pray" (Matthew 14:22–23 NLT).
Getting away, in the outdoors, was Jesus's remedy for times when he was overwhelmed. Getting outside alone was how he recharged and found solace.
If you're feeling overwhelmed by what you "should" be doing, or watching what everyone else is doing on social media, I suggest you follow Jesus. Unplug and step outside.
Get alone with your thoughts. Maybe bring a notebook and a pen. Breathe deep. Notice the sounds, the smells. Observe the birds. Write down your thoughts, questions, things that are buzzing around inside your hive mind. Write down your list of gratitudes.
Then praise God. For just this moment. For all the wonders in creation that delight you. Then listen. Write down what the Holy Spirit whispers to you, no matter how bizarre. You can check it with scripture and a friend later. Right now is about write now. It's that simple.
You don't need to put yourself in jail to get alone with your thoughts and hear God. In fact, not getting outside and alone keeps you hostage to all the shoulds and overwhelmed feelings. Free yourself, follow Jesus, and enjoy this outside life.
---
What Does Friendship Have to Do with Your Faith?
Posted on Jan 31, 2019 Topic : Men's Christian Living, Women's Christian Living
Posted by : Christopher Ross
Making friends and feeling accepted is an important part of adolescence. Encourage your tweens to reach out and make new acquaintances. Share this excerpt from A Kid's Game Plan for Great Choices with them today.
***
There I was, in a new school in a new town—alone.
My friends, my basketball team...everyone and everything familiar to me was 400 miles away in another state. My family and I pulled up our roots in Lincoln, Nebraska, packed all our things into a moving truck, and headed south to start a new life in a new place—Missouri.
I set my tray on an empty cafeteria table and just stared at my lunch.
At least my food looked familiar: chicken nuggets, tater tots, and an apple. But is it as good as what Mrs. Steiber served up back home?
I was about to find out when a voice interrupted my thoughts.
"Hey, uh...is it okay if I sit here?"
It was another new kid—a boy I'd met that morning when a counselor was showing me around.
"I'm Dillon," he said, sticking out his hand. "I saw you during the tour. I moved here from Kansas."
"I'm Chris," I responded, shaking his hand. "I came here from Nebraska."
"Go, Huskers," he said. "We don't have a major football team in St. Louis—at least anymore," Dillon said. "But we do have the Cardinals. And people are crazy about them."
"I know," I said, laughing.
Suddenly, my unfamiliar surroundings weren't all that strange to me. And suddenly, I wasn't feeling so alone. My new friend was changing everything.
I can't think of too many things worse than sitting alone in a crowded cafeteria.
Enter a room filled with faces you don't recognize (especially if you're the new kid at school), and your stomach knots up. Your knees shake, your mouth feels like it's full of peanut butter, and the cool T-shirt suddenly looks like you've run a marathon in it.
As you look around the room, you notice something strange: Everybody is hanging out in herds, or cliques—small, exclusive clumps of guys and girls who share the same interests. Keep looking, and you'll see all kinds of herds: athletes, gamers, surfers, skaters, science buffs, and artists.
You already know friendship is important. But why does it feel so weird to be alone? And just why do guys and girls hang out in herds, anyway. One word: acceptance. No one wants to be left out. When a small group of friends takes us in, we don't have to worry about being alone. Are herds bad? Yes and no.
Jesus hung out with a herd—those who followed Him. They often met by themselves for prayer, teaching, and good times. But whenever outsiders came along, the group opened up to them. Jesus was not selective of whom He befriended. He accepted everyone.
As we try to make more friends, what can we learn from Jesus?
"You are better off to have a friend than to be all alone, because then you will get enjoyment out of what you earn. If you fall, your friend can help you up. But if you fall without a friend nearby, you are really in trouble…someone might be able to beat up one of you, but not both of you. As the saying goes, 'A rope made from three strands of cord is hard to break'" (Ecclesiastes 4:9-12 CEV)
---
Five Things You Can Do When Your Marriage Is Making You Sick
Posted on Jan 29, 2019 Topic : Women's Christian Living
Posted by : David Hawkins
For years researchers have championed the positive aspects of being married. Healthy marriages offer us opportunities to have a partner in facing stress, a mate for vacations, not to mention a companion in achieving many of life's goals. Friend, partner and even soul-mate. When a marriage is functioning effectively, even our bodies reflect the healing power of close and intimate friendship.
But, what happens when your marriage is fraught with bickering, and worse, emotional abuse? Doctors, chiropractors, physical therapists and other healing professionals are quick to inform us about the impact of stress on our bodies.
The negative impact of stress does not stop with physical needs—it impacts our emotional lives as well, creating emotional tension on our bodies and minds. Living in a constant state of discontent, or worse, endless unhappiness, leads to an unlimited number of both physical and emotional maladies.
While living in tension, we miss out on the opportunity to live each day with renewed joy, energy and peacefulness. I believe God wants us to live in peace:
"Peace I leave with you; my peace I give to you. Not as the world gives do I give to you. Let not your hearts be troubled, neither let them be afraid." (John 16: 47)
Consider the following scenario.
Completely unhappy in her marriage, Laura got the courage to leave her job, take her friend up on her offer to house sit a cabin in the mountains, and take two months to consider her life, and hoped her husband did the same.
"It was the scariest thing I've ever done," Laura said, sitting in my office with her husband, Donald. "Donald was furious with me and threatened if I left he would divorce me. Well, he didn't divorce me. After he got over being mad, he participated in counseling and I started to feel alive again. I never knew how much emotional tension I carried in my body until I felt emotional relaxation."
"Share some more," I said to Laura.
"You can't be unhappy day in and day out without your body, mind and spirit keeping score," she said. "I was fighting with Donald over everything. I didn't like him anymore, and I didn't like myself much better. We needed to step back and decide how we were going to live the rest of our lives."
"That took amazing courage," I said.
"Yes, it did," she beamed. "Nobody but my best friend supported my decision. But, I did it. Donald hit bottom too. The past 6 months in counseling taught us some incredible tools, and produced amazing changes for us."
"What do you say about this, Donald?" I asked.
"I've learned women are often afraid to set firm boundaries," he said. "I was a typical man, and I insisted she keep doing things the way we've always done them. But, she knew what was best, and her decision to leave me was the best thing she could have done. I'm not perfect now but I'm a whole lot better. I want to work on this marriage. I love her."
We've all heard the cliché, do what you've always done and you'll get what you've always got. The wisdom in this is that not only will we keep getting the same results, but we often carry a great deal of pain and tension in our bodies as well. Unhappiness is often the product of living a life without healthy boundaries, tolerating emotional abuse and living in a constant state of tension. When we finally hit the bottom we make changes that can lead to emotional relaxation.
Consider these practical action steps.
First, take an emotional inventory. How are you doing—really? Do you live in emotional tension or relaxation? If you live in tension, what impact is that having on you? Don't live in denial about the impact stress and tension have on your mind, body and spirit? Be completely honest with yourself.
Second, understand the sources of your emotional tension. While we like to point to others as the blame for our depression, we often contribute to our unhappiness with attitudes of passivity, feeling like a victim, failing to face the truth of a problem and refusal to do effective problem-solving.
Third, take action. You alone are responsible for your physical, emotional and spiritual well-being. Emotional health doesn't just happen. We must actively create an environment where we can thrive physically, emotionally and spiritually. We must take care of our minds, bodies and spirits.
Fourth, set healthy boundaries on anything and anyone that rob us of well-being. We must protect ourselves from "crazymakers" who create chaos and invite us into their world of tension. We must actively create a world where we can thrive physically, emotionally and spiritually.
Finally, protect your Self. Learn what is important to you and how you have been created. Where do you feel emotionally relaxed and healthy? How can you replicate that experience? Live a lifestyle that promotes emotional, physical and spiritual well-being and then guard it with your very life.
You have one life, and God wants you to live in peace and to care for your mind and body as His temple.
---
What Jesus Taught Us About the Present Age
Posted on Jan 24, 2019 Topic : Men's Christian Living, Prophecy
Posted by : Ron Rhodes
Jesus spoke prophetically about the course of the present age. In Matthew 13, He provided insights to His followers as to what the course of the present age would be like up till the time of His second coming. Jesus provided these insights in the form of parables.
The word parable means "a placing alongside of" for the purpose of comparison. A parable is a teaching tool. Jesus often told a story from real life—involving, for example, a woman who lost a coin, or a shepherd watching over sheep, or a worker in a vineyard—and used that story to illustrate some particular spiritual truth.
By taking such a story and "placing it alongside" a spiritual truth, Jesus helped His followers to understand His spiritual teachings more clearly. As an example, His story of the good shepherd helps us to understand that Jesus watches over us and guides us, just as a shepherd watches over and guides sheep.
Other parables that provide us insights on the course of the present age are as follows:
The parable of the sower teaches that this age will be characterized by the sowing of the gospel seed onto different kinds of soil (Matthew 13:1-23). This reveals that there will be various kinds of responses to the gospel, including opposition to the gospel from the world, the flesh, and the devil.
The parable of the tares indicates that the true sowing of the gospel seed will be imitated by a false counter-sowing (Matthew 13:24-30). Only a judgment following the future tribulation period will separate the "wheat" (true believers) from the "weeds" (unbelievers, or false believers).
The parable of the mustard seed indicates that God's spiritual kingdom would have an almost imperceptible beginning—hardly even noticeable. But just as a small mustard seed can produce a large plant (it can grow up past 15 feet high), so God's spiritual kingdom would start small but grow to be very large in the world by the time of the second coming (Matthew 13:31-32).
The parable of the hidden treasure has been interpreted in various ways by biblical scholars (Matthew 13:44). Many believe Jesus was pointing to the incredible value of the true kingdom of heaven, as opposed to counterfeit belief systems (such as the cults and false religions that are so prominent in our day). Those who truly see the kingdom's importance will do anything within their power to possess it. They will allow nothing to stand in their way.
In the parable of the net (Matthew 13:47-50), Jesus indicated that up until the second coming, when judgment will take place, there will be both genuine Christians and phony (professing) Christians that coexist within the kingdom. At the end of the age, there will be a separation of the righteous from the unrighteous, just as good fish are separated from bad fish caught in a net. The righteous (that is, true believers) will be invited into Christ's kingdom, while the unrighteous (professing believers who are actually unbelievers) will be excluded from His kingdom and sent to a place of suffering (see Matthew 25:31-46).

We conclude from these (and other) parables that Jesus's prophetic teachings address not only the more distant end times, but also describe the religious landscape in the many centuries that precede the end times. Jesus, as God, was omnisciently able to see the entire panoramic sweep of human history, right up till the end.
---
When Being a Mom Requires Grit and Grace
Posted on Jan 22, 2019 Topic : Inspirational/Devotional, Women's Christian Living
Posted by : Suzanne Hadley Gosselin
Before I had children, I felt like a successful adult. I had my moments, of course, but for the most part I felt proud of my accomplishments and confident in my ability to "adult."
I remember having idealistic talks with my husband while we were dating about how we would parent our future kids. We were so sweetly naïve as we pictured an orderly home with obedient children.
I pictured myself as the mom who would look great while offering my young children stimulating activities and play dates. I would have the house clean and dinner on the table when my husband arrived home from work. I would write from home—steaming coffee in my hipster mug—while my children played quietly (and cooperatively) nearby. How hard could it be, right?
If you're a mom, think back to your own imaginings of motherhood. Did you have similar ideas? How did those work out for you? Probably not exactly how you expected.
The beautiful images I had in my head didn't materialize. The reality was much different. It was still beautiful in a chaotic sort of way. Baby cuddles on lazy mornings. Witnessing the absolute wonder of a child's curious, developing mind. And coffee, so much coffee…gulped down in desperation and rediscovered as "iced coffee" hours later.
As my children grew, the pressures mounted. The more mom tasks I had to manage, the less competent and capable I felt. In fact, many days I seriously wondered if I was cut out for this. I also felt spiritually depleted. I found myself in the most demanding season of my life with little spiritual sustenance. And I felt like all my shortcomings as a mom—a lack of patience, selfish tendencies, angry outbursts—stemmed from the fact that I was not spiritually nourished.
The more disconnected I felt, the harder it was to see the bigger picture of who God was calling me to be as a mom. He had called me to raise godly children who would faithfully serve Him. That's a big deal—and something the enemy wants us to forget. We are raising glory ambassadors who will show the world Jesus' love.
A turning point for me was giving myself grace and just trying to do "something" each day, even if it was just reading one or two verses in my Bible. I had to tell myself the truth: Being a mom to young children is hard. It takes real grit to do the job. But moms are up for the challenge. How do I know? Because God said that He preordained good works for us to do, and being a mom is one of those good works.
Mamas, as we put on spiritual armor to do battle among the spilled Cheerios, splashed-in toilets, and total exhaustion of our children's little years, we can and will prevail! As we embrace who God has made us to be in this season, we can draw from resources deep within that He ordained from before the foundation of the world.
This journey will not only change our children's lives; it will change ours.
---
Should You Be Concerned About the Music Your Child Listens To?
Posted on Jan 17, 2019 Topic : Men's Christian Living, Women's Christian Living
Most of us who are parents today listened to music in our youth that would have shocked our parents and that we'd be appalled to have our children listen to today. This may leave us conflicted and feeling a bit hypocritical about trying to control what music our own kids are allowed to enjoy. Ultimately, every parent has to decide where they draw the line on pop music. But we should not fool ourselves into thinking the decision is inconsequential. For better or for worse, your child's worldview will be shaped by the music they listen to.
How then should we address the role of music in our child's life? By focusing on a simple, broad principle: focus on the lyrics. By teaching them how to listen to and evaluate the content of lyrics we can help them listen with discernment. Here's five guidelines to follow that will help you influence what your child is hearing:
Control the Music That Comes Into Your Home
As a parent, you wouldn't allow your kids to watch an X-rated movie. Similarly, we shouldn't turn a blind eye—or deaf ear—to the descriptions of pornographic acts set to the beat. We can't control the music that gets made or even control what our child hears when they are out of the house. But we have the power and authority to control what comes into our homes.
Do Your Homework
For almost any song your child wants to listen to, you can go online and hear a sample and read the lyrics for free. Spend the time researching the artists and songs that capture their imagination so you can have an informed discussion about their musical preferences.
Don't Settle for Shallow Justifications
Your child wants to fit in with the rest of culture, so be ready to hear every excuse imaginable for why they should listen to "worldly" music:
"I just like the beat, I'm not even paying attention to the lyrics."
"But the singer is a Christian. They even thanked God at the Grammys."
"Sure it contains bad language, but I hear worse from the kids at school."
Don't concede to such shallow justifications. Giving in to them won't help your child become a more God-honoring believer.
Worry About Their Present Condition, Not Their Future Rebellion
When it comes to parenting, the most misused Bible verse is likely Proverbs 22:6: "Start children off on the way they should go, and even when they are old they will not turn from it." Too many parents treat this verse as if it's a promise attached to a command, rather than what it is—a proverb (i.e., a general truth).
But the verse is a proverb because it is generally true. If we start children off on the way they should go by limiting their exposure to unedifying music, they are indeed more likely to avoid such music when they are older. Too often, though, we are overly focused on future, potential rebellion. We worry that if we're too strict in controlling what they listen to that when they get older they'll rebel and listen to the music we forbid. Perhaps they will. But so what? Why should we allow their worldview to be corrupted now—at an age when they are most impressionable—simply to avoid their listening to the same kind of music when they are older.
Listen to Music Together
This can be the hardest advice to follow, especially if you do not share your teen's musical taste. But listening to music together can help clarify for your child why certain songs are problematic. Remind them that if they are ashamed to listen to racy or violent music in your presence they should be even more concerned about listening to it in the presence of our holy God.
---
How You Can Start Living Your Best Life Now
Posted on Jan 15, 2019 Topic : Women's Christian Living
Posted by : Meghann Bowman
As we begin a new year, often times we are excited by the promise of new. New beginnings, new seasons, new expectations.
We make resolutions to live our healthiest lifestyle, find that job we're passionate about, finally take control of our finances, or improve our relationships. And when we resolve to do a new thing, our human nature is to really want to succeed. After all, Proverbs 13:12 says that "hope deferred makes the heart sick, but a desire fulfilled is a tree of life."
Maybe your resolution starts with "this is the year for (fill in the blank)."
My words were "this is the year we will start a family."
But here's the thing—our desires and expectations are not always God's plan for our life. My family didn't come for five years after I started "trying" for a baby. While I was determined to "fix it" on my own, there was no amount of will or resolve that would have brought me a baby. I had to wait for God's perfect timing, which is hard and painful.
In the midst of this season, I had all kinds of thoughts—I am not worthy, I am not doing the right things, I am not trying hard enough…and on and on. My desire was not fulfilled. My expectations were not met.
What do we do in these situations? My biggest takeaway from my five-year infertility journey is we cannot wait for our desires to be fulfilled and our expectations to be met in order to live our best lives.
We must not live without joy or gratitude until our expectations become our reality.
Today, I have the family I always wanted but that isn't what gives me purpose and fulfillment. While the tiny people who rule my house are gifts from God, I already had everything before they arrived.
I am a child of the King, who alone gives me purpose and fulfillment.
And you are too—no matter what expectations are unmet and what desires are unfulfilled.
---
Where You Can Turn When Your Relationship Feels Stormy
Posted on Jan 10, 2019 Topic : Inspirational/Devotional, Men's Christian Living, Women's Christian Living
Posted by : Heather Hair
As a child, I flew often. My father was an airline captain for a major commercial airline, so flying was a normal mode of transportation. As you might imagine, with a lot of flying comes an increased opportunity for turbulence to occur. And I admit, despite countless hours in the air, I never got used to the turbulence.
But one thing would set me at ease no matter how bumpy a flight got: my father's words.
If my dad was in the cockpit and knew that we were coming up on some turbulence, he would make his way back to where I was, tell me to buckle up, and then say, "It's just like a roller coaster, Heather. It makes it more fun this way." He'd pause and then throw in a bit more for good measure: "I sure do get bored if it's just a smooth flight. How about you?"
I would always force a smile back at him and try to look brave as my knuckles started to turn white grasping both sides of my seat. But then, after he left to go back to the cockpit and fly, I'd rehearse my father's words over and over in my mind: "It's just like a roller coaster, Heather. It makes it more fun this way." And I'd remember the calm in his voice and on his face. A few minutes into the turbulence, and I'd have peace. Why? Because my dad had peace, and he was the one who was flying.
Now, I'll admit, when I fly today as an adult and we face some turbulence, I often hear his words but also realize he's not the one flying. So my heart starts racing, and my knuckles turn white as I squeeze my husband's hand or leg a bit too hard. But whenever my dad was the pilot, I flew in perfect peace regardless of the bumps. This is because I trusted him, no matter what.
God also gives us a promise of peace when we choose to trust Him rather than fear the circumstances that cause bumps in our marriage. Isaiah 26:3 tells us clearly, "You will keep in perfect peace those whose minds are steadfast, because they trust in you."
Marriage comes with some turbulence, no doubt. It's part of the process of pairing up two sinful human beings. Just like bumpy air is bound to happen if you fly long enough. God never promised us that the bumps would go away, just like my dad never promised me a smooth flight. But what God does do is give us the assurance that He is the One in control— He's the Captain of our lives, and He knows how to get us where we need to go.
In hindsight, now that I'm grown, I don't think my dad actually got bored on smooth flights or thought that turbulence was more fun. But when I was a child, he framed my experience in such a way that it gave me the opportunity to choose peace.
Jesus has done something similar for us, painting life's difficulties in a way we can understand when He says, "I have told you these things, so that in me you may have peace. In this world you will have trouble. But take heart! I have overcome the world" (John 16:33).
Truth is, He has overcome the world as a warrior battling fiercely against an enemy bent on our destruction. But Jesus doesn't go into those graphic details in this verse, just like my dad didn't tell me how bad the storms he was about to navigate both through and around actually were. Rather, Jesus simply reminds us to take heart by trusting Him. He reminds us that He has overcome. He smiles. Then He returns to battle on our behalf.
Peace has been offered to us if we simply choose to believe Him and receive it.
---
How You Can Worship God Through Your Pain
Posted on Jan 08, 2019 Topic : Inspirational/Devotional, Men's Christian Living, Women's Christian Living
Posted by : Boyd and Rita Bailey
"Job got up and tore his robe and shaved his head. Then he fell to the ground in worship." Job 1:20
Are you struggling to understand? Are you stuck in a state of anger? Have you lost something or someone precious? It may be the loss of your child's health or even the death of a child. A spouse may have gone to heaven or left you for someone else. Or your children are angry because they do not understand why you are divorcing. You are angry and hurt at your loss.
Is your heart hemorrhaging with pain and animosity? Everything you once held dear, that you took for granted, now is gone. You have no spouse, no children, no home, no job, and no money. This is a barren and lonely time for you; one is a lonely number. Where are you to turn when the bottom falls out? God seems detached, and heaven seems a trillion miles away.
"David got up from the ground. After he had washed, put on lotions and changed his clothes, he went into the house of the Lord and worshiped." (2 Samuel 12:20)
Worship the Lord in your pain and loss. Focusing on the greatness, holiness, and wonder of God is healing. Praise Him with your voice and praise Him with your heart and mind. Borrow or purchase recordings of worship songs tolift you out of the depths of despair into the loving presenceof Jesus. Sing softly to the Lord "Great Is Thy Faithfulness"and "Jesus Loves Me."
God extends His grace and mercy to forgive surly, stupid mistakes. You can give up on yourself only if He does, yet He will never give up on you. Forgive yourself because He has forgiven you. Invite back and serve those you have hurt, and watch God perform relational, emotional, and spiritual healing. Most of all, in the middle of your horrific loss, make the worship of Christ the centerpiece of your life. Worship fuels faith, heals hearts, and calms fears.
He is waiting to receive your worship and praise—a sweet fragrance to Him, holy and acceptable. Your praise to God will become a pillow of rest to your head, and your focus on the Lord's majesty through worship will remind you of your utter dependence on Him. Worship God in the middle of your pain and worry, and then receive by faith the wonders of His grace!
"Come, let us bow down in worship, let us kneel before the Lord our Maker." (Psalm 95:6)
Pause for a moment and ask yourself, am I engaged in regular personal and corporate worship of my Lord Jesus?
---
What does "God is love" truly mean?
Posted on Jan 03, 2019 Topic : Men's Christian Living, Women's Christian Living
Posted by : Quina Aragon
Can I be honest? I've always been a bit nervous about answering that dreaded question: "Mommy, where do babies come from?" I'm nervous that I might stumble my way through a vague-at-best response that either leaves my daughter completely confused or, perhaps worse, decidedly more inquisitive. I don't have the answer to an age-appropriate conversation with your child. In fact, I'd love to hear your advice in the comment section. What I can share is something that I think any child (and adult) should delight to know: God is love. What does that have to do with "where babies come from"? Well, everything.
You see, when the apostle John summed up the nature of God in his statement, "God is love," (1 John 4:8) he hit on something that has everything to do with creation and salvation (re-creation). It's so true and so important that we understand God's love for us in sending His Son Jesus to pay for our sins and bring us into right relationship with God (John 3:16; Rom. 5:8; 1 Pet. 3:18). But have you ever thought about God's love in the act of creation? What about God's love prior to creation?
If God is love and God is eternal, then God is, will always be, and has always been love. Even before He spoke the universe into existence, God existed in a perfectly unified community of love—the Father, the Son, and the Spirit. When praying to the Father, Jesus (God the Son) said, "Father…you loved me before the foundation of the world" (John 17:24). This means that even before God created the heavens and the earth, He delighted in Himself! Love preceded creation. Do you see where I'm going with this?
God, who has always been perfectly happy within Himself, decided to create the heavens and the earth as an overflow of that eternal love. God made human beings as the crown-jewel of His creation—His image bearers who would be enveloped into that sweet fellowship of love between Father, Son, and Spirit (Gen. 1:26-27; John 17:13, 23-24). Love caused creation. Does that sound familiar? Picture a loving married couple who find so much joy in each other. They decide to come together in hopes of having a child who they lovingly welcome into their family. This is a picture of love overflowing to make life.
What's my point? No matter your family of origin, no matter your social status, no matter your upbringing, you were created and are sustained by a personal God who is defined by love. That everlasting love became unbelievably clear on the day that God crushed His own Son so that we could become God's children (Isa. 53:10; John 1:12).
From eternity past, to creation, to the cross, to consummation on the New Earth, God is love. Knowing that "God is love" and how "God is love" changes everything. Our inquisitive children desperately need to know this, and so do we.
---
What's in Your Prayer Closet? Making Room for God in the New Year
Posted on Dec 20, 2018 Topic :
Posted by : Hope Lyda
New beginnings offer us much grace. That's why I'm a better nester as a new year awakens than I am a spring cleaner. It's not about resolutions. Those feel judgy-wudgy. It's about hope. I long to prepare physical and spiritual places where I can fall, lean, dream, crumble, and sigh.
But there's so much stuff.
It occupies my home like an invited houseguest turned squatter who won't chip in for groceries yet deposits dirty socks everywhere. I can't blame anyone else. I invited this stuff into my life. It's my doing. To keep it from being my undoing, a friend gifted me a day of tidying to regain territory. Another friend and I started a pinky promise to tackle small chores over weekends. We text each other "pinky power" encouragements and have one rule: no judgement if Friday unfolds into Monday like a unkempt sleeper sofa, showing no progress (only evidence of cheese puff binges).
As burdening as this physical chaos can be, the messier zone I need to address in the new year is my prayer closet. Not a nook in my house…though I'd love to talk bookshelves and candles.
I'm talking about the ultimate prayer closet—our hearts. The space where we meet God in stillness and openness, ready to be filled with his love. That is, when there's room.
It is this heart that is the place of prayer…Prayer is standing in the presence of God with the mind in the heart; that is, at that point of our being where there are no divisions or distinctions and where we are totally one. There God's Spirit dwells and there the great encounter takes place. There heart speaks to heart. (Henri Nouwen, The Way of the Heart)
I want to clear a space for this kind of encounter with the Lord. How about you? Here is what I'll be lugging to the spiritual curb in the next days. Are any of these familiar?
____ Regrets carved on stones, stacked but ready to tumble
____ Broken dreams I've saved and shoved to dark corners in case I need them for parts
____ Resentments crammed into accordion files so full I can't find any original receipts
____ Stacks of score cards from years of comparing myself to others
____ Complaints I made so often they now echo in the prayer chambers of my heart
(And to think I invited all those things to take up space in my heart…for years!)
What's in your prayer closet?
If it looks like mine, there's good news, actually the good news. Jesus will help us. You know the words, "Create in me a pure heart, O God" (Psalm 51:10). Just as friends did for my physical spaces, Jesus will gently, gladly help us remove obstacles from our hearts. He does this because he is merciful God. (And, I suspect he's tired of sitting on lawn bags stuffed with life debris.)
He won't judge our mess. And when he tenderly holds up a painful memento, he'll have a tissue ready before our lips quiver. "Your Father knows what you need before you ask him" (Matthew 6:8). There's no shame here. Only room for more that is sacred. More that is life-giving. More that is of God's heart for us.
What needs to be removed from your personal prayer closet?
How might you start a new day, a new year, a new outlook with a heart open for holy conversations?
Need some ideas to get you started?
5 Ways to Start Your Year with Prayer
1. Grab a favorite book of prayers to carry and use anytime.
2. Select a verse that will be your lead-in prayer to break the ice.
3. Let a journal choose you (they do that, you know). Jot down prayers, praises, hopes.
4. Walk, draw, doodle, or sing a prayer. Express that heart!
5. Plan a regular time to meet God in your prayer closet. First thing in the morning or right after dinner have potential! (Suggestion: spend the first 5 minutes clearing the clutter together and then dive into what's new.)
---
Why Training for God's Best Always Brings Success
Posted on Dec 18, 2018 Topic : Men's Christian Living, Women's Christian Living
Posted by : Christopher Ross
Faster. The coach's words screamed through Jason's head. Faster on each turn. Seventy laps. No rest.
He and the five other speed skaters looked like a long train as they raced around the 400-meter ice rink. Jason was tailing the lead skater for now, but on the next turn, the leader would pull off and drop to the rear of the pack. Then it would be Jason's turn to pace as hard as he could with the other guys following him.
Every muscle was surging with pain, and his heart was pounding so hard it hurt to breathe. How'd I ever get nicknamed Flash?
"GO! GO! GO!" barked the coach as Jason took the lead.
Jason ignored the stinging razors that tore through his quads and focused on his goal—competing in the Winter Olympics.
Building endurance and pushing his body to its limit six to eight hours a day, six days a week, was the only way to get there.
"But if I didn't believe it was God's will for my life," he told other racers, "I wouldn't spend another second on the ice."
Was it God's will for Jason to make the US Olympic team?
I asked myself that question when I first heard his story. (Jason is from my hometown, Colorado Springs, but he trained in Milwaukee.)
Jason is committed to his sport, and he's a talented speed skater, so it's hard to imagine him not making the team. But still, the competition is tough. A lot of guys try out for a limited number of spaces, so the thought crossed my mind, What if it just doesn't work out? How will he handle the rejection? I mean, I didn't make my high school basketball team—even after playing the sport my entire young life. That really hurt. But an Olympic dream? How do you get over that?
I soon got my answer, and it made my heart skip a beat. "No," he told my dad, "I didn't make the team."
The next words out of his mouth blew my mind: "Speed skating in the Olympics has always been my dream, but now I can look forward to whatever else God has planned for me. I know that everything that happens to me has a purpose. God's purpose. And His purpose is always best."
Athletes like Jason have anchored their lives to the right goal—seeking God's will, not just their own dreams. They set goals, plan ahead, train, and set off in one direction, knowing that God may take them down a completely different track. And not only do they discipline their bodies for competition, but they train their spiritual lives too—reading the Bible, praying, and seeking God's guidance. That's why they're not devastated when hard times hit or if they don't get what they'd hoped for. They know that God is for them, and His ways are best.
---
How Marriage Exposes You In All The Best Ways
Posted on Dec 13, 2018 Topic :
Posted by : Jonathan Pitts
If you had asked me if I was ready to walk the aisle before our wedding day, I would have quickly and confidently told you yes. With absolutely no reserve, I would have shared all the ways God had prepared me for marriage. In my own mind, I was an ideal candidate for a husband.
I could have checked a lot of boxes that would put me in the "righteous boy" category. From the outside, I looked the part. I was respectful. I knew the right things to say to anyone asking. I had little on my resume that would give anyone pause. I was a "good Christian." I sang in the gospel choir. I was academically gifted. I was a hard worker, and it showed in most every area of my life.
I excelled. That was my aim and highest goal. And if I'm being honest, I have to say that the fear of being exposed as something other than "most likely to succeed" was my greatest fear.
I suppose this fear came from growing up a mixed-race boy, never feeling like I fit in. At least that's what I would share if I was sitting down with a counselor asking me the root issues in my life.
So instead of trying to fit in, I pushed myself to the top, daily. It didn't matter whether it was sports, work, or extracurricular activities. I wanted to be pictured at the top of the class. I didn't want to be seen or remembered as anything less than the best.
Frankly, it worked with most people and in most scenarios. That's because most people are looking at your life as a snapshot. They never spend enough time with you to see the real you. They see only what you allow them to see.
Keeping up your image is easy to do in a snapshot, because you have to hold your pose for only a split second. Many of us learn to hold the pose at just the right time. Once the picture is taken, we go back to our normal selves.
Then a beautiful young woman with much less of an image issue began to expose the rest of the film in my life.
If you walked into our home, you'd see a beautifully framed, black-and-white wedding photo on our fireplace mantel. It shows Wynter leaning into my chest, her head snuggled into my neck, her left arm wrapped around my side, and her right arm grabbing my body just under my shoulders. My chin is pressed into her nose, and though her eyes aren't visible, you can see joy in her entire face. I'm looking down at her with awe and wonder, with one arm clasping her left arm and the other placed gently on her back.
It's a beautiful picture. It's a very good snapshot, but a snapshot nonetheless.
The thing is, marriage is not a snapshot. It's a live shot that lets you see, along with the final image, the milliseconds of movements made just before the shutter blinks.
Although for most of our youthful lives we tend to skip from one snapshot to another—from one relationship to another, never allowing someone to see us for who we really are—marriage is the beginning of one live shot after another. Yes, you will have opportunities to capture a snapshot, and those moments are still important. But marriage is living and active. It opens the door for full exposure and vulnerability that never quite existed in your life before.
To many of us, the thought of this kind of exposure feels threatening and awkward, a barrier to our ability to live from one snapshot to the next. It's outside of our control, forcing us to reconsider everything we thought about life and relationships.
But being exposed is a good thing. By ourselves we can make only the changes in our lives we're comfortable with. We get to hold on to some of the comfortable things that have defined us. Marriage, at its best, however, is where we can be exposed, but without fear of judgment and condemnation.
In a godly marriage, we are moving toward full exposure with maximum grace from each other and from the Lord. As we do, our live shots expose context and character, filling our lives with so much more goodness than a snapshot could ever express.
---
Are You an Avid Indoorsman?
Posted on Dec 11, 2018 Topic : Men's Christian Living
The Avid Indoorsman is a rare breed, and locating him out "in the mild" is something few people successfully accomplish. This is mainly because he keeps his doors locked, especially at night. But if one can ever gain access through his hinged gateway to the indoors (i.e., the door), behind it awaits a master of his domain whose life choices and life skills evoke deep insight and admiration. The Avid Indoorsman makes the indoors; it does not make him.
General Characteristics of an Avid Indoorsman
Prefers a temperate climate and thus lives with a daily sense of gratitude for the modern marvels of HVAC systems and thermostats, by which he can actually dictate what the climate will be.
Thrives on technology and is generally more adept at understanding it than the average person.
Values privacy from the outside world by creating an inside world, wherein self, friends, and family can safely gather.
Is often labeled an introvert, but this can be a misunderstood oversimplification reflective of his habitat more than his habits.
Thinks frog gigging is merely an outdoor concert in the rain rather than what it actually is. Regardless, he would prefer to do neither.
Contrary to popular belief, he is not afraid of roughing it and may even occasionally go camping with his family or friends, but as a master of Indoorsmanship, he will recreate many of the comforts and advantages of the indoors in whatever outdoor space he finds himself.
Possesses an effortless, almost instinctive ability to seamlessly assimilate the latest app (and whatever service it provides) into his daily life, which means with a few clicks on his phone or even a few voice commands, he can order and have delivered to his doorstep anything he wants or needs in life, often having it arrive on the same day.
Lives his life according to a moral compass, unlike his Outdoorsman counterpart, who is more likely to live his life following an actual compass.
Technological devices and software seem to know and respect him in a way they don't interact with lesser Indoorsmen, resulting in an absence of errors, phone freezes, program crashes, and all the other general malfunctions of technology that tend to plague everyone else in society.
Is an early adopter—if not a beta tester—for new devices and software, which includes an enthusiasm for the latest updates that cause problems for all other device owners and users. Because of this, the Avid Indoorsman is virtually immune to viruses and all other tech disasters.
Is the hub of knowledge for all his friends, family, and often even strangers for issues with their technology, which can cause him to sometimes feel overwhelmed and compel him to screen his phone calls.
Sometimes experiences phantom phone vibrations even when he does not have his phone on him at all.
Are you ready to become the Avid Indoorsman you never knew you were dreaming of becoming?
---
Parenting Advice You May Never Have Heard Before
Posted on Dec 06, 2018 Topic : Men's Christian Living, Women's Christian Living
Posted by : Jim Johnson
Now that my sons are in their thirties, mostly well-adjusted, and pursuing their life callings, I've had the chance to rethink my parenting philosophy. Although I have limited data points, as my oldest with his political science PhD would be quick to remind me, I have developed three unconventional parenting axioms that I now swear by. They are:
Under parent your oldest, over parent your youngest
Any well-intentioned new parent will be armed with the latest parenting wisdom when their chosen one is born. They will climb any mountain, swim any sea, and pay for any lesson to give them a leg up on their future. It will take extraordinary amounts of time, emotional energy, and cash to get them prepped, trained, and admitted to their rightful destiny.
By the time the last one comes along, though, we're wiser, tireder (not grammatically correct, but if you've been there, you know it's accurate), and perhaps a bit poorer. Thus, the baby ends up with fewer boundaries which translates into less accountability and ultimately more freedom. All of which can be a good thing, but many times not. And "when not" it can get expensive, just sayin'. To sum up, my oldest would have benefitted from less parenting and more freedom and my youngest from more parenting and less freedom.
One caveat with this axiom is that when your first born arrives, you have no comparative data by which to discern the intensity level of your parenting efforts. My only advice—whatever your current level is, dial it back.
Lower your expectations
I didn't say "no" expectations. I said lower the expectations you have. The overwhelming odds are that your kid/s will not be Division 1 athletes, valedictorians, or admitted to an Ivy League school. It is also highly likely that they will choose friends that aren't good for them, experiment with drugs and alcohol, and have sex before they are married. Whenever we rigidly hold them to these extraordinary expectations, we set them, and our relationships with them, up for a lot of disappointment, frustration, and failure.
You can keep your inflexible expectations or your relationships with your kids. But you can't keep both. Thankfully, I opted for the latter.
Obsess Less
If I had known my sons were going to grow up and move halfway across the country, I wouldn't have been so obsessed with them when they were younger. We get preoccupied with our children's lives to the point we forget about our own—and we and our marriages suffer. Eventually, our kids suffer too. Our insufferable hovering robs them of the life experiences that prepare them for their best futures. Just remember, those sweet bundles of joy will one day have a life of their own, on their own. Don't forget to take care of yours in the meantime.
When my boys were young I didn't have these axioms to work with. Perhaps they will work for you.
---
When You Pray and Plan You Can Reach Your Financial Goals
Posted on Dec 04, 2018 Topic :
Posted by : Deborah Smith Pegues
In Matthew 6:25-34, Jesus taught the proper mind-set regarding the daily needs of life, such as food and clothing. He concludes His message in verse 34: "Don't worry about tomorrow, for tomorrow will bring its own worries. Today's trouble is enough for today" (NLT).
Some Christians find this confusing and often wonder, "Is there a way to reconcile planning and the Lord's command to live by faith?"
Yes, most certainly.
When Jesus said, "Don't worry," He didn't mean "don't think about" or "don't plan"—He simply meant "don't worry." The idea is not to be anxious about things you can't control because God has promised to take care of our daily needs. But that doesn't negate the need for planning.
For our part, we should do everything within our power and then recognize what is outside our control and leave it up to God. Pray and plan, but don't fret. God "will supply every need of yours according to his riches in glory in Christ Jesus" (Philippians 4:19 ESV).
Consider the story of the ten virgins in Matthew 25:1-13. They went out to meet the bridegroom, all carrying lamps. Five virgins had the foresight to bring along extra oil and five did not. Eventually they all fell asleep waiting for the bridegroom.
At midnight, when the message rang out that he was nearby, the five "foolish" virgins found that their lamps were extinguishing, so they asked the "wise" virgins to share their oil. The wise virgins refused. "But the wise answered, saying, 'No, lest there should not be enough for us and you; but go rather to those who sell, and buy for yourselves,'" (Matthew 25:9 NKJV). So the foolish virgins left to go purchase some, but by the time they returned, the bridegroom had arrived and taken the wise virgins in with him to the wedding banquet.
When the foolish virgins tried to enter, it was too late. The door was shut tight. They could have easily avoided this problem. Lack of funds was not the issue—as evidenced by the fact that they went to buy more. So even though they had money to buy extra oil, they didn't plan ahead to ensure their oil didn't run out.
Setting goals is one of the most empowering acts you can perform to secure your financial future. You may have heard the saying, "Aim at nothing and you will hit it every time." Setting goals simply means knowing where you want to go and having a plan for getting there. And be sure to assess the adequacy of your resources so you don't end up like the foolish virgins. It is prudent to count the cost to ensure you have the resources and motivation necessary; otherwise, failure is imminent.
Three tips to get started planning your financial future:
Seek Counsel: There's no shame in getting help. As Proverbs 12:15 reminds us, "The wise listen to advice." No matter what your financial situation currently is, credit counseling agencies can provide help in a variety of ways.
Find Creative Solutions: Perhaps you don't yet have the resources you need or you face a unique set of circumstances, whatever the problem, creative solutions can help provide the motivation to get started and the momentum to keep going.
Stay Balanced: Do not go to the extreme in trying to reach your financial goals. You don't have to give up everything, so long as you prioritize.
You can do this. Embrace your goal with enthusiasm and good intentions, and before you know it you will arrive at your desired financial destination empowered and with great experience and wisdom to share with others.
---
Do You Know That God Wants You to Laugh?
Posted on Nov 29, 2018 Topic : Men's Christian Living, Women's Christian Living
Posted by : Dan Taylor
I'm always a little leery of being told what it is God wants me to do. Especially when it's something like, "finish your peas" (when I was young) or, "donate to the new pipe organ upgrade" (when I was older.) Did the Creator of the universe really have a vested interest in my green vegetable intake, or whether our organ could be heard two churches over? Hard to say.
But this one, the God wants you to laugh suggestion, is something I'm so sure of that I've used capital letters and "bolded" it, twice.
The way I know is this:
It's all over Proverbs. For example, A cheerful heart is good medicine, but a crushed spirit dries up the bones. Proverbs 17:22 (NIV)
Think about people you know who never laugh. Don't they look like maybe their bones are drying up? It's literally good for you to laugh, and don't forget about calcium, either.
It's written into the schedule. ...time to weep and a time to laugh, a time to mourn and a time to dance... Ecclesiastes 3:4 (NIV)
Weeping and mourning have their place, and it's usually pretty clear when they're called for, but we're less likely to laugh and dance. Of course, people who have witnessed me dancing are also people who laugh. That biblical pairing is no coincidence.
Even a minor prophet talks about being happy! ...yet I will rejoice in the LORD, I will be joyful in God my Savior. Habakkuk 3:18 (NIV)
But Habakkuk wasn't all that minor, really. He shows up in Romans and Galatians and Hebrews and was even on a Dead Sea Scroll!
And those are just three of lots and lots of references. In fact, from talking donkeys to giggling children in the marketplace, the Bible is full of joy, happiness, and laughter! Shouldn't God's people be too? Let's be people with wet bones! (Which I assume is the opposite of dry, but that might not be medically accurate.)
---
The Benefits of an Armory Full of Grace
Posted on Nov 27, 2018 Topic : Inspirational/Devotional, Women's Christian Living
Posted by : Cheryl Brodersen
God wants to fill the armory of your heart with grace so you'll always have what you need for every situation. Rather than drawing from old, defunct, and dangerous weapons, when you go to the grace supply you'll find strength, comfort, joy, love, hope, and everything else necessary to help you in your time of need.
Annie Johnson Flint, the woman who wrote the poem "He Giveth More Grace," was herself a grace story. She was born in Vineland, New Jersey, to Eldon and Jean Johnson in 1866. Three years later her mother died while giving birth. At the same time, Annie's father was struck down with an incurable disease and had to give up custody of his little girls. Annie and her sister were adopted and taken into the Flint home. There they grew and matured in the atmosphere of God's grace, love, and Word. After Annie graduated from high school, she trained to become a schoolteacher. While she was still a teacher, her adoptive parents both died.
During her third year of teaching, she began to suffer from crippling pain. She was diagnosed with early onset arthritis, forced to resign her career, and became an invalid at a young age. Every day required the provision of God's grace to accomplish even the simplest of tasks. Yet drawing from the armory of God's grace, she wrote poems and encouraging letters and published inspirational booklets. Her life of grace ministered grace to many others, and her poems were her personal testimony of drawing from the riches of God's grace. Many others are still ministered to by the supplies that came from the armory of her grace-filled heart.
I'm sure Annie Johnson Flint had a constant battle to keep the armory of her heart free of the toxins of resentment, bitterness, and frustration. Yet her battle was rewarded with reserves of grace that upheld her and ministered to others.
Do you desire an armory of grace in your heart? When frustration, hard circumstances, and difficulties come knocking at your door, don't you long to meet them with the resources of God's grace?
It will take a battle. It will mean taking inventory of all that resides in your present armory. It will mean allowing God to clean it out. Then it will take a cooperative effort with Him to refill your heart with His grace through prayer, His Word, and fellowship with other believers.
---
A Thankful Thanksgiving
Posted on Nov 20, 2018 Topic : Inspirational/Devotional, Men's Christian Living, Prophecy, Women's Christian Living
Posted by : Betty Fletcher
Do you know what you'll say when it's your turn to answer the inevitable question, "What are you thankful for this year?"
If you're like me, you'll probably say something like "friends, family, food…and of course, Jesus." (And then you'll wish you'd said Jesus first because that's what you meant, right? Semi-religious holidays can be so hard!)
Several years ago, when my life had become narrow and hemmed in with caregiving and work and church responsibilities, I could hardly say even that. I knew I needed to expand my understanding of thankfulness.
The private, ongoing practice of thankfulness invigorates.
It started with a minute. I often bike around a beautiful river path. I began to stop on a pedestrian bridge for exactly one minute, quiet my demanding thoughts, and just be thankful to the Lord—not for anything in particular but for everything in general. I did this every time I rode that route. And that simple, set-aside minute changed my focus, revitalized my spirit, and created room for deeper responses to God. I became more aware of each present moment and eager to live that moment fully.
Could you find a minute a day to practice thankfulness?
Thankfulness opens new horizons.
During an extraordinarily rough patch, I happened upon this quote:
What if you woke up today with only the things you thanked God for yesterday?
A copy of this saying sat in my office for several years and now lives, wrinkled and warped, on my bathroom counter. I suppose it could sound like a "be grateful or you could lose everything" maxim, but for me it's simply a great, always-startling reminder to move my thankfulness from the general to the particular. Learning to "give thanks in all things for this is the will of God in Christ Jesus for you" is not quick work. We are all mostly beginners, especially when it comes to unmet expectations, disappointing relationships, crushing circumstances, or personal failures. It may not be quick work, but it is good! It lets us see people and situations more through God's eyes and less through our own.
What is one challenging "particular" you could thank God for today, trusting Him with the results?
The practice of thankfulness builds relationship.
Most of us who have been Christians for a long time have unanswered questions. And we can be afraid of those questions—afraid that we won't "hear" answers or even that there are no answers. But as I've been rebuilding a foundation of thankfulness to God "in everything," I've discovered something entirely different. Heartfelt thankfulness leads to a closer connection, much as it does in relationships with people. In this atmosphere of love and trust, I can ask those hard questions. And through some wonderful work of God, which I don't understand (but for which I am thankful!), I'm better able to live with both answers and mystery.
Will you let thankfulness draw you closer to God?
Thanksgiving is a wonderful opportunity to publically express thankfulness for family, friends, food…and Jesus, but it can be so much more. It can also be a great starting point for privately exploring, expanding, and embracing day-by-day gratitude to God for all of the parts of this precious here-and-now life.
----
Betty Fletcher is an editor, writer, and photographer with 25 years of publishing experience in the Christian trade. Her photography is featured in Gentle Prayers for Hope and Healing and Because You Care. She makes her home in Oregon's Willamette Valley.
---
Begin the Journey to Healing Broken Relationships
Posted on Nov 15, 2018 Topic : Men's Christian Living, Women's Christian Living
Posted by : Allison Bottke
When I wrote Setting Boundaries with Your Adult Children, my only child was serving a seven-year sentence in federal prison, of which he served five years. A great deal has happened in the years since.
Like many of our troubled kids, he has above-average language skills and can masterfully manipulate a conversation—yet his social skills, decision-making ability, and coping mechanisms are below average. He is a grown man who struggles every day to survive, and my heart aches for him.
After all these years, I still want him to find his purpose and live the life God has planned for him.
Yet it seems I want this for him more than he wants it for himself. And so, like many parents, I've had to learn how to let go—to love my son with open arms and trust that God is in control. I'm certainly not.
Thousands of parents have reached out to me for help over the years—generous, loving, caring, and often hopeless parents. Grasping at straws yet fearful of the truth and its consequences, they are desperate to know what to do. Many lack the resources—financial and emotional—or the knowledge of what to do. They feel alone, yet statistics prove that is not the case. There are so many of us brokenhearted parents of broken kids.
But when we put our hope in God, we will never be disappointed. Hope is always based on the guaranteed promises of God, and hope is something we can give to our struggling adult children. After all, "[God] helps us [parents] in all our troubles, so that we are able to help others [our adult children] who have all kinds of troubles, using the same help that we ourselves have received from God" (2 Corinthians 1:3-4 GNT).
Hope and healing can miraculously replace fear and pain when we make the transition from "This isn't how life is supposed to be" to "This is how life is. Now what does God want me to learn and do?" This transition starts when we can begin to see our troubled adult children for who they really are rather than who we wish they were.
For many of us, this shift in perspective is going to require genuine fortitude as we revisit some of the painful situations and circumstances that have brought us to where we are today. It's never easy to look at illnesses and issues that have caused considerable damage not only to the life of our children, but to our relationship with them as well.
Realize, however, that despite all this discussion about our offspring, the journey you need to take is ultimately about you and your choices.
It's a journey that will change your life. And—God willing—the life of your troubled adult child.
---
Do You Have a Thirst for Bible Knowledge?
Posted on Nov 13, 2018 Topic : Men's Christian Living, Prophecy, Women's Christian Living
If you think about the Bible's impact on our world and on human history, you shouldn't be surprised you're interested in exploring and learning more about it. Whether you're an avid reader or a "Sunday browser," you have a sense of the Bible's importance. God's Word continues to be the No. 1 bestseller. More than 100 million copies are sold globally each year, and countless others are distributed for free in countries open to and closed to its availability. By understanding the Bible better, you can also recognize and appreciate the unspoken influence it has on our everyday lives.
What increases our interest in and devotion to the greatest book of all time? Despite a plethora of theories, reasons, and continued debate, for most of us the Bible has a proven track record. Millions of people around the globe have encountered the Scriptures, and these teachings have enriched and transformed lives, as well as shaped the way we think about our world.
Some people first encountered the Bible at a young age. Others discovered it later in life, perhaps because of a personal crisis or as a next step on a spiritual journey. What is your motivation for reading this book right now? Is it a self-challenge to learn just how much you know (or don't know yet) about the Bible? Or are you simply thinking it will be fun to learn something new?
Whatever your reason, I hope you appreciate the Bible's impact around the world and in your own home. We are all blessed to have our lives changed by the Bible's ultimate truths, such as these amazing prophecies from the book of Isaiah. Jesus fulfilled them all!
Isaiah's Prophecies of the Messiah
| | | |
| --- | --- | --- |
| Prophecy | Reference | Fulfillment |
| Spoke in parables | Isaiah 6: 9-10 | Matthew 13:13-15 |
| Born of a virgin | Isaiah 7:14 | Matthew 1:18 |
| Ministered in Galilee | Isaiah 9:1-2 | Matthew 4:12-17 |
| Healed the blind | Isaiah 35:5 | John 9:1-7 |
| Healed the deaf | Isaiah 35:5 | Mark 7:32-35 |
| Healed the lame | Isaiah 35:6 | Matthew 15:30 |
| Had compassion for the poor | Isaiah 42:3 | Matthew 11:4-5 |
| A light to the Gentiles | Isaiah 42:6 | Luke 2:28-32 |
| Sent by God | Isaiah 48:16 | John 7:29 |
| Came to glorify God | Isaiah 49:3 | John 17:1 |
| Grieved over the Jews' unbelief | Isaiah 49:4 | Luke 19:41-42 |
| His face beaten and spat upon | Isaiah 50:6 | Matthew 26:6-7 |
| His back whipped | Isaiah 50:6 | Matthew 27:26 |
| Shed his blood for all | Isaiah 52:15 | Revelation 1:5 |
| Rejected by his own people | Isaiah 53:3 | John 1:11 |
| Suffered for others | Isaiah 53:4-5 | Matthew 8:16-17 |
| Oppressed and afflicted | Isaiah 53:7 | Matthew 27:27-31 |
| Silent when accused | Isaiah 53:7 | Matthew 26:62-63 |
| Buried with the rich | Isaiah 53:9 | Matthew 27:57-60 |
| Suffered willingly | Isaiah 53:11 | John 12:27 |
| Gave up his life to save humanity | Isaiah 53:12 | Luke 23:46 |
| Crucified with sinners | Isaiah 53:12 | Matthew 27:38 |
| Preached the good news | Isaiah 61:1-2 | Luke 4:17-22 |
---
The Six Big Mistakes People Make with Prophecy
Posted on Nov 08, 2018 Topic : Men's Christian Living, Prophecy
Posted by : Jeff Kinley
"See that no one misleads you."
Matthew 24:4
The world of Bible prophecy is a fascinating field of study, but it is not without its pitfalls. There seems to be a cacophony of noise concerning the end times today. Supposed signs in the heavens, sensationalized headlines, apocalyptic theories, and unfounded predictions have created a perplexing prophetic patchwork, often creating more confusion than clarity. So, how do we navigate through this prophetic haze?
Part of the challenge is that along the path of prophecy are hidden land mines, traps that snare you, and stumbling blocks that threaten to trip you up in your quest for God's truth. You need a spiritual mine detector alerting you to potential booby traps. These perils along our path further prevent us from understanding the nature, meaning, and possible fulfillment of Scripture's prophetic truth. Through my experience over the years, I've seen many well-intentioned Christians fall prey to schemes and errors that only further lead away from the path of discovery.
I've identified what I believe to be the Six Big Mistakes people make with Bible prophecy. These act like padlocks, preventing us from entering, understanding, and applying prophecy to our lives.
Sensationalizing prophecy
Scoffing at prophecy
Ignoring prophecy
Being slow to believe prophecy
Misinterpreting prophecy and misleading others
Misapplying prophecy

Because we are living in the last days of the church age, this is all the more reason Bible prophecy is immensely applicational. God intended for us to know what His Word says—to understand it, believe it, and live our lives in light of it. In fact, it is His desire that every believer read, hear, and take to heart the prophetic word (Revelation 1:3). When studied in its proper context, like the rest of God's written record, prophecy is "profitable for teaching, for reproof, for correction, for training in righteousness" (2 Timothy 3:16). It is an integral part of our maturation in Christ (Ephesians 4:11-16; 2 Timothy 3:16-17; 2 Peter 1:1-3).
As we examine the topography of prophecy, let's be aware of these mistakes and traps that threaten to prevent us from understanding God's Word . Let's take careful steps to avoid the land mines in our pursuit of God's truth. Knowing they exist and identifying them is an essential key to unlocking these end-times mysteries.
---
Is God on Your To-Do List?
Posted on Nov 06, 2018 Topic : Inspirational/Devotional, Men's Christian Living, Women's Christian Living
Posted by : Ellen Elliott
I love making lists!
My love for list making began when I was young. I have memories of creating lists of clothing my Barbie desperately needed. I was not above ranking my stuffed animals from best to worst. And, let me tell you, my Christmas wish lists were epic. I'd pull out the Sears toy catalog, and before long, my list had color-coordinated, itemized footnotes and diagrams.
As adulthood brought new responsibilities and obligations, my list-making habit matured. Gone were the pink Barbie wardrobe lists, only to be replaced with notebooks full of grocery, errand, and baby-name lists. Lists helped take all the ideas and tasks percolating in my head and pin them down on a sheet of paper, all crisp and organized. A good list can do wonders. It can take a mind of fragmented thoughts and turn them into an ordered plan of action or a cohesive idea. A list can add focus to your day and open your mind to exciting new possibilities.
So I got to thinking: What if we took the same energy and imagination we spend on our weekly errand list and applied it to our relationship with our heavenly Father? Practicing and refining our faith every day keeps our walk with God fresh and vital. We can pour into that relationship in myriad ways, including studying the Bible, praying, and journaling. Let's add list making to the mix! Here's some topics to get you started:
Here's some topics to get you started:
***
List some aspects of God's creation that always astound you. Where in nature do you feel closest to God? How can you carve out more time in your schedule to go there?
List things you often worry about...and should consider bringing to God. Write your worries on slips of paper, give them to God, and place them in a prayer box. If you start worrying about these things again, remember that you already gave them to God!
List your favorite worship songs. What specific lyrics have meant the most to you? Consider sharing on social media.
List the blessings in your life you are most thankful for. This week, try to begin every prayer with a thank-you to God.
List friends who bring goodness into your life. Of all the friends on this list, who have you known the longest? Contact this friend and thank him or her for being part of your life.
***
As you make your lists, I hope you find joy and inspiration. I challenge you to stretch your imagination! My prayer for you is that this new way of worshiping God can be a creative blessing in your life as you write list after list.
---
Jesus Still Changes Everything
Posted on Nov 01, 2018 Topic : Inspirational/Devotional, Men's Christian Living
Posted by : Randy Alcorn
From childhood I've loved astronomy. I grew up in an unbelieving home. Night after night I'd gaze at the stars, clueless about a Creator, but yearning for something greater than myself.
One night, as I stared through my telescope at the great galaxy of Andromeda with its trillion stars 2.5 million light years away, I was filled with awe. I longed to explore its wonders and lose myself in its vastness.
I read fantasy and science fiction stories of other worlds, of great battles and causes. I knew that the universe was huge beyond comprehension. But my wonder was trumped by a sometimes unbearable sense of loneliness and separation. In retrospect, I think I wanted to worship, but I didn't know what or who to worship. I wept not only because I felt so insignificant, but also because I felt so disconnected from the Significant One I did not know or know of.
Several years later, at age fifteen, after attending a church youth group, I opened a Bible and saw these words for the first time: "In the beginning God created the heavens and the earth." And then I read verse 14, the greatest understatement ever: "He made the stars also." A universe one hundred billion light years across containing countless stars, and the Bible makes them sound like a casual add-on!
I quickly realized that this book was about the Person who made the universe, including Andromeda and Earth—and me.
I had no reference points when I read the Bible. All of it was new, intriguing, sometimes confusing, and utterly disorienting. But when I reached the Gospels, something changed. I was immediately fascinated by Jesus. I'd been an avid reader of fiction, but I knew this wasn't fiction. I knew Jesus wasn't just a character in a story. I soon came to believe that he not only lived two thousand years ago, but that he still lived. Everything about Jesus of Nazareth struck me as completely believable. And, somehow, I knew he was the One my heart had always longed for.
By a miracle of grace, Jesus touched me deeply, gave me a new heart, and utterly transformed my life. Forty-five years later, he's still unveiling himself and changing me into his image and likeness. I couldn't be happier that he's every bit as real to me now as the moment I met him—but now I know him better, and therefore worship him more deeply.
For me, Jesus didn't just change everything back then. He still changes everything today. There's no more worthy subject to set our minds on than Jesus himself. He is "the Alpha and the Omega…the Beginning and the End" (Revelation 22:13).
---
Learn to See Yourself the Way God Sees You
Posted on Oct 30, 2018 Topic : Inspirational/Devotional, Women's Christian Living
Posted by : Stormie Omartian
I will never forget the day I first looked in one of those lighted magnifying mirrors. You know, the ones you can buy for your bathroom counter? They come in different levels of magnification. The one I bought was five times magnification because I needed to see certain things on my face and skin more clearly for the sake of good grooming.
I set it up, turned on the light, looked in the mirror, and nearly frightened myself to death.
I am warning you now that this is not for the faint of heart and you must prepare yourself in advance. First of all, be assured before you look in it that no one on earth sees you the way the mirror is reflecting you, with every pore and blemish enlarged; every brown sunspot, broken capillary, wrinkle, and line enhanced; and each imperfection—many of which you never even knew were there—illuminated.
I have since recovered from that initial shock, but it took a while. And as time goes on there is more to see, so it actually doesn't become an increasingly pleasant experience. It's just something you know you have to do and you are more prepared to endure it.
Seeing yourself the way God sees you is like looking into a giant magnifying mirror of your entire being. But He sees you from the perspective of all He made you to be. He sees all the gifts, purpose, and potential in you, having been put there by the One who not only thought about you before you were born but had a plan for your life.
We too often see only the negative things in ourselves. We painfully observe where we are weak, lacking, or failing. God sees all that too, but He doesn't consider it all bad.
For example, God sees your weakness as an opportunity for you to trust Him to be strong in you. Your weakness surrendered to God enables you to gain strength from Him beyond anything you could ever have without Him.
God sees whatever you lack as a possibility that you will turn to Him and declare your dependence on Him so He can supply all your needs.
God sees your failure as an invitation for you to walk closely with Him, so He can empower you to accomplish what you couldn't begin to do on your own.
If you are not certain about all of this, then I invite you to seek God beyond what you ever have before and come to know Him better. The better you know who God really is, the more you will recognize how much you need Him. And needing Him is always a good thing.
The more we seek to know God in greater depth, the more He shows us about Himself. When we truly open up to God and invite Him to reveal Himself to us, He will do that. And this is something we must do. For we will never know who we really are until we understand who He really is.
God also shows us the truth about ourselves when we ask Him to do so. That can seem daunting, but don't let the idea scare you. The good news is that He doesn't let us see everything at once—both about Him and about ourselves—which would be overwhelming in either case. He lets us see a little at a time as we seek Him.
If you have a heart that longs to know the truth and yearns for a way to become all you were created to be, spend time with God every day getting to know Him. When you understand His amazing goodness, holiness, perfection, and love, it is healing for your soul.
---
Marvel at God's Great Masterpiece
Posted on Oct 25, 2018 Topic : Inspirational/Devotional
When reading the book of Matthew or Luke, it's tempting to skip over the long lists of names found in the early chapters. After reading three or four names into one of these lists, you may feel your eyes start to glaze over.
Get to the good part, you may be thinking! These long family trees may not seem as interesting as the familiar stories about the shepherds and the wise men, but every word of the Bible is from God, so if he thought it was important for us to know who was in Jesus's family tree, we need to pay attention.
To understand why the genealogies listed in Matthew and Luke are important, think of the story of Jesus as you would a huge painting or mosaic—a masterpiece by a master artist, like the ceiling of the Sistine Chapel in Vatican City.
Michelangelo took four years to complete the huge work, and only when viewed from a distance, from the floor of the chapel, can the scale and scope of the full work be appreciated. In the same way, when we look at the big picture of Christmas, we can appreciate the thousands of years and millions of tiny brushstrokes God used to complete the masterpiece of the birth of Christ.
Matthew presents Jesus as the Messiah, a figure the Jews had been told would be a king. Unlike a president, a king does not come to rule by ballot, but by birth. A king has to prove his right to the throne by proving he is descended from the royal family.
God had revealed that the Messiah's "right to rule" would be proven by three things: He would come from the family of Abraham (Genesis 22:18), he would come from the tribe of Judah (Genesis 49:10), and he would come from the house of David (2 Samuel 7:12-13). Now you see why God thought it was important for us to see these names in Jesus's family tree—they demonstrate his legal right to the throne.
But the genealogies reveal even more than that. Jesus's legal right to rule came through Joseph, but the Bible makes clear that the Messiah would be a descendent of David. As Joseph's adopted son, Jesus was a legal descendent but not a descendent of David by birth. Just so there would be no doubt at all about Jesus's claim to the throne, God told Luke to include the other side of his genealogy—his mother's side—which can also be traced back to David through one of his other sons. Jesus was physically born of Mary, so her genealogy shows us that he was a literal descendent of David as well as a legal descendent.
God didn't leave one square inch of his canvas unfinished. He didn't use one brushstroke too many or too few, but just the right strokes and just the right colors to create the masterpiece of the birth of Christ.
Dear Father, thank you for being the master artist who arranges our lives the same way you arranged Jesus's claim to his throne. Help us to trust that you are always working to place us exactly where you want us in the masterpiece you're creating.
---
Are You on a Hunt for Hope?
Posted on Oct 23, 2018 Topic : Inspirational/Devotional, Men's Christian Living
Posted by : Steve Chapman
People who hunt and fish share a common attitude. As one who is happy doing either, I can testify that this shared mindset is nonstop while enthusiasts are in the woods or on the water. What is it? The answer is…we are always hoping.
Why does hope remain constant the entire time I'm out there doing what I love to do? It's because I'm in a place where I believe something exciting could happen at any moment. I'm never bored when I'm hunting or fishing because it's virtually impossible to be hopeful and bored at the same time.
I've also found that hope grows stronger when the time is nearing to head back to the truck or motor back to the dock. When I'm hunting, for example, such as a planned meeting that I can't miss or a setting sun, I get extra watchful and doubly hopeful. And if I haven't seen anything to that point, the intensity of the anticipation can reach lip-biting levels.
The same growing hopefulness also happens when I'm around water with a line and a rod. If I know I soon have to reel in, de-bait, and pull up anchor, my casting speeds up and the lure cuts the water just a little faster.
The hope that has kept me on the edge of my seat on a ladder stand or in a boat has served a good spiritual purpose. It has helped me as a follower of Christ to better understand the "blessed hope" of His appearing. Believing it can happen any moment is indeed a sacred hope because it makes a life that is never boring, and, more important, never hopeless.
One thing that makes the "blessed hope" grow even stronger in my heart is hearing the current and trusted teachers of Bible prophecy say with confidence that we're not far from Christ's return. To put it in hunter's terms, the moment is nearing to leave the woods, so it's time to listen harder and watch closer!
As one who is excited that the prophetic indicators point to a soon end of the age and the appearing of Christ as Redeemer of His people, my hope is intensifying. As it grows daily, I say with John the Revelator, "Amen. Even so, come, Lord Jesus" (Revelation 22:20 KJV).
God, I'm so grateful for the blessing of hope. I truly enjoy its benefit in the outdoors, but how much more wonderful is the hope that You will keep Your promise to return and deliver Your people from a world that is growing darker by the day. I want to be among those who are constantly excited, hoping and looking for Your appearance. By Your grace applied to my life, it will be so. Praise and glory be to your mighty name. And…come quickly, Lord! Amen.
---
The Secret to Overcoming Temptation
Posted on Oct 16, 2018 Topic :
Posted by : Bruce H. Wilkinson
How big of a sin are your temptations? To answer that important question, you need to understand a five foundational biblical truths about your temptations

1. Temptations are not sinful or anything you should be ashamed of.

Many people have always felt ashamed of their temptations. Why? Because they have assumed that temptations must be sinful. That's probably the reason no one ever speaks about their temptations—we are ashamed of them.

But the Bible clearly states that temptations are not a sin. Hebrews 4:15 contains the startling information:

We do not have a High Priest who cannot sympathize with our weaknesses, but was in all points tempted as we are, yet without sin.

Jesus was tempted in all points like we are, but He never sinned! If temptations were a sin, then Jesus sinned, because He was tempted just like we are. But the Bible clearly states that Jesus was sinless (2 Corinthians 5:21; 1 John 3:5). Therefore, temptations cannot be a sin or anything to be ashamed of.

2. Temptations are experienced by every single human being.

No one escapes the onslaught of temptations. Not a single person. Hebrews 4:15 reveals that everyone is tempted: "But was in all points tempted as we are." Did you see the words "as we are," without any exceptions or limitations? You are tempted; she is tempted; he is tempted; they are tempted; I am tempted.

3. Temptations come to everyone, no matter how godly.

Far too many of us are tragically misinformed about the truth of temptations. People assume that the more godly a person becomes, the less temptations that person will face. Yet the most godly of all humans who ever lived, Jesus Christ, was "in all points tempted as we are"! Jesus wasn't just tempted a little, but in "all" ways. Shocking, isn't it ? Godliness does not in any way limit the number of temptations we may receive.

4. Temptations are normal, God-given desires that seek to trespass God's boundaries.

What exactly are temptations? The answer may surprise you because temptations are based on the normal desires that God gave to all of us but with one thing out of place: Those desires seek to trespass the boundaries God established for us.

In other words, a temptation is simply a good desire gone bad!

Our God-given desires become temptations when we desire too much, or go too far, or seek to fulfill them in the wrong place or with the wrong person . Temptations are simply the inner push of our normal desires to overstep God's boundaries. Often the Bible calls our sins a trespass, which means to go beyond a clear boundary into forbidden or off-limits territory.

5. Temptations precede every single sin; if you overcome temptations, you won't sin.

Every sin you have ever committed or will commit is always—and I mean always—preceded by a temptation! If you aren't tempted, guess what? You won't sin!

You must embrace this all-important fact: Temptations precede every sin.

With that in mind, look at how Hebrews 4:15 connects temptations and sin: "But was in all points tempted as we are, yet without sin."

Jesus was tempted, but He did not permit the desires He felt to find inappropriate fulfillment in any selfish or sinful act. This means Jesus felt the desire, just like all of us do; He just chose not to allow those desires to give birth to sin.

Perhaps the great overlooked secret of overcoming sin in your life is to focus on defeating the temptations you face, and not so much on defeating the sins that are the result of your choice to give in to your temptations! Here are the three stages working in every temptation: Desire →Temptation →Sin

If you tone down the intensity of your wrongful desire, then temptations flee into the darkness, powerless and defeated. When you defeat a temptation, you no longer have to struggle with that particular desire to sin because you exercised your self-discipline and said no to that straying desire.
---
Why We Have to Choose Prayer Over Worry
Posted on Oct 11, 2018 Topic : Inspirational/Devotional, Women's Christian Living
Posted by : Susie Crosby
Instead of worrying, pray. Let petitions and praises shape your worries into prayers, letting God know your concerns. Before you know it, a sense of God's wholeness, everything coming together for good, will come and settle you down. Philippians 4:6-7
In•stead, adverb, as an alternative or substitute for; in place of, rather
Decisions are hard for most people. I learned this working in an ice cream shop during high school and college. Baskin-Robbins, also known as "31 Flavors," was a popular place. Those of us who worked there knew that there were actually more than 31 flavors most of the time. The ice cream cases held 48 different tubs, and there were even more back in the freezer.
It was difficult for people to choose. Go with the favorite, or try the new flavor of the month? In a chocolaty mood, or did a fruit flavor sound better? For the little ones, it was really a struggle. Bubblegum or rainbow sherbet? Or maybe just plain vanilla instead?
The word instead usually implies a choice, a decision. So when Paul tells us, "Instead of worrying, pray," the next step is up to us. To pray instead of worrying is a choice. It is a discipline that doesn't come easily.
Pray as an alternative to worrying.
Substitute prayer for worry.
Rather than worrying, pray.
We try to do this, but we usually end up doing a little of both. We pray and worry. But that doesn't bring the peace, the sense of wholeness that Jesus wants to give us. He wants us to trust him completely. To make the decision to pray in place of worrying. To thank him and praise him even before we see his answers.
He waits for us to just order the ice cream already. He wants us to decide, believing that he can handle it and that he really is working all things together for good (Romans 8:28). As Henri Nouwen wrote in his book The Inner Voice of Love:
The root choice is to trust at all times that God is with you and will give you what you most need… God says to you, "I love you, I am with you…" This is the voice to listen to. And that listening requires a real choice.
Invite him in. Try it. Ask God to help you choose to pray instead of worrying about something today. He will help you put your requests, your needs in his hands—and leave them there. Let him assure you that everything is coming together for good. Then, take a deep breath of peace as his wholeness envelops you and settles you down. You can trust him completely.
Start with this prayer:
Dear Jesus, thank you that I can bring everything to you. Please help me choose to trust you with all my stress. You are the only one who can take my fearful concerns and give me your peace instead.
---
Jesus Is More Than A Prophet
Posted on Oct 09, 2018 Topic : Men's Christian Living, Prophecy
Posted by : James K. Walker
The Qur'an mentions Jesus by name 25 times, and He is alluded to in many other places. It is clear even from a casual reading of the Qur'an that Jesus is highly revered as an important prophet or messenger (Arabic, nabi or rasul) sent by God.
We gave Moses the Book and followed him up with a succession of messengers; We gave Jesus the son of Mary Clear (Signs) and strengthened him with the holy spirit. Is it that whenever there comes to you a messenger with what ye yourselves desire not, ye are puffed up with pride?—Some ye called impostors, and others ye slay! (Surah 2:87).
Jesus is presented in the Qur'an as one of a great succession of prophets and "warners" (Arabic, natheer) sent by Allah to forewarn all people throughout history about God's coming judgment and to point them to the right path, Islam. These messengers of Allah included the first man, Adam, and many others, like the prophet Hud (Surah 7:65), who is not mentioned in the Bible. Most of the prophets identified in the Qur'an, however, are men named in the Bible:
Say (O Muslims): We believe in Allah and that which is revealed unto us and that which was revealed unto Abraham, and Ishmael, and Isaac, and Jacob, and the tribes, and that which Moses and Jesus received, and that which the prophets received from their Lord. We make no distinction between any of them, and unto Him we have surrendered (Surah 2:136).
Islam teaches that the ministry of Jesus was prophesied by the earlier prophets, and that He was in every way a true prophet who must be obeyed. In fact, those who truly submit to Allah are to make no preferential distinctions between any of Allah's prophets. This command to accept all the prophets without distinction is to be recited by Muslims (Surah 2:136). In Surah 3, Muhammad was also commanded to recite the command:
Say (O Muhammad): We believe in Allah and that which is revealed unto us and that which was revealed unto Abraham and Ishmael and Isaac and Jacob and the tribes, and that which was vouchsafed unto Moses and Jesus and the prophets from their Lord. We make no distinction between any of them, and unto Him we have surrendered (Surah 3:84).
Thus, Muslims are not merely following the prophet Muhammad. Instead, Muslims are commanded in the Qur'an to obey all the prophets whom Allah sent throughout history.
Christians agree that Jesus was a prophet of God, but add that He was more than a prophet. Christians furthermore assert that we have the prophecies of Jesus today, and that many of His prophecies have already been fulfilled and others are yet to be fulfilled. Christians affirm that the prophecies of Jesus were recorded by the Gospel writers—Matthew, Mark, Luke, and John, and that the four Gospels we have today have accurately preserved those prophecies.
Thus Christians not only honor Jesus as a prophet of God, they also possess Scriptures containing copies of His prophecies. We have His prophecies as well as His sermons, teachings, parables, and warnings. This gives Christians the opportunity to evaluate, test, and affirm the teachings of Jesus. We can learn essential truths from both the prophecies that have already been fulfilled and those that are yet to be fulfilled.
Christians agree with Muslims that Jesus was a prophet, but there are important distinctions between the two. While the Qur'an strongly asserts that Jesus was a prophet of God, it is significant that virtually none of the prophecies proclaimed by Jesus can be found in the Qur'an.
---
Why Should You Care About the Creation Story?
Posted on Oct 08, 2018 Topic : Men's Christian Living, Women's Christian Living
Posted by : Danielle Hitchen
The first chapters of Genesis are often encountered by adults as a controversial text about the age of the earth or the design of human sexuality, or we skip over the pre-fall story altogether and jump straight to what we learn about temptation and sin. While there are important things to be gleaned from those discussions, more and more I find myself realizing the creation account is essential to our understanding of how to live in the "already" and what we long for in the "not yet."
These verses offer a unique glimpse into what human life was designed to be before the intrusion of sin; the same things we should expect for our lives after death. There is sometimes a temptation to think of our bodies as shells to be discarded in death as we float off to an entirely new and utterly other place we call "heaven," but traditional Christian eschatology affirms that we look forward to a bodily resurrection and living a restored life enjoying the new heavens and the new earth.
If we likewise affirm this is true, we have every reason to believe that the things which preexist sin—our bodies, relationships, work, and rest—are all essential to human flourishing.
There are huge implications for how we then live in this life as already-redeemed people. God wants us to care about:
Our Bodies
God made our bodies and called them good, therefore our bodies and the bodies of others are valuable and ought to be cared for. This belief should serve as the guiding principle for how we as Christians think about a spectrum of issues—human trafficking, sexual harassment and assault, poverty, mental health, adoption and fostering, fertility issues, and so much more. These issues are complicated and messy, but we should always start with and harken back to our calling to care deeply for the protection and health of the body.
Relationships
It is impossible for humans to flourish outside of community. Instead of making humans solitary creatures designed only for relationship with Him, God also made us to work and live alongside of other humans. Building and maintaining healthy community life through our neighborhoods, churches, schools, and workplaces (among others) is essential to our spiritual health.
Work
God also made us to work and work is good. He didn't say, "Lie in this leaf hammock and be served by the beasts." He said "have dominion over all the earth" (Genesis 1:26) and then gifted Adam and Eve with the ability to procreate, cultivate their food, and steward the animals and other natural resources. In this life then, our work (paid and unpaid) is meaningful.
Rest
Finally, rest is required. In fact, it's called "holy." God rests once He finishes creating not because He's tired, but because He's showing us there's something sacred in the rhythm of work and rest, in the joy of a job well completed.
As we seek to live out this basic theology in our daily lives, we also model for our children obedience and submission to God's design for human flourishing. This sort of modeling is essential to encourage children to develop healthy life habits and values—children are far more likely to do what they see, not what you say. Our families are the best place to start cultivating a microcosm of God's kingdom, learning from the beginning of our world to live into our hope of the end and the restoration of all things.
---
Adjusting to an Empty Nest? Let God Be Your Comfort
Posted on Oct 04, 2018 Topic : Inspirational/Devotional, Women's Christian Living
Posted by : Bonnie Sparrman
They came in a hurry, filling our home with noise, toys, friends, commotion, and more activity than my husband and I knew what to do with. And they left in similar rapid succession. During the child-raising years the house takes on the aura of a dormitory, summer camp, library, gymnasium, locker room, and dining hall. And after a bewildering set of months punctuated by nights fretting over applications, deadlines, college orientations, or visits to the local recruiting office…poof! They're gone.
For the mom whose ears are tuned to kids showering at six thirty every morning, those first days in a kid-free house make you feel like death has struck. Sure, it may feel like a luxury to get up and make coffee for yourself and perhaps a spouse, but the quiet is deafening, and the emptiness unsettling.
One morning, over my cup of coffee, it hits me. We were six people living in this house. Then we were five and then four, then three and now two. And every time I find myself at home alone, I realize it's just me. I'm the one left, turning on the radio so someone will talk to me as I clean up the kitchen.
When kids first leave, I avoid their bedrooms, fearful of the feelings I might encounter if I dare enter. But inevitably someone calls home needing that sweater I had encouraged them to take along in the first place, and digging for it leads to sorting out clothes along with bucketloads of gut-wrenching emotions. This ache deep inside…what is it? I have known this gnawing discomfort before. But when? Pausing to consider, it finally dawns on me; it was when my little brother died thirty years ago and grieving became my second college major.
I am not skillful at handling grief…partly because of its unpredictable and ill-timed nature. One day I can walk into the high school just to say hello to our kids' favorite teachers and all will be well. But on another day, the same sort of visit might leave me stunned by a ridiculous flood of tears that makes me want to escape and call a friend. At moments like these I find it helpful to remember that God is in the business of comforting His people. He knows when our mother-hearts are breaking and need to be soothed.
Jesus says it so simply in His Sermon on the Mount: "Blessed are those who mourn, for they will be comforted" (Matthew 5:4). Blessed is the mom who is mourning the loss of golden days when her children were at home filling the rooms with warmth and light, craziness and noise—young enthusiasm at full tilt. An actual death isn't required to necessitate the work of grief. And it is work—hard work. Remembering Jesus's words of comfort and care is a good place to start.
And give yourself time. It won't always feel as painful as it does when they first leave. So please, go easy on yourself, especially during the first shockingly quiet kid-free months. Allow yourself moments to grieve. They are much-needed steps toward healing.
---
The Key to Creating a Rich Quiet Time Habit
Posted on Oct 02, 2018 Topic : Women's Christian Living
Posted by : Jane Johnson
When I was seven, I wore an eyepatch. It wasn't the kind of pirate-patch like you would wear for Halloween. It was the Band-Aid kind that was decorated with sparkles and stickers to pretty it up and disguise the fact that it was, indeed, an eyepatch. I was born with an inherent laziness in my right eye that made it sometimes wander, eventually requiring corrective surgery. So I wore the prettied-up-patch over my good eye to strengthen the weak muscles in the lazy one before the procedure.
And so it was that if you were looking for seven-year-old lazy-eyed Jane, you would likely find me on the playground, using my good eye to peek through a loosened corner peephole of a sweaty eye patch.
But there was always a box of replacements waiting in a drawer of my teacher's desk. So I'd go through the rest of the school day with my good eye blinded, pretending to see normally when everything was actually a blurry, jumbled, and frustrating mess.
It's ironic that I ended up in a camera career that is dependent upon having a good eye. If you're looking for me now, you will likely find me sitting in front of the computer editing photographs—the weak-eyed photographer who trained her one good eye to see well enough for two.
When things are lazy, they are prone to wander. That's why a regular, habitual quiet time is so important: It staves off a lazy faith and protects against a wandering heart.
Before we go any further in this journey of learning to study Scripture, let's pause to recognize and acknowledge the things that prevent a rich and habitual quiet time.
Sometimes, it's simple prone-to-wander laziness. But not always. I can't tell you the number of conversations I've had with people who truly hunger for a daily, dedicated quiet time and are quick to provide a laundry list of reasons why it just hasn't worked for them—reasons that end up creating bruised shins from never quite clearing the create-a-habit hurdle.
Clearing that hurdle comes down to what it always comes down to: You have to really want it. You have to want it badly enough to overcome the opposition that comes against you. And boy, will it come. It's no accident that David described the table God prepared for him in Psalm 23 as being in the presence of his enemies. And what bigger enemy do we have than Satan? The last thing that little devil wants is for us to sit in the presence of God. He doesn't want us focused and intentional—eagerly and expectantly waiting for God's presence to be made manifest.
There are 24 different Hebrew words and 15 Greek words for the single English word wait in the Bible. One of them specifically refers to staying at home and expecting a visitor. Moses used it in Exodus 24 as he prepared to go up to Mount Sinai with Joshua to receive the Ten Commandments.
"Wait here for us until we come back to you," Moses said (v. 14).
It's the same type of anticipation you need to have when you approach your quiet time: Stay put and expect God to join you right there on your perch. Whether it's an overstuffed chair at home, your kitchen table, or a table tucked away in a coffee shop, expect Him to come to you.
When we get into a daily, habitual quiet time, we begin to learn and recognize God's voice and expect Him to whisper-reveal Himself. That's powerful. And it's the last thing Satan wants. You better believe he's right there at our table that God prepares for us every single day, doing everything he can to distract, confuse, and create disinterest in the Word of God.
Whatever the obstacle that keeps you from meeting with God daily, I encourage you to find a handful of verses related to your struggle and turn them into Scripture-prayers. Because praying with our own words is powerful, but praying God's Word is unstoppable. Using Scripture-prayers in your daily quiet time is taking God at His Word and believing Him for the fulfillment of it.
It's time to stretch your legs, leap over the obstacles, and dare yourself to deepen your understanding of the Bible. You'll be blown away at the things you dig up.
I promise.
---
What Makes a True Hero?
Posted on Sep 27, 2018 Topic : Inspirational/Devotional, Men's Christian Living, Women's Christian Living
Posted by : Steve Riach
The word "hero" is misused and overused in our culture. Dictionary.com (what happened to thumbing through the ten-pound Merriam-Webster version?) defines a hero as a person noted for courageous acts or nobility of character; a person who, in the opinion of others, has special achievements, abilities, or personal qualities and is regarded as a role model or ideal; or the principal male character in a story, play, film, etc.
Yet, as you read publications or online articles or watch the news, you find that the word "hero" gets tossed about like pennies into a fountain.
Heroes, it seems, are a dime a dozen today.
Or are they?
What is it that makes a true hero? Ability? Achievements? Popularity? Power? Or is it something more intrinsic, something deeper?
I say it is.
Look back at the definition above. Nobility of character…regarded as a role model or ideal. Heroes are not characters, as the media would sometimes have us think. Rather, they are people of character. Good character. Men and women whom others admire and even want to follow because of their example of virtue and selflessness. Those who exhibit—no, embody—traits such as commitment, leadership, perseverance, teamwork, respect, integrity, responsibility, self-control, and compassion. These are true champions in my book.
These people are human, for sure. Fallible? You bet. Flawed and imperfect? Like us all. Yet something lies deep within them that makes them worthy of our admiration. They never give up, they treat people right, they live in integrity, and they use their platform to impact others. This describes the heart of a true champion…or maybe even a hero.
I've had the incredible privilege of telling the stories of these kinds of true champions for more than 30 years. I've been all over the U.S. and trekked to different countries to talk with them, observe them, and then tell their stories.
These men and women exhibit the heart of a true champion. They have been acclaimed for their records, medals, and titles, and they have been considered among the best in the world at what they do. Yet each one lives for something greater, something bigger than themselves. As you read stories of true heroes, I hope you see what I have seen, and I hope you, too, are inspired to live for something greater.
---
Let This Sink In
Posted on Sep 26, 2018 Topic : Prophecy
Posted by : Todd Hampson
"Men of Galilee," they said. "Why do you stand here looking into the sky? This same Jesus, who has been taken from you into heaven, will come back in the same way you have seen him go into heaven." Acts 1:11
Have you ever really thought about the truth contained in this verse or in many others like it? If the idea of Christ's return has become overly familiar to you, read that verse again and let it sink in as if you had never heard it before. Scripture tells us Jesus is literally coming back to earth one day. Are you aware of how frequently the writers of the New Testament wrote about the promised return of Christ? Of the 27 books in the New Testament, 23 mention his return. Jesus often spoke about it himself. In the 66 books of the Bible, you'll find that one out of every 30 verses refers to the return of Christ or the topic of the end times. So it's fair to say this is a major biblical theme from cover to cover.
Down through the centuries, Jesus' followers have fully believed, taught, and expected that he would return. During the past 2,000 years of church history, core Christian beliefs have been codified into simple statements of faith called creeds. These concise statements affirm that the return of Christ has always been a key focus of the Christian faith. This truth has brought encouragement to generations of Christians who have looked to a promised future where all things will be made right. We are reminded of this promise every time we take communion and "proclaim the Lord's death until he comes" (1 Corinthians 11:26). We also pray for the arrival of the end-times in the Lord's prayer whenever we pray, "Your kingdom come, your will be done, on earth as it is in heaven" (Matthew 6:10).
However, in recent decades, the topic of Christ's return has, for various reasons, taken a bad rap. What comes to mind when some Christians read these words? Revelation. Apocalypse. Armageddon. End-times. The Last days. Judgment. Do images of a bullhorn-wielding sidewalk preacher donned in a sandwich board comes to mind?
Unfortunately the topic of Christ's return has been hijacked by caricatured notions of what the Bible actually teaches. It's not a doom-and-gloom scare tactic. His return is a foundational truth of the Christian faith, but in our day, some Christians tend to treat the topic like a crazy uncle the family never talks about.
In conversations with fellow believers, I find that most of them truly believe the Lord is going to return at some point, but they see this as a distant event with no real relevance for us today. Many are confused about the last days or they completely ignore the topic. This is understandable for many reasons, but studying eschatology and Bible prophecy is a thousand times more relevant and practical than many Christians realize. Revelation 1:3 boldly states, "Blessed is the one who reads aloud the words of this prophecy, and blessed are those who hear it and take to heart what is written in it, because the time is near." So the final book of the Bible, which many believers in our day tend to avoid, informs us that there are specific blessings for those who read it!
When we look at the Bible's description of end-time conditions and the specific signs Jesus said to look for, it's evident that His return is closer than most think. Romans 13:11-12 says, "Now it is high time to awake out of sleep; for now our salvation is nearer than when we first believed. The night is far spent, the day is at hand." If that was true then, it is even more true now! We need to live with a sense of expectation and urgency, and we should let that guide our daily choices and our passion to tell others about Christ.
Living with this type of expectancy also helps us deal with the tough things life can throw at us. If we know this is not our home and that we will see the Lord relatively soon, either by death or rapture—this mindset can help us endure and stay strong in our faith despite anything the world throws at us!
---
Invite Autumn Into Your Kitchen with This Cozy Comfort Food Recipe
Posted on Sep 25, 2018 Topic : Women's Christian Living
Posted by : Shay Shull
"What's for dinner?"
That famous phrase can make a woman's heart beat just a little faster. What's for dinner? What's for dinner? What's for dinner? Hmm...
Growing up, my mom put a hot meal on the table each and every night. It was always homemade, it was always delicious, and it was always spur-of-the-moment. My mom is famous for being in the middle of actually cooking our dinner (like ground beef was browning) and yet still not knowing what we were going to be having—a mere 15 minutes later! That is how my mom meal-planned. As she was cooking, she was planning.
Me? I need a very specific meal plan for the week. I need exact recipes, a solid grocery list, and a well-stocked pantry. I like to prepare everything in advance so that on busy nights I know exactly what to reach for and exactly what to prepare.
To celebrate fall, here's a delicious meal that makes a great main dish or side:
Butternut Squash Mac and Cheese
I'm always looking for ways to add butternut squash or pumpkin to our family's fall dishes. I love the flavor, and I also love the extra boost of veggies—with all those good vitamins—for my kiddos. The other night, we made this for dinner along with some brisket, and it was a huge hit!
Ingredients
1 pound short-cut pasta (I use shells)
Extra virgin olive oil
1 shallot (or red onion), diced
2 tablespoons flour
1 cup milk
1 cup Cheddar cheese, shredded
1 (10 ounce) package butternut squash, thawed and pureed
¼ cup Parmesan cheese, grated (plus a little extra for garnish)
About 4 tablespoons fresh thyme, roughly chopped
Salt and pepper
Instructions
Bring a large pot of water to a boil over medium-high heat and add the pasta. Cook until al dente (about 6 or 7 minutes).
Meanwhile, in a large saucepan over medium-high heat, saute the shallot in about 2 tablespoons of olive oil and a nice pinch of salt and pepper for about 3 minutes or until nice and tender. Add another drizzle of olive oil. Next, whisk in the flour and cook about 1 minute. Then whisk in the milk. Whisk everything together about a minute before whisking in the pureed squash. Continue whisking over medium-high heat until the sauce thickens (it takes a couple of minutes). Once the sauce is thick enough to coat your spoon, whisk in the Cheddar and Parmesan cheese along with the thyme.
Drain the water from the cooked pasta and pour the squash mixture on top of the pasta. Serve immediately and garnish with a little extra Parmesan and thyme. Enjoy!
---
Find the Miracle in the Mayhem of Motherhood
Posted on Sep 20, 2018 Topic :
Posted by : Jami Amerine
I don't know about you, but I admit, I started my parenting journey believing in a consequential God. In all fairness, my entire life is based on the consequential.
If I put the baby to bed too early, then I will have to get up too early.
If the toddlers take a nap in the car, then I will bust free from the confines of my Weight Watchers points and eat pie and Cheez-Its.
If I don't put the laundry away as soon as it is folded, then it will sit on the table until Sunday lunch.
If the laundry is still on the table for Sunday lunch, then it will get dumped in the laundry basket and be rewashed and refolded and not put away again.
If I eat that piece of pie, then I will give up all hope and lose another week of healthy eating and just vow to start over on Monday—and then I will follow up the pie with Cheez-Its.
Steeped in an if/then lifestyle, it is hard for me to fathom a God unchanged by my actions.
In his book God without Religion, Dr. Andrew Farley reminds us that "God is not in a swivel chair, rotating his face away when we sin. Because of the cross, his face is always toward us." This image of a "swivel-chair Jesus" resonated with my long-held understanding of a Lord of consequence rather than of mercy. For years I envisioned a Jesus who turned His back on me when He was displeased and spun around to face me only when I was good. What an exhausting way to believe. What an exhausting way to live.
Maybe you're exhausted by these beliefs too. Have you ever had these thoughts run through your mind?
If I get up and have my quiet time, then Jesus will bless me.
If I pray really hard, then Jesus will hear me.
If I fast, then God will have mercy on me.
If we don't go to church, then God will be furious.
If we go to church, then God will sanctify us.
If I continue to mess up, then I might get sick, or one of my children will suffer.
But no matter how good our plans and intentions, our imperfections get in the way. Our sin separates us from the living God. So Jesus, who was and is without sin, sacrificed Himself for us. If the law had worked, then we wouldn't have needed a Savior.
The realization that Jesus sees me as blameless and whole in spite of my sin is beyond the scope of my brain. Still, these are the if/then statements I believe I need to remember:
If Jesus was the perfect sacrifice, then I must believe His blood worked.
If I believe, then I am free from sin and condemnation.
If I am free and cleansed from sin, then He dwells in me.
We can't control the outcomes of life through our striving. But if we give the control to God, then we can walk the sanctified path of "love, joy, peace, patience, kindness, goodness, faithfulness, gentleness, and self-control" (Galatians 5:22-23).
When you feel like you're failing at this mom thing, remember this journey is not about being a perfect parent. It's about being parented by a perfect Father.
---
Be Aware of the Play-Action Pass
Posted on Sep 18, 2018 Topic : Inspirational/Devotional, Men's Christian Living
Posted by : Tony Evans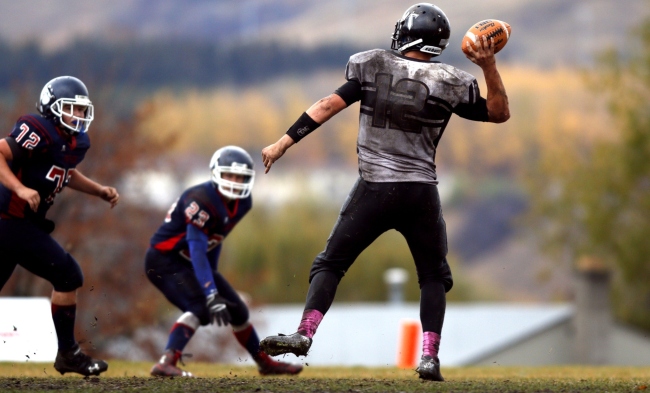 Do you like to watch football? I do. I loved it as a kid, I loved watching my son play in high school and in college and even a bit in the NFL. And I love to watch it now after a long Sunday morning of back-to-back services at church. Watching football is never dull to me.
One play that often works well is called a play-action pass. The quarterback receives the ball from the center, turns as if he is about to hand the ball off to the running back… but then keeps the ball. The goal of the fake is to get the defense to focus on the running back—until they realize he doesn't even have the ball. While this is going on, the quarterback quickly hides the ball, runs the other way, and throws a pass to a receiver downfield.
If the quarterback has done his job well, the defense has been lured away from the ball, and the quarterback can throw it to a wide-open receiver.
Did you know that Satan has run a play-action pass on many of us today? 2 Corinthians 11:14 says, "Satan disguises himself as an angel of light." He has lured us into running the wrong direction and chasing the wrong goals so he can distract us from our real purpose. Like a pickpocket who loves a crowd, Satan has been robbing too many people of their purpose by distracting them from God's plan.
One of the best strategies against the play-action pass is to be aware of its existence. When you are aware, your eyes will be open, and you will keep a greater focus on the ball rather than the fake. As you pursue your destiny, be aware of Satan's schemes so that if you feel you have become distracted from God's purpose for you, you can double back and get on track sooner rather than later.
---
The Ultimate Promise Keeper
Posted on Sep 13, 2018 Topic : Prophecy
Posted by : Todd Hampson
Have you ever been let down? Lied to? Abandoned? Abused? Has that experience tainted your view of the Heavenly Father? If so, I have great news to share with you. Scripture proves that God is a faithful and loving promise-keeper.
Fulfilled Bible prophecy is one of the most compelling evidences that the Bible is from God. We learn from studying Bible prophecy that major historical events were told centuries, and in some cases, thousands of years in advance. These prophecies were fulfilled in exact detail. No other document in the world can make this claim. The only logical explanation is that the book is supernatural in nature.
I can't show God to you, but I can show you his fingerprints all over fulfilled prophecy. Christianity is believed by faith, but I hope to demonstrate that it is a faith built on facts and evidence rather than a blind faith. God never expected us to check our brains at the door as we consider the claims of Scripture. For those sincerely seeking patterns of evidence, I believe they will follow those patterns to the God of the Bible.
Experts report that 27-33% of the Bible is prophecy. Over 10,000 of the 31,102 verses in the Bible contain prophecy, and half of those have already been fulfilled. That is no small down payment. God has put his money where his mouth is and has demonstrated his promise-keeping faithfulness to generations of believers.
So, if you are hurting today—wondering if there is anything to truly believe in—take a look at the mountain of fulfilled Bible prophecy and know that God loves you, has a glorious plan for your future, and wants you to trust Him, even though others have let you down. The God of the Bible is a true and trustworthy promise-keeper.
---
What's Killing Your Creativity?
Posted on Sep 11, 2018 Topic : Inspirational/Devotional, Men's Christian Living, Women's Christian Living
Posted by : Jenny Randle
"My dad told me actors are a dime a dozen…"
A young man stood up confessing deep pain that lingered in his soul. I was speaking at a film festival and had just asked if any of the filmmakers or actors wanted to share a burden they've felt in their creative journey.
His shoulders sunk as the weight of the words flung haphazardly and punched us in the face. They weren't just words. They carried the power that redefined his destiny for far too long, and we all felt it.
Unfulfilled potential, the loss of a dream, a passion buried beneath the surface—the snake-like-words had wrapped their way into his identity. They poisoned his ability to find freedom in the very thing God had called him to in this season.
We could all relate to him on some level.
For me, it was a battle over a decade ago with depression and an attitude of insignificance that rendered me feeling voiceless.
How about you?
What's killing your creativity?
Stress
Perfectionism
People pleasing
Rules and regulations
Fear of rejection or failure
Depression or feelings of despair
Feeling stuck in performance mentaility
Lacking the time to nurture your creativity


Since we are surrounded by such a great cloud of witnesses, let us throw off everything that hinders and the sin that so easily entangles. And let us run with perseverance the race marked out for us, fixing our eyes on Jesus, the pioneer, and perfecter of faith.
Hebrews 12:1-2
As believers, our God-given creativity is one of the greatest weapons we carry!
Studies show as our age increases our creativity decreases. Which means the weapon used to often shift culture towards Jesus is left gathering dust. Those negative words that may have marked your timeline or circumstances that has you feeling less than, may have hindered you from shining bright for Him.
Here's the thing—Jesus freed us from the sin, shame, guilt and pain that entangles us. The stuff that weighs you down from pursuing those things on your heart or stirring in your soul… give it over to Him.
YOU ARE A COURAGEOUS CREATIVE...and not only does your creativity connect you to the Ultimate Creator, but it creates opportunities to glorify Him as you influence the world for Christ!
Just how the young man at the film festival ditched those creativity killers, may we be challenged to do the same.
Comment below with the thing that's killing your creativity most, and than pray over one another and celebrate all Christ will do!
There's power in community…and now go and shine on, you creative ninjas, you. Let's run our creative race well, with our eyes fixed upon Jesus.
---
There's Help and Hope When You're Going Through a Friend Breakup
Posted on Sep 06, 2018 Topic : Inspirational/Devotional, Men's Christian Living, Women's Christian Living
Posted by : Mary DeMuth
Perhaps you're like me. You have a hard time letting friendships go—even when they've run their course, or perhaps because you've realized they've been a toxic influence in your life.
(Curious if you're currently encountering one of the seven deadly friendships, you can take the quiz here: 7deadlyfriendships.com)
Maybe you obsess over what you've done to create or contribute to the demise. And perhaps you continue to pursue the friend even after it's probably not wise to do so. Maybe you panic when the friendship shifts, and you grab at its remnant with no small hint of desperation.
Last weekend, one of my friend breakups came to mind when a long-forgotten notification reminded me of her birthday. I felt that familiar panic. What hadn't I done? What should I have done? Why weren't we close any more?
The problem with that kind of thinking is twofold:
We shift all the blame to ourselves and don't adequately assess both sides of the story.
We forget that sometimes God moves people out of our lives for reasons only He understands.
When friendships go sour (or we move away, or someone changes), we don't need to become grabby and clingy. While it's good to at least have one conversation of final exploration, it's not good to continually obsess over the change in relationship. Talk about it, then if you sense God giving you the go ahead, move on. No need to gossip. No need to chase.
God has new friendships in store for you. New friendships that will uniquely enhance and shape you in this period of your life. And as #2 intimated, God has His reasons for moving you on (and moving your friend on). Even if there's no closure, you need to create closure in your mind, otherwise your head will constantly flurry about what happened.
While you may feel helpless after the friend breakup, you do have a choice. You can embitter yourself or ask God to empower you to forgive and let go of bitterness.
If you find yourself in this situation, here's a prayer you can pray:
God, thank You for ______________. You know I love that person. But I choose to release _____________ in Your hands. Bring _____________ back into my life at Your choosing. Or not. But whatever happens, don't let me get stuck back there in bitterness. Today, please help me live in anticipation for the new friendships You have for me. And remind me that I will see ____________ in heaven someday, where our friendship will be beautifully set free. Amen.
---
How Will God Use Your Passion?
Posted on Sep 04, 2018 Topic : Inspirational/Devotional
Posted by : Sandi Swiridoff
By profession, I'm a registered nurse. And because of my desire to help children in need, I started my career in pediatrics. But I'm also a wife, mother, Christian, friend, quick-witted punster, and passionate photographer who loves to bring joy to others through my photos. Photography is what energizes me and keeps me focused on the beautiful things in life. But in life, as in photography, focus can change. One day, without much notice, foster grandchildren entered my world, and I turned a corner to discover a wonderful new journey.
A few years have passed since then, but sometimes, when I think back on that period, I can still feel the bittersweet and raw tug of the emotions I experienced. My foster grandsons, whom I loved immeasurably, were getting ready to transition from my daughter's home to their adoptive home. We had been very involved in their lives, and now they were leaving us for their forever home. It was a beautiful but difficult time for our entire family.
And so, as silly and cliché as it sounds, Eric and I thought a puppy might help us fill the child-sized void we would soon experience. One Sunday afternoon we took a drive with our grandsons to "just look"' at a litter of Australian Labradoodle puppies. However, when we arrived, we discovered only one pup was left in the litter. As I reached down to pick up this little ball of fur, he licked my face. At that moment I knew he was going home with us. That was the day Reagan and I first met.
There is nothing quite like puppy therapy to get through a rough time. Reagan's spunk and playfulness helped us all. Our grandsons quickly latched on to the notion that we had "adopted" Reagan. We took that and ran with it, using Reagan's story as an example of real life adoption and how, even though he was sad to leave one family, he was welcomed with love and acceptance into his new family. The boys loved talking about Reagan's adoption as they prepared for their own.
The weeks flew by, and before I knew it my foster grandsons had transitioned to their new home. Thankfully, Reagan was there to help ease my heartache. He gave me something to focus on (pun intended), loving my camera as much as my camera loved him. We were a match made in heaven.
When Reagan was 11 months old, a new foster grandson entered my life, Little Buddy. Coincidentally, he was also 11 months old, just like Reagan. From the moment they first met, Reagan and Little Buddy have been the best of friends. Reagan always brings a smile to Little Buddy's face and elicits endless giggles. Watching their bond warms my heart, as they have the same energy level and personality. I began to share glimpses of their special relationship through photos on social media. Eventually, the photos caught the attention of several media outlets and were shared globally, along with our story.
Reagan and Little Buddy have brought so much joy to my life, as have all of my foster grandchildren. I never imagined that a dog and an Instagram account would tie my passions together and impact hundreds of thousands of people along the way.
---
Will You Faithfully Do What Jesus Asks?
Posted on Aug 30, 2018 Topic : Inspirational/Devotional, Men's Christian Living, Women's Christian Living
Posted by : Anna Haggard
Around the time that my coauthor, Rachel, and I started pitching the idea of a series featuring stories of influential women of the Bible, I began reading and praying through John 2. Jesus is attending a wedding. And after a few days, the wine runs out. When his mother asks him to intervene, Jesus calls the servants together and asks them to fill six empty jars. "Fill the jars with water", Jesus tells them.
And I sensed an invitation from Jesus. In the story, Jesus doesn't ask them for a miracle. But he calls ordinary people to be faithful to the task at hand.
"Do the simple task I've asked of you—write the stories," Jesus beckoned to me. "Wait, see what I will do."
So we continued to write.
At the time, we believed God had gifted us an idea for a children's series on women who are disciples, spiritual leaders, moms, businesspeople, and prophets in the Bible. The need was clear: Most children's Bibles focused on stories like David and Goliath, Abraham, and maybe Paul. So, we began to write the women's stories...so that girls and boys could see that women are called by God too.
Amid doubt, we continued to fill the jars. To write. To pray. To write some more.
"Fill the jars with water," Jesus continued to tell me.
Yes, Jesus.
In the gospel narrative, the servants "filled [the jars] to the brim" (John 2:7). The servants consecrated themselves to the ordinary task at hand. Likewise, we devoted ourselves to crafting our core message: that God chooses women to take part in the plan to redeem all of humanity…and is inviting girls and boys on an adventure too.
"Fill the jars with water."
We filled our jars to the brim, then to overflowing. And, in the process, Jesus began refining us, transforming our work into worship. That perhaps was the real miracle.
"Then he told them, Now draw some out and take it to the master of the banquet. They did so, and the master of the banquet tasted the water that had been turned into wine. He did not realize where it had come from, though the servants who had drawn the water knew" (John 2:8-9).
In the gospel narrative, the master of ceremonies is presented the miraculous wine. But only the servants know about the miracle. Only they know their labors were ordinary.
Similarly, Rachel and I know we were gifted with the Called and Courageous Girls series. In our core, we recognize this series gives credit to the One who receives our ordinary work and makes it sacred.
Because you and I aren't called to do transformative work, but rather, to consecrate our commonplace, everyday tasks to the One who turns water into wine.
How is Jesus inviting you to be faithful today?
---
When You've Never Been the Cool Girl But Are Chosen Anyway
Posted on Aug 28, 2018 Topic : Women's Christian Living
Posted by : Stacey Thacker
I was never cool.
One of the first indications was a hairstyle I was convinced would prove otherwise in middle school. Lured by promise of looking just like one of Charlie's Angels I asked my mom, my personal hair stylist, to cut my long hair. But this would not just be any haircut. I wanted my hair to "feather" on the sides. It was the definition of cool in the 1980's. I believed that if my hair feathered, I would somehow transform magically into the cool girl at school. You see, I wanted my hair to look just like my friend Julie's. I tried everything to look like her. It wasn't meant to be I suppose. My hair had more of an awkward swoop with unfortunate curls compliments of an at-home permanent I also convinced my mom to give me.
It never did feather.
Lately I've been thinking about how my life isn't so different than those days back in middle school. Maybe you can relate to these feelings as well:
Insecurity:
Today, my insecurity seems to rise as I try to measure up to that same crowd. Only now it isn't the hallway between classes. It looks more like Instagram and what all the other adorable women are posting online. I hear whispers in my head as I scroll that say, "Why are you even trying? You will never measure up to the 'Cool Kids.'"
Fear:
Insecurity may keep you from trying, but fear of failure will probably cause you to work twice as hard to make sure no one sees you are struggling. What is worse than failing? Failing in front of others.
Undesirable:
This feeling resurfaced again this past year in the middle of my forties. Who wants a weary woman, who looks tired, is busy raising four girls, and can't quite keep her shopping list down to one trip per week?
Who wants that girl?
The Bible says, long ago, before God laid the foundations of the world, he was thinking about you (and me) and how much he loved us. In fact in the book of Ephesians, chapter three verse fifteen tells us that we were chosen and received our name from the Father, from whom "all families in heaven above and on earth below receive their names" (The Voice). He decided from the beginning of time to adopt us as his children through his only Son, Jesus, and to write his name over our hearts. Do you know how he felt about that? He delighted in doing so. His plan was for us to be part of his special family. Being part of his family brings with it blessings of untold worth, gifts we get to experience now and forever, and more importantly, access to our heavenly Father no one can hinder.
He whispers over my insecurities: blameless
He persists in telling me when I fear failure: free
He shouts over the voice that cries undesirable: chosen
Jesus wants that girl. Then and now.
---
The Answer to the World's Greatest Fear
Posted on Aug 23, 2018 Topic :
Posted by : Dr. Neil T. Anderson
"I heard you in the garden, and I was afraid…" (Genesis 3:10)
The immediate emotional consequence of being separated from God was fear.
Why was Adam afraid?
There was nothing in the Garden of Eden to be afraid of. He had no neurological illness that needed medication. There were no learned phobias that had to be unlearned, or flesh patterns that had to be crucified.
There is only one explanation for his fear. He was separated from God. There is nothing more fearful than to be totally abandoned and utterly alone.
Throughout history people have been terrorized by the idea of impermanence. They have gone to extreme measures to overcome their mortality. Fanciful beliefs have been formulated by false religions to give them hope for an afterlife. Explorers have searched for the mystical Fountain of Youth. Scientists have experimented with drugs to stop the aging process. Some have turned to cryogenics hoping they can be resuscitated from their frozen state after a cure has been found for the disease that led to their death. Silicon Valley techies are trying to upload their consciousness to a computer. People attempt to alleviate their fears by saying someone is in a better place when they die, when there is often no basis for making such an assertion.
This primordial fear exists in all humanity, and there is only one antidote.
When Adam moved away from God he brought death, because sin had cut him off from the source of life. God in His great love and mercy sent Jesus to die for our sins, but He came to do much more than that (see Romans 5:8-11). He came to give us eternal life, which is not the same as the temporal life that defines our physical existence.
"Since then the children share in flesh and blood, He Himself likewise also partook of the same, so that through death He might render powerless him who had the power of death, that is, the devil, and might free those who through fear of death were subject to slavery all their lives" (Hebrews 2:14,15).
---
God Loves to Use Weak People
Posted on Aug 21, 2018 Topic :
Posted by : Ron Rhodes
Do you ever feel insignificant before God? Do you ever feel that you have little to offer God? Do you ever feel too spiritually weak to make much of a difference for the kingdom of God?
If so, I've got some good news for you. Scripture reveals that God loves to use weak people who may seem to have little to offer in themselves.
The apostle Paul taught a paradox based on his own experience: The weaker the human vessel, the greater that God's strength shines forth (1 Corinthians 12:8). This means that we need not be dismayed by our personal weaknesses. They provide opportunity for God's great power to work! Paul felt weak in himself. But God told him: "My power works best in weakness" (2 Corinthians 12:9).
As I was contemplating this important verse, I looked up a few cross references that really "turned on the lights" for me. Jesus urged His followers: "I am the vine; you are the branches. Those who remain in me, and I in them, will produce much fruit. For apart from me you can do nothing" (John 15:5). In like manner, the apostle Paul later affirmed: "I can do everything through Christ, who gives me strength" (Philippians 4:13). Don't miss this important truth: We can do nothing apart from Christ, but we can do everything through Christ who strengthens us. The secret is to stay plugged into Jesus! He is our never-ending source of power and fruitfulness. His power shines through our weakness.
It's no problem if you feel you have little to offer God. To illustrate, John 6:8-9 tells us that a little boy offered to the Lord what little food he had (five small loaves of bread and two fish), and the Lord multiplied it into enough food to feed 5,000 men and their families. The point is that you and I may sometimes feel that we don't have much to offer God. But if you offer to God what little you have—your talents, your skills, your spiritual gifts, your time—God can turn these into something magnificent.
My friends, I urge you not to wait. Delay no further. Starting today, commit to keeping yourself "plugged in" to Jesus, and offer to Him what little you have. I promise you, He'll use you if you give yourself to Him. He can do things in your life that you could not possibly even imagine. He is able, "through his mighty power at work within us, to accomplish infinitely more than we might ask or think" (Ephesians 3:20). Dare to believe that God can do it!
---
What Unexpected Opportunities Does God Have in Store for You?
Posted on Aug 16, 2018 Topic : Women's Christian Living
Posted by : Tami Dillon
Origin stories are all the rage these days in popular culture. Just look to your latest, blockbuster comic book movie. So, we were beyond thrilled to share how one of our wildest dreams of writing and publishing a cookbook became a reality!
It started when my mom, sister, and I organized one of those painting parties where an artist shows you how to paint the picture you pick. We decided to bring a snack as well and my mom offered to make some gluten-free desserts so I could enjoy with everyone else. My mom outdid herself for the party and brought two different desserts—one tried-and-true gluten-free treat and a second she'd never made before. Being our mom, it wasn't hard to guess that she'd completely made up the second dessert based on whatever ingredients she had available. That's one of her amazing talents: figuring out what goes together to make the most incredible things.
The guests we'd invited to the party didn't know my mom's hidden talent and were floored. By the end of the night everyone was raving about the Salted Caramel Shortbread and blown away that it was gluten-free. It turned out my mom had made so much that we sent some home with a few of the guests. From then on it was a requested dessert at just about any gathering. This dessert was eventually delighting enough people that when a local publisher was looking for authors to write a gluten-free cookbook, our names came up.
Honestly, we couldn't believe it when we started working on this together. And we're continually amazed at the opportunities God opened up from jumping into this adventure. Now that we're at full circle, we hope you enjoy these amazing bar cookies as the Lord leads you to unexpected opportunities as well!
Salted Caramel Shortbread (serves 18 to 24)
[Bonnie, Tami's mom] Talk about a crowd-pleaser. People love this simple dessert. Even better, they're shocked to find out it is gluten-free. Instead of caramel apple dip, you could also make the caramel from scratch or unwrap 50 baking caramels and melt them over low heat with milk or cream. We like the dip for ease—and it tastes just as good.
Crust
2½ cups (5 sticks) butter, room temperature
1½ cups C&H Baker's Sugar
2¼ cups powdered sugar
3 T. vanilla
6 cups (750 grams) gluten-free 1-to-1 flour blend
Filling
1 (16 oz.) container caramel apple dip
1 T. coarse sea salt
Instructions
Preheat the oven to 350°. Line a cookie sheet with foil or parchment page.
Combine the butter, sugars, and vanilla, and then add the flour. Mix in one cup at a time. Once combined, press half the dough into the bottom of the cookie sheet. Place the remaining dough in the refrigerator. Bake the crust for 20 minutes or until pale brown. Let cool for 15 minutes.
Spread the caramel dip on top of the cooled crust and sprinkle with salt. Crumble the remaining dough on top of the caramel layer. Bake 25 to 30 minutes or until golden brown. Remove from oven and allow to cool before cutting into bars.
Note: The first time we made this recipe, we used a gluten-free baking mix, and it came out a little difficult to cut. Now we make it with a good 1-to-1 flour blend, which means it's formulated for baking to be an equal substitute to 1 cup of wheat flour. We like Bob's Red Mill products, but make sure you check the labels.
***
Are you looking for more gluten-free creations?
---
Surprise! There's More Than One Right Way
Posted on Aug 14, 2018 Topic : Inspirational/Devotional, Women's Christian Living
Posted by : Kathi Lipp and Cheri Gregory
When I was 14, I volunteered as a Big Buddy for five-year-old Suzie, a cancer patient at the local hospital. One day Suzie declared, "I'm going to draw a tree!" and grabbed a purple crayon. Purple? I have no artistic talent whatsoever, but I know drawing a tree requires two colors, and neither one is purple.
Purple. Who ever heard of a purple tree? True to my Driver personality, I reached over, yanked the purple crayon out of her hand, found the brown crayon, and thrust it at her.
I saw my supervisor beckoning to me. She invited me to join her on the far side of the room, where she spoke in a conspiratorial whisper. "What if we…let her draw a purple tree?"
I stared back at her. Let her draw a purple tree? Of all the audacious, impudent, bold ideas. We could let her draw a purple tree. Yes! Yes, as a matter of fact, we could.
I marched back across the room, snatched the brown crayon out of Suzie's hand, and quickly replaced it with the original purple crayon, announcing victoriously, "You can draw a purple tree!"
For the first time in my life, it occurred to me that my way might not be the only way.
Did you know God offers a different right way?
God beckons us, inviting, "What if we..."
Even so the body is not made up of one part but of many… in fact God has placed the parts in the body, every one of them, just as he wanted them to be. If they were all one part, where would the body be? As it is, there are many parts, but one body. The eye cannot say to the hand, "I don't need you!" And the head cannot say to the feet, "I don't need you!"
(1 Corinthians 12:14, 18-21).
I've wasted decades and damaged many relationships living as if I, on my own, am the body. My attitudes and behaviors have said far more clearly than words, "I don't need you!" to my husband, my children, my friends, and my students.
God wants us to expand our tunnel vision. To become open to others' points of view. To recognize the value of their ideas, thoughts, and preferences. To actively seek their input rather than relying solely on our own perspectives.
God is clear: we do need each other.
So how do we right wrong priorities?
"I don't mean to tell you what to do, but…" rolls so effortlessly off my tongue. The bumper stickers on my life proclaim, "If it's worth doing, it's worth doing right" and "My way or the highway." Learning to stop fixating on how I think things should be done and start opening up to other options has been a slow process.
If you're struggling with the same tendencies, here are two simple (but not necessarily easy) choices you can make that can help you develop greater openness and become your own kind of brave:
Seek Confirmation That You're Doing the Right Things: When you can't come up with good reasons for what you're doing, it's a red flag that you're being driven by fear. The one core choice of becoming your own kind of brave reminds us that love wins over fear any day.
Expand Your Definition of Doing Things Right: Letting go of control is hard. But in the core choice of becoming your own kind of brave, it's right. practice openness with this new mindset: "I'd rather be happy with others than 'right' alone."


Remember, you can choose happiness over being right every time. And you can start with prayer.
When faced with a conflict between being right and demonstrating respect in a relationship, seek guidance by praying, Am I focused on doing things right or doing the right things? and Am I insisting on being the entire body or am I doing my part? Then be open to the Holy Spirit's conviction and leading.
---
For When Your Small Dreams CAN Bring Life to Others
Posted on Aug 09, 2018 Topic : Women's Christian Living
Posted by : Lenya Heitzig
At Reload Love, the nonprofit I founded to impact the lives of children affected by terrorism, we had a dream to leave something tangible behind for the people of the communities we sought to help. That something became turning battlegrounds into playgrounds
We built our first playground on the Navajo Nation reservation in New Mexico as a way of helping children living in poverty in our home state before expanding to other countries. In Sinjar province, Iraq, we have built seven playgrounds. It might seem small, but it's something.
On every playground is a banner with the word of Jesus, "Let the little children come to me" (Matthew 19:14). On every playground, children return to something like normal life. On every playground, they swing, spin, slide, and every time they do, they forget, if only for an instant, the terror they have seen.
Sometimes people ask, "Why playgrounds? There are many needs. Why not food, water, or clothing?" I used to say, the ministry of presence, a break for mothers, playgrounds cannot contribute to a false economy, but now I've stood on these playgrounds watching traumatized children play and I've seen their worth.
Professionals say there are protocols to help children recover from trauma. I call it the CAN method. It doesn't matter if the child has experienced trauma at the hands of a gang in Chicago, a family member in New Mexico, or an ISIS terrorist in Iraq. These steps help them recover as quickly and effectively as possible.
Calm. The child needs to rediscover safety and security, which is why we partner with organizations to create safe spaces. When kids are taken out of harm's way, they need to feel safe, whether a classroom, a music room, or a playground. Playgrounds give children the opportunity to deescalate the terror they felt in their lives.
Acknowledgment. Give children validation that what happened to them actually happened and reinforce that it was not their fault. They didn't create it. They aren't the bad guys. Children need to understand that they do not deserve the terror and trauma and treatment they have experienced.
Normalcy. If children return to a state of normalcy, their hearts have a chance to heal, to return to something like the way they were before experiencing terror. Maybe it's kicking a soccer ball. Maybe it's cooking a meal. Whatever it is, returning to something normal helps them imagine something better for their life, now and in the future.
I know that CAN works. I used the steps with my own grandchildren after my son was in a motorcycle accident.
Calm: First I took control of myself and the situation as I helped my daughter-in-law load the children into my car. After their mother went to check on their father, I turned to the kids.
"Let's pray," I said because I didn't know what else to do, and to acknowledge the problem.
Acknowledgment: I started praying and they were still crying, but then my grandson said, "I have an idea. Mimi, we're going to pray and ask Jesus if Daddy is okay."
So he prayed and after a short pause asked, "Mimi, what does 'amen' mean?"
"It means you agree with the prayer."
"Okay, Mimi, say amen."
"Amen," I said.
Normalcy: We got to my house and did what we always did. We played in the hot tub. I tried to reintroduce normal life into that chaotic, scary situation.
Calm.
Acknowledgment.
Normalcy.
Just as I helped my grandkids in trauma, playgrounds can help meet these need for children. Swings are soothing, rocking children the way they were rocked as a baby. If you don't have your mother's arms or are missing a family member, a swing is marvelous. The thrill of a slide can help you forget your pain, if only for a moment. Chasing your friends around the playground can reintroduce normalcy into your life.
CAN is the way forward for these children. Playgrounds can be part of the answer.
At one of our playgrounds in Sinjar city, I slowly drift back and forth on a swing. I feel like a little girl again. I look around and try to imagine this city alive again. I try to see the city through hopeful eyes. I imagine children on the swings, sliding down the slides. I imagine them seeing Jesus' name for the first time.
At a stop at another playground in a refugee camp, the children come from every direction. They never stop coming, not while we sing, not while we tell Bible stories. Word radiates out through the camp, and they keep coming. They are still coming, even as we load the van and drive away. It is hard to leave, to give them what feels like so little.
Looking back through the square windows of the van, I see the playground, the children still chasing each other, and know we leave behind something greater: hope, and the name of Jesus.
---
What to Do When Life's Not Fair
Posted on Aug 07, 2018 Topic :
Posted by : Tilly Dillehay
I do not like unfairness. I really don't.
If things were up to me, I would have every baby born into the equivalent of a Monopoly game, with an identical collection of bills in incremental amounts:
500 units of relational security
100 units of brains
50 units of beauty
25 units of inherited wealth
10 units of diligence
5 units of creative ability

There you go! Out into the world with you, babies! Go enjoy a life in which no one has any advantage over you and you are never made to feel inferior to anyone else.
We are all preoccupied with fairness, to some degree. Children say it aloud ("that's not fair!"), but adults think it, using different and more sophisticated words ("Wow! The Millers are in Sacramento this week! What is this, a vacation from all the vacations? Talk about first world problems…").
We are comfortable complaining aloud about inequalities between minority and majority groups, or between impoverished cultures and western cultures. But what we don't like to admit is that the inequality we get most hung up on is the inequality that exists between ourselves and those right next to us.
Our coworkers. Our siblings. Our friends. Our neighbors. When one of these people—our peers—pull ahead of us, in some area of life that we care about, this is when the inequality becomes truly unbearable.
But how can we talk about it? It's not something we're proud of, after all. A feeling of unhappiness over something good that happens to someone else? We may not have the right name for it, but we know it when we feel it, and we know that it is not a nice way to feel.
It's called envy, as a matter of fact.
What we need to understand about envy is this: Envy is us finding fault with God's own decision about who gets what. It is rooted in ungratefulness, pride, and self-centeredness. We require more than what God had given; we experience pain because he has given what we want to someone else. We writhe in it. We find ourselves speaking a cutting word, or thinking a cutting thought. Our joy is stolen.
And in the end, only satisfied desire will bring us back to joy. Our desires are for glory—our own glory. And only glory will bring us back. God has promised that a different kind of glory is coming for us, and it is the hope of this glory that will shake us out of the obsession with who, on this earth, gets more than we get:
"So we do not lose heart. Though our outer self is wasting away, our inner self is being renewed day by day. For this light momentary affliction is preparing for us an eternal weight of glory beyond all comparison, as we look not to the things that are seen but to the things that are unseen. For the things that are seen are transient, but the things that are unseen are eternal" (1 Cor. 4:16-18).
---
Do You Have a Hidden Superpower?
Posted on Aug 02, 2018 Topic : Men's Christian Living, Women's Christian Living
Posted by : Hope Lyda
You have a superpower that can deepen your relationship with your kid, your family, and every person you meet.
You have the power to ask a question.
Did you just roll your eyes and mutter, "That's it? What's the big deal?" Well, that's an excellent question! This one amazing superpower multiplies and gives you the ability to:
connect with the kid who only mumbles or emojis her communication
glimpse inside the heart and mind of a friend or stranger
appreciate someone who differs from you
know how to pray for someone
practice the holy art of listening while someone shares their deepest self

Jesus was a master of asking questions to examine a person's heart and make them think about belief, justice, and love. We can do the same as we pose questions to better "see" another's universe-sized dreams, faith-fostering thoughts, seeds of ideas, and grandest hopes. Toss the "How are you?" "I'm fine" dialogue default so you can spark imaginations and authentic connections.
Use Your Superpower for Good
Try it with your kids. Here are five fun offerings to get you started:
How has God created you to be a person who can make the world a better place?
Your class is ready and waiting. What are you teaching?
What do you want your parents to understand about you?
Are you a poem, a book, a riddle, or a song…how so?
If you could go back in time, which Bible event would you want to experience? Why?
Open-ended questions like these are no small thing. They welcome possibility, truth, and discovery.
Sadly, many children who initially pepper teachers and parents with non-stop "What if…" and "How come…" inquiries will eventually clam up. It's at the point they stop learning. Or stop caring. Or worse—both. A few years ago, a Newsweek article entitled The Creativity Crisis shed light on an emerging problem among young learners:
By middle school they've pretty much stopped asking. It's no coincidence that this same time is when student motivation and engagement plummet. They didn't stop asking questions because they lost interest: it's the other way around. They lost interest because they stopped asking questions. (Newsweek, July 10, 2010)
Your desire to hear the what's what of a young person's mind gives them the gift of being known and the invitation to express their superpower of asking questions and staying engaged. They will learn to express ideas, find joy in conundrums, and bond over the fruit of critical and creative thinking.
Whatever age your child is, take time to resurrect and nurture this ability. It will change your relationship. It will change their life.
Embrace your superpower and take it for a spin. Use it to start something amazing—like a conversation with someone you love.
How might this new habit change the world?
---
When It Doesn't Seem Like God is Answering Your Prayers
Posted on Jul 31, 2018 Topic : Inspirational/Devotional, Women's Christian Living
Posted by : Debbie Taylor Williams
"Mommy, why isn't God answering my prayers?"
I turned and looked deeply into my child's sad eyes. My daughter wasn't being accusatory. Her soft voice revealed her hurt. She felt God was ignoring her.
Do You Ever Feel Like God is Ignoring You?
You're doing every right that you know to do. You go to church, read your Bible, and pray. You try to be kind to people. So, why isn't God answering your prayers? You try to be a good Christian and serve Him, but without the longed for answers to prayers it seems others receive from God.
Why Isn't God Answering Your Prayers?
"Lauren, come here." Slowly, my daughter made her way to me. "Sit down beside me."
Opening my prayer journal, I turned to the Week at a Glance section and pointed to her name at the top of the column of the prior week. "Look here," I pointed, encouraging her to read a prayer request that I'd highlighted when the prayer was answered. I turned to the prior week. "Look here." Again I directed her to the yellow highlighted answered prayer request under her name. Thumbing through my journal, I encouraged her, "God is answering your prayers."
Recognizing God's Answers in a Book of Remembrance
In those moments I watched Lauren's countenance change from dejection to joy. Her Heavenly Father hadn't ignored her. He wasn't withholding good things from her. He was involved in her life and answering her prayers. She'd simply forgotten. I assured her we'd continue to pray over unanswered prayers, keeping in mind that in God's wisdom, His answers and timing may be different from ours.
It's Easy to Forget, but It Can Become Easy to Remember if We Journal
In the hustle and bustle of life, it's easy to forget the many times we call on God. We may shoot quick "arrow" prayers heavenward as we dash to work. We may drift to sleep while praying for family and friends. While we work and while we sleep, our Heavenly Father is moving on our behalf. It's easy to forget all the prayers we pray and His answers. It becomes easy to remember if we record our prayers and His answers in a journal. Journaling has major benefits in addition to the joy of seeing God move in our life and in the lives of those for whom we pray. It answers the question, "Why isn't God answering our prayers?" He is.
God has a book of remembrance. "Then those who feared the Lord spoke with one another. The Lord paid attention and heard them, and a book of remembrance was written before him of those who feared the Lord and esteemed his name." (Malachi 3:16 ESV)
Isn't it time we journal our prayers and His answers in a book of remembrance?
---
Eight Tried-and-True Steps to Cultivate a Happy Marriage
Posted on Jul 26, 2018 Topic : Men's Christian Living, Women's Christian Living
Posted by : Rhonda Stoppe
Over the years, my husband, Steve and I have learned from other couples what it takes to have a happy marriage. Here are eight practical ways you can cultivate happiness in a lasting marriage:
1. Have Realistic Expectations
One reason people become unhappy with their marriage is because the relationship doesn't turn out to be all they expected. Did you think your husband would be the answer to all your hopes for happily-ever-after? If so, at some point you came to realize you had married a normal human being and not the Prince Charming you imagined him to be.
The sooner you realize you and your husband are both imperfect people, the better you will be prepared to cover with grace the times you let one another down.
2. Realize It's OK to Be Different
You don't have to be married for too long to discover your husband is not like you. Couple often attempt to define unity in marriage as "sameness." But unity isn't sameness.
Unity in marriage does not mean you have to see eye to eye with your husband on every detail of life. In his book What Did You Expect? author Paul David Tripp says, "Unity is, rather, the result of what husband and wife do in the face of inevitable differences."
3. Think the Best About Your Husband
Remind yourself regularly of the qualities you love about your husband. And resist the temptation to compare him to the "ideal husband" you dream of having. Wouldn't you want your husband to do the same for you?
Even with deliberate effort toward resisting the temptation to compare, married couples often lean toward viewing one another through a negative lens. If thinking the best about each other is not yet a habit within your marriage, someone has to take the first step. Let that someone be you.
4. Be Kind to One Another
Are you kind? It's easy to be kind to people you only see for a few minutes each day. But in general, do you have a kind disposition? Is kindness your default mode, or do you have to force yourself not to lash out when you are offended? Does your husband think you are kind?
Ephesians 4:32 says, "Be kind one to another." This is a command, not a suggestion. And yet wouldn't you agree there are times that being kind is not the easiest response? And if you have little ones at home, lack of sleep alone can have a negative influence upon your attempts to remain kind.
Whatever the situation or your circumstances, if you make an extra effort to be kind to your husband now, you will enjoy the benefit of a happier marriage as time goes on.
5. Refuse to Fantasize About Being Married to Someone Else
A major threat to a happy marriage is the temptation to believe you married the wrong person.
When times get hard—and they will—allowing yourself to daydream about what it would be like to escape the hardship will only invite trouble into your marriage. If you are looking up old boyfriends or dreaming about what life would be like if you were married to a different man, you are already in the process of undermining the foundation of your marriage.
In the Sermon on the Mount, Jesus told the story of the foolish man who built his house upon the sand (Matthew 7:26-27). Building your hopes for a happy marriage with someone other than your husband is certainly foolish. And when the storms of life come, your house will come crashing down around you.
6. Remember, You're On the Same Team
In times of strife, remind yourself that your husband is not your enemy. Your real adversary is the devil. The enemy is fully aware of the devastating effects of a broken marriage. The Bible instructs us, "Be sober, be vigilant; because your adversary the devil walks about like a roaring lion, seeking whom he may devour" (1 Peter 5:8).
When you realize Satan comes to steal, kill, and destroy, you will know that it's the tempter who is your enemy, not your husband, and you'll be ready to stand together in the fight against your foe.
7. Love Christ More Than You Love Your Husband
I cannot stress enough this key principle: when you determine to grow more deeply in love with Christ, you will find your worth in your relationship to Him. When this happens, you will not look to your husband to meet the needs only God can fill. When you live to love Jesus, His love for your husband will spill out of your heart. And your heart will become joyfully satisfied with your husband.
8. Determine That Divorce Will Never Be an Option
If ever you think leaving your marriage is the answer to your problems, remind yourself: wherever you go, there you are. This means whatever struggles you may be having, realize you are half of the problem. If you choose to leave a difficult marriage, you can be certain you'll take all your unresolved issues into your next relationship as well.
---
How Well Do You Serve?
Posted on Jul 24, 2018 Topic : Inspirational/Devotional, Men's Christian Living, Women's Christian Living
Posted by : Lauren Dungy
But Jesus called them together and said, You know that the rulers in this world lord it over their people, and officials flaunt their authority over those under them. But among you it will be different. Whoever wants to be a leader among you must be your servant...
Matthew 20:25-26 NLT
These wise words from Jesus remind me of the lessons my parents taught me. They were a great example of what it meant to live a life of service and helping others.
Growing up, our home was frequently filled with people. Almost every weekend, my parents would invite children from a nearby girls' home to stay with us. These girls were treated no differently than if they were my sisters, as my parents warmly welcomed and included them in our everyday lives and activities.
Jesus' statement in Matthew came during a discussion He was having with His disciples about leadership. They were inquiring about how they could get promoted up the ladder of authority in his organization. In fact, two of the disciples, James and John, had asked for the positions of second in command in the Kingdom.
Jesus responded by telling them that in the Kingdom of God, greatness is defined by how well we serve and by how much we help others.
This is certainly a contrast to what we hear in most parts of our society today. We typically look at our leaders and judge them by how many people they're responsible for, by how much influence they have, and by the decisions they make. Whether it's a CEO leading a business, a teacher leading a classroom, or a mother leading a family, we tend to judge them by how confident they look and by how much control they exert over the people following them.
Isn't it wonderful to hear Jesus speak and realize that He doesn't want us to do things the way the world around us does? In this case, He wants us to do just the opposite. Jesus says that those of us who are the real heroes, the ones He values most, are the people who help others.
My parents didn't reach out to those young women for recognition or to earn some type of award. They did it out of a heartfelt desire to serve, and in doing so, modeled those values to me and my siblings.
Because of my parents' example, giving back is now a way of life for me. My husband, Tony, and I choose to be involved with Title I schools. We visit with children, read to them, encourage them, and inspire them to dream.
Our hope is that our children will also develop a heart for serving others, following our lead, the legacy of my parents, and ultimately, Jesus' desire for their lives.
My prayer is that you and your family will find a way to serve no matter how big or small. And, when you do, know that Jesus would say you are one of the leaders in His kingdom—the Kingdom of Heaven.
---
Have You Forgotten How to Play?
Posted on Jul 19, 2018 Topic : Inspirational/Devotional, Men's Christian Living, Women's Christian Living
Posted by : Karen O'Connor
My younger sister, June, and I arrived at camp, set up my tent, laid out our gear, and trudged up a hill to see what was on the other side. I pulled out my camera and snapped pictures till the sun set. June plopped on the ground and took in a few ragged breaths. This was clearly not her idea of having fun. But then, as she admitted, she didn't have any ideas what fun was. That's why she'd appealed to me for help.
As a university professor, author, and lecturer, June rarely closed the classroom door behind her. I had to tug her sleeve a few times before she got with the program. But she did, and for two days we had a good time trail walking, picking wild flowers, and lounging in our chairs while sipping iced tea.
On the third day, we packed our belongings and headed down the mountain road, happy, satisfied, and ready to relive the experience again. Well, I was, but June not so much. Once was fun. Twice would be work. And she begged off repeating the experience by referring to her advanced age of 60!
"Play is perceived as unproductive, petty, or even a guilty pleasure," according to Margarita Tartakovsky, MS, associate editor of World of Psychology. "Our society tends to dismiss play for adults," she says. The notion is that once we reach adulthood, it's time to get serious. And between personal and professional responsibilities, there's no time to play.
"But play is just as pivotal for adults as it is for kids. Play brings joy. And it's vital for problem-solving, creativity, and relationships." These are fine words from the world of psychology, but I was curious about what the Bible says on the topics of joy and play.
James tells us, "Every good and perfect gift is from above, coming down from the Father of the heavenly lights, who does not change like shifting shadows" (James 1:17). It seems clear that fun, play, and rest are among God's "every good and perfect gift from above."
Play as You Wish
There are so many ways to play. Sewing, card games, sports, collecting stamps, or dolls may be one person's idea of relaxation but the last thing someone else would even consider. My friend Lisa spends her evenings knitting. She has fun choosing patterns and then giving away some of her creative pieces.
Doug and Sherry play Ping-Pong.
My son enjoys a game of pool.
Jane and Dave walk their dogs at the beach and play Frisbee on the sand.
If you're up for fun, you can find it countless ways with a variety of people who share your interests. Square dancing, woodworking, beach volleyball, and collecting shells are just a few of the ways you can enjoy a playdate.
If you're the more sedentary type, find enjoyable activities to do close to home. Visit art galleries and museums, grow flowers and vegetables, join a music appreciation club in your community.
Let's give thanks to God for dancing, and singing, and camping, and hiking, and reading good books, and attending great concerts, and traveling to new places. And, of course, laughing all the way!
---
How Our Bodies Will Be Raised in Glory
Posted on Jul 17, 2018 Topic : Men's Christian Living, Prophecy
Posted by : Mike Fabarez
The Bible contrasts the experience we all now know in our failing bodies with the future reality we will know in our resurrected bodies. Scripture reveals four radical distinctions between the bodies we have now and the ones that we will have as we enter the New Jerusalem.
Someone will ask, "How are the dead raised? With what kind of body do they come?" You foolish person!…What is sown is perishable; what is raised is imperishable. It is sown in dishonor; it is raised in glory. It is sown in weakness; it is raised in power. It is sown a natural body; it is raised a spiritual body (1 Corinthians 15:35-36, 42-44).
1. They Will Be Ageless
The word "perishable" in verse 42 reminds me of bananas. I like to eat a banana every day. The problem is, I am one of those people who likes them only when they are "just right." I don't like them green. But I also don't like them even the slightest bit overripe. It seems to me bananas are "just right" for only about three or four hours. Why? Because they are perishable—really perishable! And it seems they start perishing the minute after they fully ripen.
I hate to compare our bodies to a perishing banana. But I think most of us can agree the prime of life passes quickly and our fallen bodies get "mushy" before we know it. God's promise is that the perfectly remanufactured bodies he will craft for us will be imperishable. How fantastic to imagine possessing a perfected anatomy that is impervious to disease, decay, aging, and any sort of deterioration or physical decline.
Praise God, our aches and pains, aging and diseases will be no more.
2. They Will Be Beautiful
It would make sense that imperishable bodies will be beautiful. The word used in 1 Corinthians 15:43 to describe our future bodies is "glory." This was the same word Jesus used when he spoke to crowds who were concerned about how they looked due to the quality and beauty of their clothing. He pointed them to the lilies of the field and said, "I tell you, even Solomon in all his glory was not arrayed like one of these" (Matthew 6:29). We can be sure that the richest king in the Bible possessed the finest royal robes money could buy. Certainly he took pains to look regal, important, and handsome, presenting himself in a manner that befits monarchs. But Jesus said that the flowers of the field are even more glorious, even better looking.
When the Bible says that our resurrected bodies will be "raised in glory," we get a sense that we can anticipate a physical appearance that is stunning, resplendent, and glorious.
3. They Will Be Tireless
Next, we are told in 1 Corinthians 15 that though our current bodies are characterized by weakness, our reconstructed bodies will be raised in power. The Bible often reminds us that our bodies are weak, prone to fatigue, and often uncooperative when we go about our lives.
Even when we have strong intentions of doing something good, our bodies are so often obstinate in their weakness. Jesus said as much to the disciples in the garden, who were told to stay awake and pray with Christ in his most distressing hour. Yet, as the Bible states, "their eyes were heavy" and they failed to watch and pray (Matthew 26:43). Their intentions were good, and I am sure they purposed to meet the need. But like us, even when the spirit is willing, the flesh is weak (Mark 14:38).
Thankfully, one day all that will be a thing of the past. God has promised that our resurrected bodies will be characterized by "power."
4. They Will Want to Do Right
When it comes to doing right, we are not used to our body being an ally. It often acts as an enemy. It is a "fallen body," we often say, because it has a propensity for doing the wrong thing. Not only does our body lack strength, but so often it is energized by what is sinful.
Temptation so often ignites our flesh and it is drawn to do what we know is unrighteous. For the Christian, this is a constant frustration. Peter said the passions of our flesh wage war against our souls (1 Peter 2:11). We are told that our resurrected bodies will no longer be "natural." Rather, they will be "spiritual" (1 Corinthians 15:44).
It is important to understand the word "spiritual" the same way we do in Galatians 6, where Paul wrote that "if anyone is caught in any transgression, you who are spiritual should restore him in a spirit of gentleness" (verse 1). When we read the word "spiritual," we think godly, devout, and mature. So when the Bible says that our future bodies will be "spiritual," we should breathe a sigh of relief. It means there is coming a day when we will no longer battle our fleshly inclinations to do wrong.
Imagine every fight with temptation that is currently fueled by your fallen flesh. It will be gone! That is good news, and something you and I should eagerly anticipate.
---
How Big is Your Faith?
Posted on Jul 12, 2018 Topic : Inspirational/Devotional
Posted by : Wendy Dunham
While deciding on a topic to write about, the idea of a mustard seed made its way to the writer's part of my brain. And after making itself at home for several days, it was clear it had no intention of leaving. Given my years of writing, I've learned that when a topic reaches out to an author, that is the very thing that must be written. Knowing that, I purchased a container of mustard seeds and placed one seed in my hand. It always helps to have a visual.
While holding that mustard seed, I thought, what could be said of one little seed? Before long the words mustard seed led to the word mustard and brought images of baseball stadium hotdogs covered with waves of yellow mustard dripping from my fingers. But after reading about this tiny seed, I realized there was more. I discovered that one tiny seed, just one to two millimeters (0.039-0.079 inch) in size, holds the power to reap great dividends not only in our health, but in our spiritual journey as well.
I learned that the mustard plant, originating in the Middle East, has been used since earlier times in the treatment of cancer, diabetes, and detoxification of the body. And today mustard seeds are known to contain more than 80 nutrients. Some of the health benefits include the prevention of cancer, the treatment of psoriasis, contact dermatitis, and cardiovascular problems, and help in relieving respiratory ailments and stiff muscles and painful joints.
I was astonished.
Faith Like a Mustard Seed
I also learned that in Jesus's day, the mustard seed was known as the smallest seed. In Matthew 17:20 (nlt), Jesus uses this seed in a parable. "You don't have enough faith," Jesus told them. "I tell you the truth, if you had faith even as small as a mustard seed, you could say to this mountain, 'Move from her to there,' and it would move. Nothing would be impossible."
As I thought about that verse, I imagined a situation where someone asks me if I have faith. And because I've been a Christian for more than 30 years, my first response would likely be a confident, "Yes, of course, I have faith. I've been a Christian for a long time." But as I thought more, I was faced with the humbling reality that my faith is really quite small…maybe just one to two millimeters in size—the size of a mustard seed. But our Jesus is a truth speaker, and he says that is big enough.
What Are Your Mountains?
I thought about the mountains I am facing in my own life, the mountains in the lives of my friends and family, and in the lives of people I've never met. Mountains that seem insurmountable or too difficult to move. Mountains of uncertain health problems. Mountains of financial problems. Mountains of relationship problems. Mountains of regret. We do everything we can to move them and everything we can to climb over them. We use every ounce of energy we have. We pray big prayers. We ask for more faith. We may even be criticized by some for not having enough. But the bottom line is that these mountains are too big for us to move by our own strength.
Still holding that same tiny seed, I drop to my knees and make my way to Jesus. As I relinquish the seed, I watch it disappear in the dust and dirt that surround two worn, calloused feet, which have climbed more mountains that I can fathom.
There is nothing left for me to do. There's no need for me to become breathless while trying to climb my mountains. There's no need for me to lean against them, pushing and shoving with every ounce of strength I have. I simply need to rest.
Two strong hands reach down and pull me to my feet. Oh, what comfort is found in that tiny seed. What peace is gained when it's dropped at the feet of Jesus. It is the comfort of two sacred arms wrapped around me while the Prince of Peace gently kisses the top of my head and whispers, "My child, I created every mountain. I strategically placed them across the continents. And I strategically placed them in your life." After several moments, his nail-scarred hand wipes a stream of tears from my cheek. "And if I created them," he adds, "surely I can move them."
I rest in his arms. In his comfort. In his peace. And in his strength, which is strong enough to move mountains. Even mine.
***
Teach your child simple faith lessons with these two new adventures from Wendy's series for young readers, Tales of Buttercup Grove.
---
You Really Can Ask for Anything
Posted on Jul 10, 2018 Topic : Inspirational/Devotional, Men's Christian Living, Women's Christian Living
Posted by : Craig Hazen
Ask whatever you wish and it will be done for you.
–John 15:7
Some parts of the Bible are simply more difficult to believe than others.
And I think John 15:7 is certainly a challenge. Strangely, in many ways I think we find it more difficult than even miraculous accounts like Lazarus coming back from the dead at the command of Jesus (in John 11).
Perhaps it's easier for us to imagine there was a special time very long ago and very far away where dead bodies could come back to life, a man could walk on water, and lunch for 5,000 could spring into existence from a handful of loaves and fishes. Maybe these miracles in the pages of the Bible are easier for us to believe because they are not touching our lives in a palpable way.
But this promise about prayer in John 15:7 is different. It leaps out of the ancient text and challenges our faith where we live right now. It is truly an amazing promise that is very difficult to brush aside as something only meaningful to ancient Bible characters. Jesus was speaking not only to his closest followers at the moment, but to all generations of Christians that would follow—including us today.
I remember the moment I was reading this passage when it really caught my attention. I wondered if Jesus could possibly mean what he was saying or if it was just too good to be true. So many of us don't take this promise seriously. And I wondered why. That's when I decided to really dig in, and I found that Jesus said it, and he really meant it. As I looked into this verse, I found that apprehending this promise in its proper context and overcoming the objections has been one of the most fruitful endeavors in my Christian life.
Here's what I learned:
It is a conditional promise. Jesus said, "If you remain in me, and my words remain in you, ask whatever you wish and it will be done for you." But I make the case that most Christians I know fulfill this condition and hence ought to expect the result.
I often hear "we need to be careful with verses like John 15:7 because it is sometimes abused by 'word-faith' or 'prosperity' preachers who have wandered into heresy." Although this is true, my response is that I'm not going to let those who might abuse this passage rob me of gleaning the wonderful promise that the Lord himself had in store for us.
We often find this promise difficult because we are immersed in a culture that simply does not think supernatural things (like answers to prayer) happen. This affects us all—no matter how spiritual we are. But the Lord can help us overcome it.
There is an important context to this passage. Jesus speaks this promise in context of giving his famous "vine and branches" discourse. The thrust of the whole passage is about being plugged into Jesus (the vine) and bearing his fruit for his kingdom.
The conclusion, then, is this: if you are abiding in him, and his words are abiding in you and you want to serve him and bear his fruit, then you truly can ask for anything and it will be done for you! Just as John 15:7 tells us.
My hope is that as you put this promise into practice into your own life that you, too, will discover, as I have, that this verse sets up conditions that are perfectly designed to keep us plugged into Jesus. God is prepared to do amazing things in and through us, big and small, if we trust him and know in our minds and hearts that he can deliver whatever we ask for in prayer.
---
Help Your Child Discover the Secret Formula for Wisdom
Posted on Jul 05, 2018 Topic : Men's Christian Living, Women's Christian Living
God's wisdom is available to all of us, young or old. Share this post with your kids and encourage them to seek God as the ultimate source of knowledge and understanding.
***
What do you think of when you hear the word "wisdom"? We tend to think of people being wise only if they're really old or have done a ton of schooling. But wisdom is actually available to all of us.
The Bible tells us what wisdom is. We are wise when we accurately apply God's Word to the situations we deal with in life. Everything we need to know to live a life of wisdom can be found in the pages of the Bible.
If someone told you there was a secret formula for getting straight A's in school, would you want to know what it was? Of course you would!
God has given us a secret formula for getting wisdom. Are you ready for it?
Knowledge + Understanding = Wisdom
Knowledge
Have you ever been talking to someone when suddenly, halfway through the conversation, you get some new information that totally changes the way you think about what's going on? Maybe a friend is telling you a story about something that happened, and once you get the new information, you are able to understand what happened in a new way. Or the reason someone did something or said something totally makes sense now. It's like viewing a picture that suddenly comes into focus. "Oh, I get it!" you say. "Now that makes sense!"
When you don't know exactly what is going on—when you don't have the knowledge—you don't have wisdom. Without knowledge, you don't completely get what is going on. And if you don't get what is going on, you might be tempted to think or say or do the wrong thing.
God tells us, "The fear of the Lord is the beginning of wisdom, and the knowledge of the Holy One is understanding" (Proverbs 9:10). That's why you need to get all the information you can before you make a decision or respond to a situation. And you get that information from God's truth.
Have you ever just known that something is true or that someone is right? That's the kind of knowledge we're talking about here. You can count on it. It's been proven to be true. There's no room for doubt. When you start with God, you can be sure that your information is accurate. You can be certain that you have knowledge.
Understanding
The second part of the secret formula for wisdom is understanding. Proverbs 4:7 says, "Wisdom is supreme—so get wisdom. And whatever else you get, get understanding." Knowledge has to do with information, but understanding has to do with the meaning of the information. When you are able to combine knowledge and understanding together, you end up with wisdom.
Think back to the conversation with your friend. The story your friend told you was a little bit confusing before you got more information—the knowledge. But you can only understand the story if you know stuff about your friend and the situation and maybe the other people involved. And to understand something, you have to want to understand it. You have to make an effort.
One more thing: Wisdom is more than being smart. You can get straight A's and still act foolishly. Wisdom is being able to actually use God's words of truth when you're with your friends or family, in school or at your activities—wherever you find yourself in life. Wisdom is making the best choice, the one that will bring about the best result for everyone involved. Wisdom is doing what Jesus would want you to do.
---
For When Life Feels Hard And You Need a Helper
Posted on Jul 03, 2018 Topic : Inspirational/Devotional, Women's Christian Living
Posted by : Sally Burke and Cyndie Claypool de Neve
I lift up my eyes to the mountains—
where does my help come from?
My help comes from the Lord,
the Maker of heaven and earth.
He will not let your foot slip—
he who watches over you will not slumber;
indeed, he who watches over Israel
will neither slumber nor sleep.
Psalm 121:1-4 niv
Where is your heart today? Are you overwhelmed? Frustrated? Discouraged? Do you need the reminder that God is your help? The One who created every living thing, who placed the moon and the stars in the heavens, not only knows your name, but He loves you. And He comes to your rescue as your helper, if you just ask.
Look back at the passage above. What is the one thing the Psalmist does? In the very first verse, he says, "I lift up my eyes." Everything else is what God does for us, how He helps us. He will not let your foot slip. He watches over you and is always ready to help. We need only to keep our eyes focused on Him. When you are in distress, call out to Him for help, and He will hear you.
Often, we remember King David as a mighty warrior, a forgiven man with a heart after God. Yet, it was David who was hunted down by King Saul, who wanted to destroy the next king of Israel. In Psalm 18, we get a glimpse into David's heart. He intentionally shifts his focus from the "cords of death" and "torrents of destruction" to the One who "arms me with strength."
The cords of death entangled me;
the torrents of destruction overwhelmed me.
The cords of the grave coiled around me;
the snares of death confronted me.
In my distress I called to the Lord;
I cried to my God for help.
From his temple he heard my voice;
my cry came before him, into his ears.
It is God who arms me with strength and keeps my way secure.
He makes my feet like the feet of a deer;
he causes me to stand on the heights.
You provide a broad path for my feet,
so that my ankles do not give way.
Psalm 18:4-6; 32-33; 36 niv
God doesn't lift us off the character-shaping mountains in our lives. He offers His help, strength, and power for us to endure the struggles before us. He empowers us, making us sure-footed like the deer and providing a broad path on which we can walk safely. Our heavenly Father doesn't pluck us out of the ordeal. He guides and protects us as we learn and grow every step of the way. In fact, it's when we acknowledge that we need His help that we are at our strongest, because we allow Him to work through us. As Paul says in 2 Corinthians 12:10, "… For when I am weak, then I am strong" (niv).
Oh, Lord, we praise You for providing help when we feel overwhelmed, unsure, and shaky. When we call on Your holy name, You straighten our path, secure our steps and empower us through our weaknesses. You help us look past the mountains in front of us onto You our Helper, who uses every obstacle to strengthen us and grow our character. How amazing it is that the Creator of the universe loves us and helps. Oh how we praise You, Lord!
---
Learn to Rest in Your True Purpose
Posted on Jun 28, 2018 Topic : Inspirational/Devotional, Women's Christian Living
Posted by : Ruth Chou Simons
My soul, find rest in God; my hope comes from him. Psalm 62:5
I've been running a bit ragged lately and thinking that maybe I resist rest because I resist not being in control.
I convince myself that my plans and dreams will fall apart if I'm not working around the clock to protect and prove them…to propel them forward.
Staying ahead of the game in self-preservation has become such a normal pace in our lives that I think my heart's forgotten that it isn't what I was created for.
John Piper said, "Sleep is a daily reminder from God that we are not God."
I was created to rely on Him, to trust in Him, to run out of steam, to find myself incapable of doing it all.
Unless God builds it, unless He's in it, all the laboring is in vain.
Unless the Lord builds the house, those who build it labor in vain. Unless the Lord watches over the city, the watchman stays awake in vain. It is in vain that you rise up early and go late to rest, eating the bread of anxious toil; for he gives to his beloved sleep (Psalm 127:1-2).
Just stop.
God has made us to grow weary, to call it quits in our laboring, and to rest.
If you feel worn out, friend, it's a pretty good indication that our infinite God made you finite for a purpose. He is reminding you that resting isn't just a good idea—it's His example and standard for us.
Our all-powerful God does not grow weary, and yet He chose to rest on the seventh day of creation.
But I'm finding that it's so much more than a day of the week or a scheduling choice. To rest is to cease striving, to be restored and refreshed. It is ultimately a physical picture of what we are called to spiritually.
The cross of Christ didn't simply make it possible for us to take some time off from the burden of sin and death; it purchased for us true rest from its weight of shame continually.
In Christ, we can rest from our laboring in self-preservation and self-righteousness, and put our trust in a Savior who is "before all things, and in Him all things hold together" (Colossians 1:17).
Take a deep breath and allow yourself to rest.
There is no significance, hope, or value you can strive for and gain for yourself that hasn't already been made fully available to those who rest in Him.
---
What Your Daughter Needs to Know About Faithfulness
Posted on Jun 26, 2018 Topic : Inspirational/Devotional, Men's Christian Living, Women's Christian Living
Being faithful in our walk with Christ is a good reminder for adults and kids alike. Share this excerpt with your daughter from God's Girl Says Yes and encourage her to be faithful to Him, no matter what.
***
"I know the plans that I have for you." This message is from the Lord. "I have good plans for you. I don't plan to hurt you. I plan to give you hope and a good future" (Jeremiah 29:11 ERV).
I love reading this verse because it reminds me that God has good plans for us. But did you know that when God first gave this message to His people, the Israelites, a lot of not-so-good things were happening?
During this time, the Israelites were exiles living where they did not want to live. They had been forced to leave their home in Jerusalem and were being held captive in Babylon, a place that was nothing like their home. Furthermore, the Israelites were not always treated well by the Babylonians.
From the Israelites' point of view, it sure didn't look like God had a plan—especially not a good plan. But He did. God wanted His people to learn to trust Him even though they were going through difficult circumstances.
He even told them to pray for the people around them and to serve and help in the city where they were forced to live. (You may know how hard it is to pray for people who are mean to you!) In other words, God wanted the Israelites to remember their relationship with Him even when they couldn't see good things happening around them. God wanted His people to be faithful to Him even when life was hard and His ways were puzzling.
God wants us to be faithful too. He wants our relationship with Him to be the most important thing in our lives even when nothing around us seems good.
When everything in life is going well and we're feeling happy, it's a little easier to trust that God has a good plan for us. However, when things are hard and we're sad or frustrated or worried, we can forget or even stop believing that God actually has a good plan for us. When people are being mean to us, when we can't seem to get good grades, or when we don't think our parents understand, it becomes really tempting to stop trusting God and instead take charge of our lives. But God wants us to continue to trust Him and to continue to follow Him… because He has a plan.
As the plan unfolds mysteriously and sometimes slowly, remember that God always wants you to talk to Him and to ask Him for any help you need. Even though God has good plans for you, your life will sometimes be hard. Realize that God uses every situation—the good ones as well as the not-so-great ones and the totally hard times too—in His good plan for your life.
---
Leading Your Kids in Prayer is Simple. Here's How…
Posted on Jun 21, 2018 Topic : Inspirational/Devotional, Men's Christian Living, Women's Christian Living
Posted by : Gene Skinner
My favorite definition of a leader is this: A leader is someone who goes first.
I like it because it's simple, it's practical, and it makes leadership achievable. Something anyone can do who is willing to get out there, give it a try, and learn from their mistakes.
The people who follow find direction and courage in the steps of the leader. Sometimes they get a good laugh watching the leader make colossal blunders. Hopefully, the leader laughs too.
Leading in prayer can be like that. Some people talk about being mighty prayer warriors, persevering through adversity with white-hot zeal until they overcome the forces of darkness and receive from God the things they carry on their hearts.
I admire those people, but I'm not one of them. I'm more like the colossal blunderer.
But I can do this: I can go first. Most nights when my kids were little, after they brushed their teeth, after we read books and sang songs and snuggled in the big chair, I would finally (finally!) tuck each one in his or her bed, silently smooth their hair for a few seconds, and then close my eyes and say, "Dear Jesus…"
What came next was seldom impressive. In fact, it was usually so simple, so elementary, the kids could pretty much have said the same thing themselves. Sometimes they did.
And that's the point. I went first, bumbling along, and they followed. They learned about…
Repentance. I apologized to God (it was never hard to think of a reason), and I thanked him for forgiving me and helping me to learn from my mistakes. My kids understood that our failures aren't the end of the world—for God or for us.
Requests. I told God I trusted him to give us the things we need, and my kids grew up with a sense that good things are worth waiting for.
Thanks. I recounted my day, telling God how glad I was he was in all of it, and my kids began to see God in their day too.
My part took about twenty or thirty seconds, and then it was the child's turn. Some of the words I used showed up in their prayers too (because that's what happens when someone leads). Some of the feelings that leaked out of me seeped out of their hearts as well. And some of the deep mysteries of God—that He likes us, that He is good, that He is always with us—began guiding their prayers, just as they guided mine.
Those times became less frequent as the kids grew older (I didn't have the energy to stay up as late as they did). But our well-established habit of keeping our prayers simple and honest and real continues today.
---
When it Comes to Prayer, Why Wait?
Posted on Jun 19, 2018 Topic : Men's Christian Living, Women's Christian Living
Posted by : Jay Payleitner
Have you done this too? During a conversation, a friend or acquaintance shares some challenge they're facing. A situation at work. A sick kid. A rough patch in a marriage. A family member going through a crisis. A wayward teen. A personal spiritual desert. Something that could use some serious intervention from the Creator of the universe. Because I believe in the power of prayer, I would say, "I'll pray for you."
Then I would break that promise.
It wasn't intentional. It wasn't a lie. So why didn't I pray? Maybe I got distracted by a personal emergency. Maybe that promise to pray got sidetracked by an even bigger prayer request. Maybe I was being a little selfish because I have a tendency to think more about myself than about others as I move through the day. But really I meant to pray, I wanted to pray, and sometimes I did remember to pray. But not as often I wanted. As I said, way too frequently I would fail to keep my promise.
You may be nodding your head because you've done the same thing, so let's consider a few strategies we could use to fix this obvious shortcoming. How about pulling out a notebook from a pocket, purse, or briefcase and jotting down the name, date, and prayer request? Then make it a point to go through that list once a day or several times a week.
Another option would be to pull out your smartphone right then and there and use one of the prayer apps that help you track your prayers and remind you to pray. Apps like PrayerMate, Echo, Pray with Me, Prayer Notebook, or Prayer Journal. Some of those apps include a verse or short teaching of the day, updates from missional organizations, the ability to track answered prayer, and the ability to forward prayer requests through Twitter, Facebook, and so on.
One possible strategy would be to spend intentional time at the end of every day recalling all your personal interactions. That would include waving at your neighbor, tickling your toddler, talking to Mom on the phone, texting your BFF, yelling at that referee, cursing the driver in the giant SUV, walking quickly past the panhandler, kissing your spouse, giving an ultimatum to your teenager, reading about the president in a news magazine, talking with your old work colleague, and tipping that barista who was obviously having a bad day. Some or all of those individuals need your prayer.
In one sense, all you have to do is say, "Heavenly Father, everyone I met today—please draw each one them close to you. Amen." He knows their exact needs, and he will honor your prayers. But there's something satisfying about submitting our specific, thoughtful requests to an all-powerful, all-knowing God. He wants us to dig deep into our own heart and be fully aware of the needs of others. Prayers need to be grounded in devotion, humility, and sincerity.
Making scribbled or digital notes requires you to take immediate action by pulling out your phone or journal. Making a nightly "needs review" requires you to think about every twist and turn of your day, and you'll inevitably miss someone or some need.
Every sincere prayer strategy is valid, but the best plan of action might be to pray right then and there. Why wait? You can certainly still put any need on your prayer list. And you can still review your day as you slip into bed. But praying in the moment invites God's intervention that much sooner.
As you pass that friendly neighbor, pray for him. As you kiss your spouse, pray for your marriage. As you curse the gal who cut you off in traffic, pray for her…and yourself. Pray for that grumpy barista as you take your first sip of coffee. Pray for your children during every interaction. When your old work chum talks about the mess he's made of his life, ask right then and there, "Can I pray for you?" He will say, "Umm…sure." And then take it to God. In that moment, you'll know what to say, and your friend will have joined with you in that prayer as well.
Of course, you don't have to pause to pray. Prayer should be an ongoing component of every moment of the day. The idea is confirmed in that seemingly impossible command in 1 Thessalonians 5:17, "Pray without ceasing" (nasb). But really, it is quite doable because we're in constant connection with God through the indwelling of the Holy Spirit. Make sense?
Pray right then and there.
---