BOOKS

I prayed for this child, and the Lord answered my prayer.

1 Samuel 1:27 ERV

With practical advice and encouragement, you can help your daughter develop awesome relationships with God…

Learn More >

View all Books >
LATEST BLOG
Why Romance Should Still Be on Your Reading List
In our cynical, matter-of-fact world, it's easy to dismiss romantic fiction as inconsequential. But God can use these books to stir our hearts and reveal...
Read more >
REVIEW SPOTLIGHT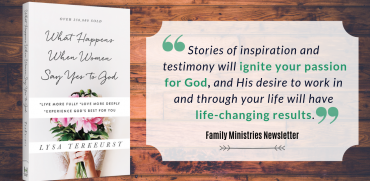 What Happens When Women Say Yes to God Review
Bestselling author Lysa TerKeurst ignites your passion for God and prepares you to be radically blessed beyond anything you can imagine!
Read more >
AUTHOR SPOTLIGHT
Joe Carter
Joe Carter is an editor for The Gospel Coalition, an educator, and fifteen-year Marine Corps veteran...
Read More >