BOOKS

If you want to know the truth about Mary Magdalene and whether Jesus was really born in a barn, Mary Magdalene Never Wore Blue Eye Shadow breaks down the barriers that keep you from understanding God's Word...

Learn More >

View all Books >
LATEST BLOG
What Is the Best Way to Help an Anxious Teen?
When our teens are stressed and anxious, are we giving them the right advice? Find out in today's blog.
Read more >
REVIEW SPOTLIGHT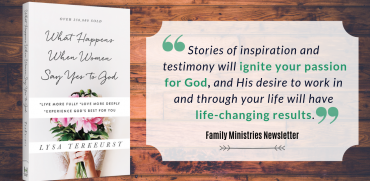 What Happens When Women Say Yes to God Review
Bestselling author Lysa TerKeurst ignites your passion for God and prepares you to be radically blessed beyond anything you can imagine!
Read more >
AUTHOR SPOTLIGHT
Bre Doucette
Bre Doucette grew up loving to decorate homes and regularly welcomes others into her home through her blog - Rooms FOR Rent (roomsforrentblog.com), where she spreads her passion for decorating, her belief that creating a home is so much more than the stuff we fill our rooms with,...
Read More >