COVID-19 Updates: Please click here to see more.
BOOKS

Packed with helpful charts, infographics, timelines, and illustrations, Prophecy Pros Illustrated Guide to Tough Questions About the End Times delivers to-the-point, speculation-free, biblically sourced answers...

Learn More >

View all Books >
LATEST BLOG
Have You Lost Your Ability to Imagine?
Growing up shouldn't mean that we grow out of using the great imaginations that God gave us.
Read more >
REVIEW SPOTLIGHT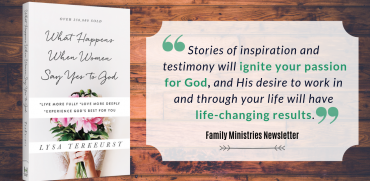 What Happens When Women Say Yes to God Review
Bestselling author Lysa TerKeurst ignites your passion for God and prepares you to be radically blessed beyond anything you can imagine!
Read more >
AUTHOR SPOTLIGHT
Dawn Camp
Dawn Camp is a camera-toting, homeschooling mother of eight children and the editor of The Heart of Marriage, The Gift of Friendship, and The Beauty of Grace. She writes for (in)courage and blogs about family, faith, and Photoshop at MyHomeSweetHomeOnline.net. Dawn and her family live in Atlanta, Georgia....
Read More >