BOOKS

Return to the Romance of Pendaran

Relive the magic of Shelby and Nikolai's love story with this beautifully bound and foil-adorned keepsake version of one of the most beloved Christian romance novels of all time...

Learn More >

View all Books >
LATEST BLOG
Maintaining a Global Perspective on God's Love
Author Jay Payleitner shares how a simple purchase opened his sons' eyes to the bigger world around them.
Read more >
REVIEW SPOTLIGHT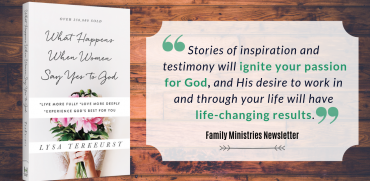 What Happens When Women Say Yes to God Review
Bestselling author Lysa TerKeurst ignites your passion for God and prepares you to be radically blessed beyond anything you can imagine!
Read more >
AUTHOR SPOTLIGHT
Mary DeMuth
Mary DeMuth is a writer and speaker who loves to help people live re-storied lives. Author of more than 30 books, including parenting books, Southern fiction, and a memoir entitled Thin Places, Mary speaks around the country and the world.
Read More >