BOOKS

In Love in Every Season, relationship expert Debra Fileta takes you on an eye-opening journey through the four seasons of every healthy relationship. Learn to recognize each stage and navigate it with intention, focus, and practical steps.

Learn More >

View all Books >
LATEST BLOG
7 Things Children Can Say or Do When They're Afraid
Fear can be a confusing and uncomfortable emotion for kids. Learn seven simple steps they can take to overcome their fear and trust in God.
Read more >
REVIEW SPOTLIGHT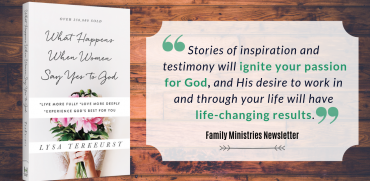 What Happens When Women Say Yes to God Review
Bestselling author Lysa TerKeurst ignites your passion for God and prepares you to be radically blessed beyond anything you can imagine!
Read more >
AUTHOR SPOTLIGHT
Debra Fileta
Debra Fileta is a licensed professional counselor and the author of "Choosing Marriage" and "True Love Dates." A passionate speaker, she challenges people to have a psychologically and spiritually healthy approach to relationships.
Read More >