COVID-19 Updates: Please click here to see more.
BOOKS

If you're tired of hearing the watered-down Christian teaching and hungry for a deeper spiritual life—one that gives real answers to your hardest questions—Stop Calling Me Beautiful teaches you how.

Learn More >

View all Books >
LATEST BLOG
Knowing When Not to Take Your Shot
When the lure of a big reward tempts you to make risky decisions, it might be worth it to stop and ask God if this...
Read more >
REVIEW SPOTLIGHT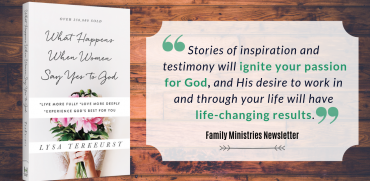 What Happens When Women Say Yes to God Review
Bestselling author Lysa TerKeurst ignites your passion for God and prepares you to be radically blessed beyond anything you can imagine!
Read more >
AUTHOR SPOTLIGHT
Wynter Pitts
WYNTER PITTS is the author of several books, including You're God's Girl! She is the founder of For Girls Like You, a ministry that equips girls to walk boldly into who God has created them to be and to resource their parents to raise strong Christ following God...
Read More >