BOOKS

When family and friends gather around the table for good food and fellowship, special memories are sure to follow. Create a warm and welcoming atmosphere with this creative collection of seasonally inspired tablescapes by popular decor blogger Bre Doucette (Rooms for Rent).

Learn More >

View all Books >
LATEST BLOG
Watch Your Garden (and Your Walk with God) Grow
Gardening teaches a variety of lessons, only some of which are about food. Celebrate God's Creation in today's blog.
Read more >
REVIEW SPOTLIGHT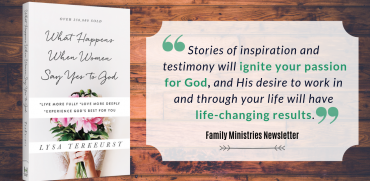 What Happens When Women Say Yes to God Review
Bestselling author Lysa TerKeurst ignites your passion for God and prepares you to be radically blessed beyond anything you can imagine!
Read more >
AUTHOR SPOTLIGHT
Dan Short
After a successful career in the corporate world, Dan Short left his job to become a full-time Santa and share God's love with children and adults. With thirty years of experience, he has served as Oklahoma City, Oklahoma's best-known and in-demand Santa. Dan is the cofounder of Mustard...
Read More >