COVID-19 Updates: Please click here to see more.
BOOKS

Prepare (if you can) to solve perplexing puzzles, masterfully crafted mazes, translate Bible verses into emojis, muster up ad-libs, craft new creations, doodle, write, search, find, experiment, plus a lot more...

Explore Here >

View all Books >
LATEST BLOG
Sharing Our Ashes for the Sake of Others
Amid the beauty that God creates out of our brokenness, we often forget that the ashes we carry around with us can be used to...
Read more >
REVIEW SPOTLIGHT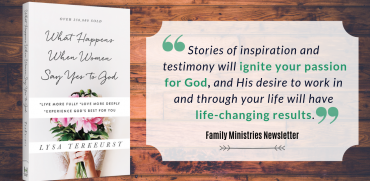 What Happens When Women Say Yes to God Review
Bestselling author Lysa TerKeurst ignites your passion for God and prepares you to be radically blessed beyond anything you can imagine!
Read more >
AUTHOR SPOTLIGHT
Stormie Omartian
Stormie Omartian is the bestselling author of the Power of a Praying® series. Her other books include Just Enough Light for the Step I'm On; Lead Me, Holy Spirit; Prayer Warrior; The Power of Praying® Through Fear, and Transforming Love. (More than 40 million copies of her books have been...
Read More >