COVID-19 Updates: Please click here to see more.
BOOKS

Bestselling author Tsh Oxenreider longed for something simple and quick, so she created Shadow and Light a beautifully illustrated, scripturally based Advent devotional filled simple music, art, and action activities to enjoy with your family.

Learn More >

View all Books >
LATEST BLOG
Engaged or Newly Married? Here's Your First Piece of Advice.
Throughout your marriage journey, you'll encounter all kinds of small setbacks and minor miscommunications. Don't lose hope. Keep talking, keep praying, and keep moving forward....
Read more >
REVIEW SPOTLIGHT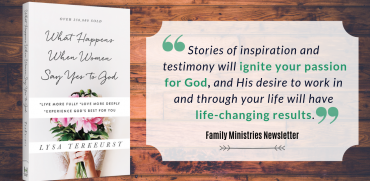 What Happens When Women Say Yes to God Review
Bestselling author Lysa TerKeurst ignites your passion for God and prepares you to be radically blessed beyond anything you can imagine!
Read more >
AUTHOR SPOTLIGHT
Ruth Simons
Ruth Chou Simons is a bestselling and award-winning author, artist, entrepreneur, and speaker, using each of these platforms to spiritually sow the Word of God into people's hearts. Through her online shoppe at GraceLaced.com and her social media community of hundreds of thousands, Simons shares her journey of...
Read More >