BOOKS

Discover how closely the gospel connects with today's motherhood as Emily Jensen and Laura Wifler, cofounders of Risen Motherhood, reveal how the gospel applies to your everyday life.

Learn More >

View all Books >
LATEST BLOG
When One Question Changes Everything
Leaving Mormonism was the most excruciating journey of Lisa Brockman's life, now He was asking her to do it all over again.
Read more >
REVIEW SPOTLIGHT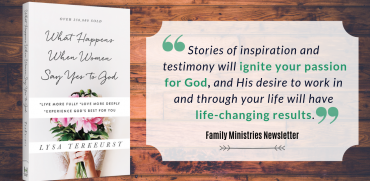 What Happens When Women Say Yes to God Review
Bestselling author Lysa TerKeurst ignites your passion for God and prepares you to be radically blessed beyond anything you can imagine!
Read more >
AUTHOR SPOTLIGHT
Ruth Chou Simons
Ruth Chou Simons is an artist, writer, entrepreneur, and speaker. As creator of the popular GraceLaced online shoppe, blog, and Instagram community, she shares scriptural truths daily through her hand-painted artwork and words.
Read More >