COVID-19 Updates: Please click here to see more.
BOOKS

If you're tired of hearing the watered-down Christian teaching and hungry for a deeper spiritual life—one that gives real answers to your hardest questions—Stop Calling Me Beautiful teaches you how.

Learn More >

View all Books >
LATEST BLOG
Making Good Decisions with God's Help
Share this timely wisdom from God's Word with your tween and encourage them to learn how to make good decisions.
Read more >
REVIEW SPOTLIGHT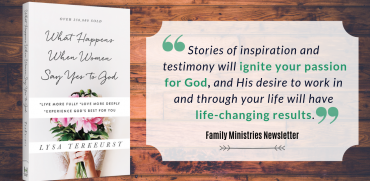 What Happens When Women Say Yes to God Review
Bestselling author Lysa TerKeurst ignites your passion for God and prepares you to be radically blessed beyond anything you can imagine!
Read more >
AUTHOR SPOTLIGHT
Phylicia Masonheimer
Phylicia Masonheimer teaches Christian women how to apply faith to the realities of life. She is a blogger, podcast host, and speaker. Her writing focuses on overcoming sin and difficulty by the power of a maturing personal relationship with God. Phylicia lives in northern Michigan with her husband and children....
Read More >